By Bud Wilkinson of RIDE-CT.com
Owners of vintage motorcycles can have a lot in common with their bikes. One guy attending the "25th annual" Brit Jam motorcycle meet at the Haddam Neck Fairgrounds on Aug. 21 even wore a T-shirt that had some of the similarities emblazoned across the front:
Old Motorcycles
Smoke A Little
Shake A Little
Leak A Little
Just Like Me
Had there been room, the line "Sputter A Little" would also have been appropriate. For antique bikes, it would refer to rough-running engines, while for the owners it would note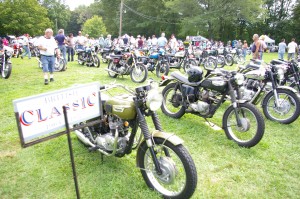 the brain fade that comes with aging. While Brit Jam celebrates motorcycling's past, the British Iron Association of Connecticut failed to recall its own history in promoting this year's event. It was touted as the 25th annual Brit Jam, and there were even commemorative T-shirts for sale proclaiming such, but it was actually the 26th meet.
"The 17th got done twice," revealed Peter Thiel, who is charter member of the organization. He recalled that the chapter was founded in October 1984 and staged the first Brit Jam in July 1985. It was held at the Knights of Columbus in East Hartford and Thiel was there. "It was heady because it was our first event. It was cool to see all those Triumphs, BSAs and Nortons coming out of the woodwork," said the Prospect resident.
Thiel estimated that maybe 50 bikes were displayed at that first meet. "It was a small crew that put it together – probably eight people," he said. Now the volunteer work force totals 50 or so and there are hundreds of bikes on display on the show ground and in the parking lot. "Our parking lot is about as good a show as the show," said Thiel, who noted one other big difference between the first Brit Jam and now.  "A lot of us were younger," he said.
Attending Brit Jam is not only fun but educational. It's a chance to expand one's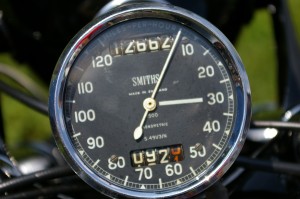 motorcycle knowledge. Two attendees were spotted admiring a 1958 AJS and a 1959 BSA that were displayed side by side. They wondered why there was a white line on the bikes' speedometers at the 30 mph mark. Standing a few footsteps away was motorcycle collector and Hagon shocks distributor Dave Quinn of Bethany, who quickly provided the answer. That white line indicated the in-city speed limit in England.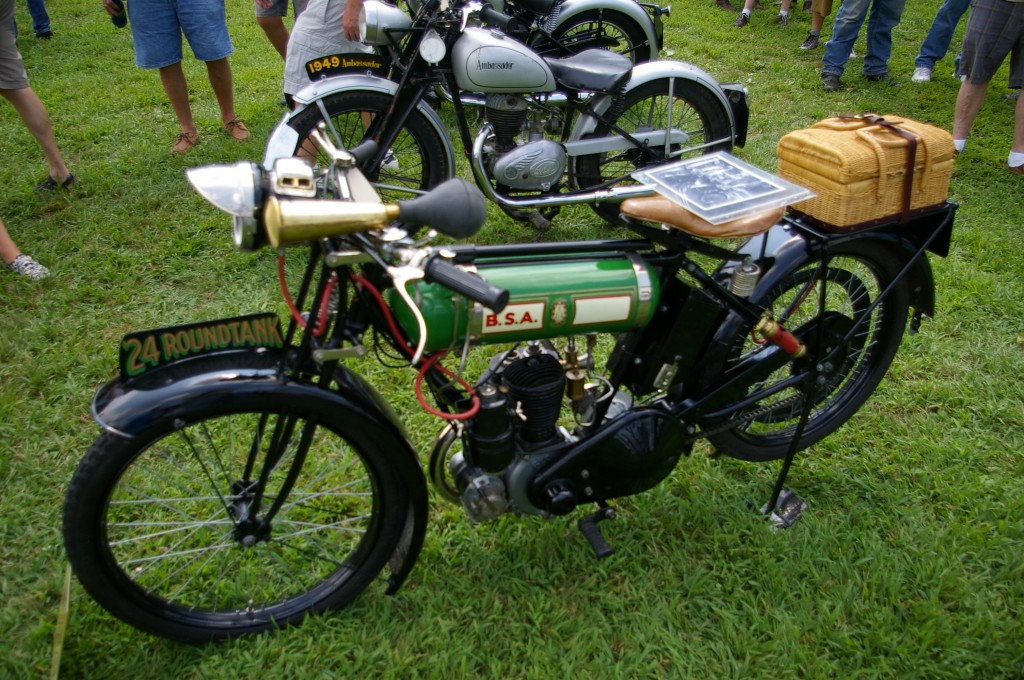 A 1924 BSA Roundtank owned by Mark Turkington of Bolton had a lot of people stopping to take pictures after noticing that its carbide headlamp was flicking. The flame was lit from 9:30 a.m. to 4 p.m., said Turkington, and never went out. Fueling the headlamp is a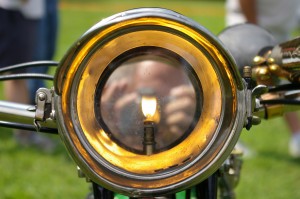 canister that has water on the top. A valve allows the water to drip on to calcium carbide in the bottom, which produces acetylene gas that flows through tubes to the headlamp and tail light.
Turkington bought the BSA out of England two years ago and had one slight mishap lighting the tail light until he mastered the proper procedure. "The gas built up a little bit. It went poof," he said, explaining that "you have to blow and disperse the gas" in the fixture before lighting it.
A placard next to the single-cylinder, 250cc Roundtank reported some 35,000 were made and that the bike's top speed was 43 mph. "They were an inexpensive, every day run-around bike," said Turkington, who reported the bike was only made for three years – 1924 through 1926. It began as a two-speed and added a third gear in the final year. Turkington's Roundtank isn't registered. "I just ride it around the parking lot and back streets where my business is," he said.
The Roundtank isn't Turkington's only Beezer. He also has a 1914 BSA and at least five others, the newest being a 1963 Rocket Gold Star of which fewer than 1,600 were made. The 1914 also has a carbide lamp, which is more powerful than the one on the Roundtank. He gets his carbide lumps from a caving supply company.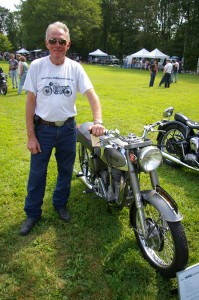 Taking some lumps from Rich Hosley of Guilford was the state Department of Motor Vehicles. He's modified the "Early American" license plate on the 1954 Norton International Model 30 that he displayed, changing the "E.A." to "E.B." for "Early British." He described the changed as "standard" for all of his vintage vehicles that aren't American-made.
Riding in together were members of the Tiddlers, a bunch of "old guys on small motorcycles" in the words of Rich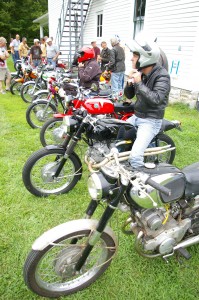 Barger of Bolton, who arrived on a 1966 Suzuki TC200. "Most of us are old road racers, said Barger of the Tiddlers, who all ride motorcycles that pre-date 1970 and are 250cc or less. Their rides are quite active. "You're shifting all the time, just having a good old time," he said.
One thought regarding next year's Brit Jam. The BIA of Connecticut should skip a "26th" event and go directly to 27. Who'd notice?
(Originally published in "The Republican-American" on August 26, 2011.)