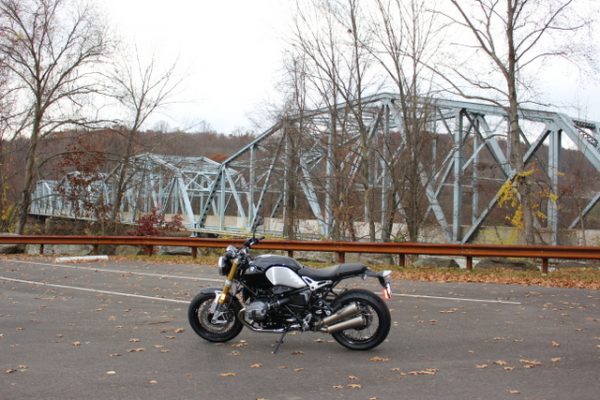 It's been a little more than a year since BMW took the wraps off its eye-catching R Nine T roadster. Getting to ride one was problematic initially because the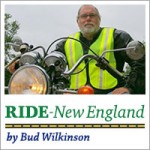 units shipped to dealers back in the spring were already promised. Demand remained high, so it wasn't until, well, yesterday, that I was able to walk into Max BMW in Brookfield, CT  and purloin one for a spirited afternoon spin. It was worth the wait albeit a bit frustrating at the outset.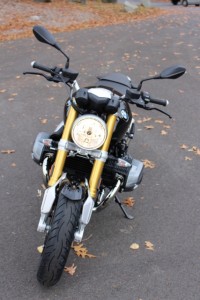 I confess that for me the toughest part of any test ride is getting off the lot. The riding position of a strange bike inevitably feels odd. Unknown throttle characteristics make me cautious. And there's always someone watching to make you feel self-conscious. That was certainly the case with the R Nine T. With a seat height of 30.9 inches, the R Nine T instantly felt different because I was able to flat-foot it when stopped. With a 30-inch inseam, I'm used to being on tip-toes with my daily rider. The riding position on the R Nine T was more compact, too.
Salesman Dave Hartley suggested that I head up Route 133 to Bridgewater to get a true gauge of the R Nine T's capabilities. Route 133's a twisty, scenic road that crosses Lake Lillinonah. It was a great suggestion but hampered by the fact a heating oil delivery truck soon impeded my progress. It was like having an itch you could not scratch. There was no way to pass and, consequently, no way to test the bike's 1,170cc, air-cooled/water-cooled boxer engine with its reported 110 horsepower.
As we loafed along, the fuel oil fumes penetrating a crack in my helmet's visor, I did get to reflect on the riding position – compact but not in the least bit cramped; very comfortable actually. The handlebar position is spot-on, too. Sufficiently low to look sporty and allow for easy carving, but high enough to avoid lower back pain in a gray-bearded rider.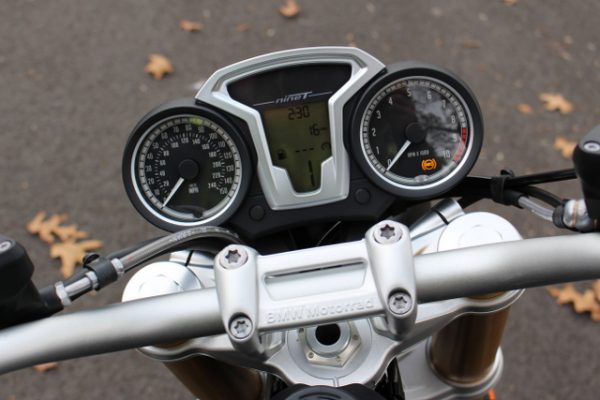 Prior to leaving, Dave had pointed out the button on the left grip that changed the settings in the digital portion of the instrument cluster. I scrolled through it several times before finally realizing "Hey, dummy, the speedometer and tach are analog, and right in front of your eyes." I'd just assumed that such a technologically advanced motorcycle as a BMW would have a huge digital readout for speed, not a traditional gauge with too smallish numbers.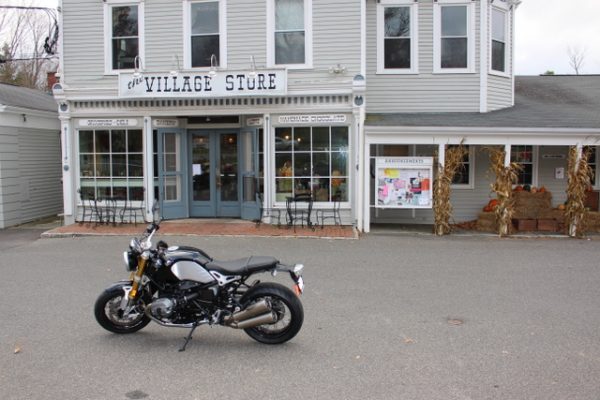 It wasn't until I got to Bridgewater that the truck disappeared. A quick Gobbler sandwich (turkey, dressing and cranberry sauce on toast) at the Village Store and I was back on the road, but not before a few folks admired the R Nine T.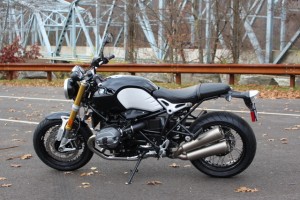 In retracing my path, I got a better feel for the bike. Handling? Superb. It's very precise and, at 489 pounds wet, very light. The R Nine T might have retro look with wire-spoked wheels, but it feels modern; that is to say marvelously crafted. I didn't get to take it up to its top speed of about 130 mph – probably didn't top 60 mph – so I can't comment on the impact of wind. For riding on state and back roads, though, buffeting shouldn't be an issue.
Wanting to fully experience its six-speed transmission, which proved very fluid, I did a lot of notching through the gears – both up and down. As a result, I never really got on the ABS brake system. What was most impressive about the R Nine T was the sound of the up-swept exhaust at speed. It's an intoxicating burr that is both raw and polished.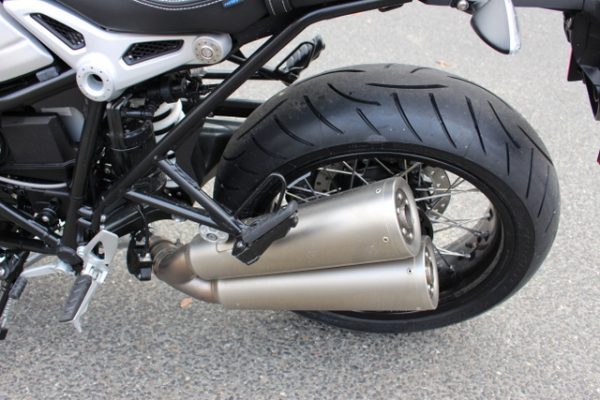 The starting MSRP of the R Nine T is $14,995. That's a sizable chunk of coin. Start customizing/personalizing the bike and the cost could be dramatically higher. While a new Moto Guzzi V7 II or Ducati Scrambler can be had for two-thirds that price, there's no debating that BMW got it right with the R Nine T. Here's a link to BMW's website for more info.