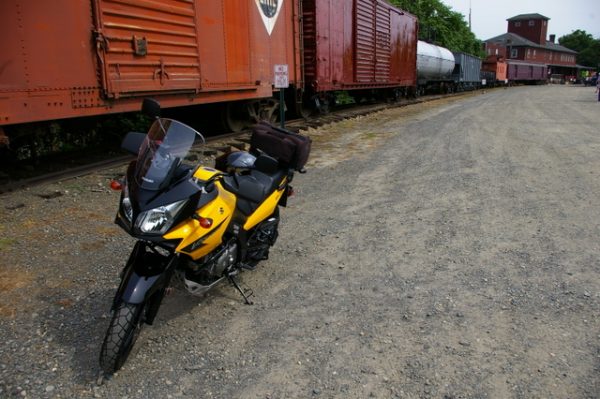 Pardon me while I belatedly celebrate a milestone. It was in late October that I marked 10 years of riding a motorcycle. Over that time, tens of thousands of miles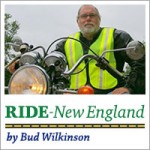 have been ridden and nearly a dozen used bikes have filtered through the garage. The two-wheeled journey has been filled with joy and sadness, exhilaration and fear, and camaraderie and solitude.
During those 10 years some great friends were made and two were lost due to the negligence of other drivers. I've "gone down" four times myself and learned the value of the Connecticut Rider Education Program courses first-hand. I've also discovered scenery and eateries that I never would have enjoyed were it not for riding. I remain hooked.
It wasn't until I was 51 years old that I got the gumption to finally ignore my mother's admonition when I was teenager, "You're not getting a motorcycle. You'll kill yourself." She'd been dead for 20 years when I took up riding. Two dates mark my pledging and induction into the riding community:
Oct. 20, 2004 was the day that my first bike was purchased – a used 1999 Triumph Legend. Friend Carl Foster rode it home for me from Canton Cycles in Winsted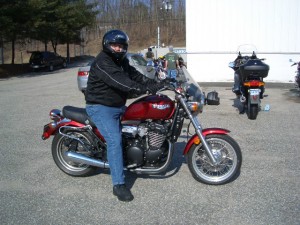 as I didn't yet have an "M" endorsement on my driver's license.
The total used bike count now stands at 11. There have been three BMWs (1982 R65LS, 1994 R100RT, 1985 K100RS), three Triumphs (the '99 Legend, 2004 Sprint ST, 1969 T100R Daytona), two Yamahas (1981 XS850, 1983 XT250), one Harley-Davidson (2003 V-Rod), one Honda (1974 CB750) and one Suzuki (2008 V-Strom 650). I've also ridden Aprilia, Ducati, Harley, Honda, Moto Guzzi, Ossa, Triumph and Yamaha models that were either loaners to review or owned by friends.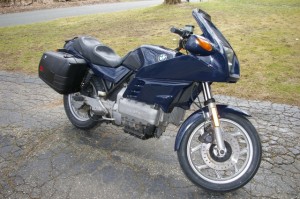 The worst purchase was the BMW K100RS, a model appropriately known worldwide as the "flying brick." It was too tall for my 30-inch inseam and too top-heavy to be much fun. A panzer when up to speed, it was a handful when barely moving. It also had intermittent odometer/speedometer that never seemed to work.
The best purchase was the Suzuki V-Strom, a suggestion of friends Jack Phelps and Will Paley. They told me it was lightweight, nimble, and bulletproof. They were right, and it gets 60 mpg, too.
Why so many bikes? It was a matter of playing catch-up for all those years between ages 16 and 51 when I could have been riding and wasn't. Experiencing different styles of bikes seemed necessary and educational.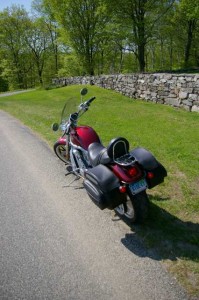 The V-Rod was extremely comfortable – once it got a replacement seat. It's certainly a bike that I'd buy again. It always felt welded to the pavement and had deceptive power. It certainly didn't feel like I was going more than 80 miles per hour when the state trooper caught me that day on Route 63 north of Goshen. Thankfully, he only ticketed me for going 15 mph over the posted speed limit. I learned my lesson. Sort of.
Probably the best looking bike of the batch was the CB 750. Metal-flake orange in color, it was a beauty. Despite being more than 35 years old when I bought it, it ran flawlessly. It was easy to understand why the model played such a large role in destroying the British bike industry in the 1970s.
Oct. 24, 2004 was the day that I successfully completed the state's Basic Rider Course, and it was worth it. This was long before the state mandated enrollment to get an "M" endorsement. The next spring, while riding the Legend on a twisty section of Route 8 near Becket, Mass., an 18-wheeler approached and came across the center line. Thanks to the BRC, I instantly looked for a place to escape, avoided target fixation, and successfully negotiated around the big-rig.
I have had some mishaps. With the Legend, I caught a foot peg coming in the driveway. The bike ground to a stop and fell over on my leg. Another time, when coming upon a recently chip-sealed section of Route 222 in Thomaston, I pulled to side to turn around. The rear wheel caught the pile of stones at the road's edge and the Legend slid out from under me. A full-face helmet and armored jacket and gloves saved me from bumps and bruises.
The other incidents involved the V-Rod and the Sprint ST. The V-Rod's lost traction on some sand at the entrance to what was then Cliff's Cycle Revolution in Brookfield. I stepped off as it went down. With the Sprint, a driver cut in front of me to turn into a gas station. I grabbed the brakes and, again, stepped off as the bike went down. In both those cases the damage to the bike was costly.
What I have discovered over the years is that there are many nice folks who ride. Preferred brand doesn't matter. Ask any rider about their motorcycle and you're apt to get a pleasant response. The older I get, the more I appreciate the phrase "It's more fun to ride a slow bike fast than to ride a fast bike slow."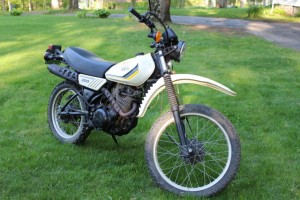 Currently in the garage are the V-Strom and the XT250, a small on-road/off-road machine that buzzes along quite nicely. I don't know how many more years I'll ride, although another 10 years seems doable. I do know that my mother was probably right when she warned me about bikes as a teenager; that waiting until my beard had gray in it before buying one was probably wise.
About the only activity at age 61 that's almost as much fun as riding is getting to write about it. RIDE-CT will mark 10 years in July. Is it too early to say thanks for riding pillion with me?