BETHEL, CT – It was around 11 a.m. Friday while gearing up for a demo ride that Hamlin Cycles' owner Jim Hamlin cheerfully called from across the parking lot, "Be back by 6."
I chuckled inwardly because my plan was to merely run the new 2020 Moto Guzzi V85 TT up the road for a few miles, maybe to Newtown a little more than seven miles away. I'd get a feel for it so as to give readers a snapshot impression, get some pics, and return it within a half-hour.
More than 2½ hours later, after passing through Newtown and the Brookfield Center historic district in Brookfield, after stopping for lunch in Bridgewater, and after taking the adventure model down some country roads for the photo opp, the V85 TT finally got returned.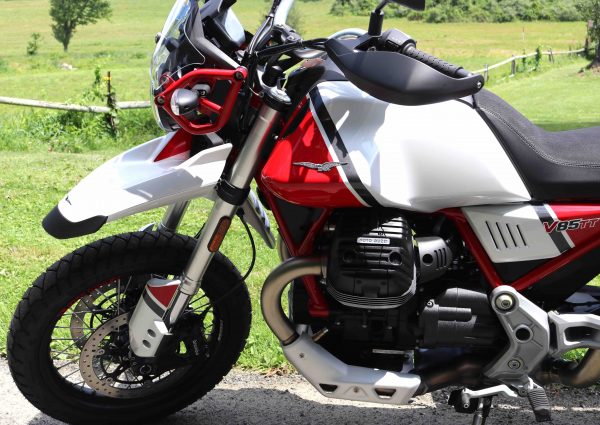 Upon acquisition, the V85 TT's odometer's had revealed eight break-in miles since being uncrated and set up a day earlier. A total of 44 miles were covered on the test ride, but they were fun miles on some twisty roads; nothing off-road or highway, but enough to get a feel for the model that is quickly bringing new awareness to Moto Guzzi.
Since its inception in Mandello Del Lario, Italy in 1921, Moto Guzzi has persisted in being a quirky, niche brand. The brand's followers, known as Guzzisti, welcome the differences and inconveniences (such as a small dealer network). They figure it's worth it to ride something altogether different, most notably because Moto Guzzi models use a transverse mounted V-twin engine.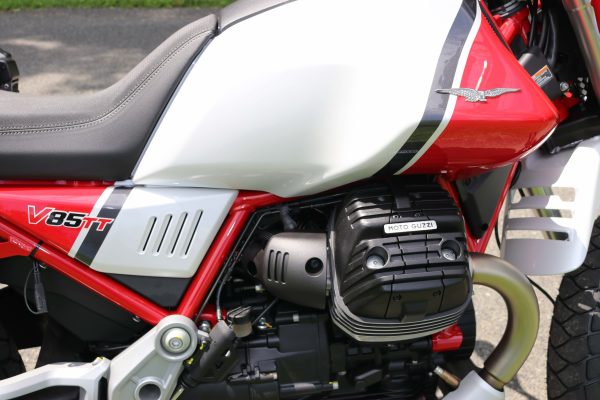 In the case of the V85 TT, it's a new 90-degree 853cc power plant putting out a just-sufficient 80 horsepower. The V85 TT replaces the larger Stelvio adventure bike. Since it began arriving in dealerships earlier this summer, it has been sparking a buzz and sales interest uncommon to Moto Guzzi.
My initial first impression came upon throwing a leg over the seat. Not only did my toes touch the ground, but I could almost flat foot it. The V85 TT's seat height is listed as 32.7 inches, with optional lower and high seats available. How many other adventure bikes can a vertically challenged person get on and ride? Not many.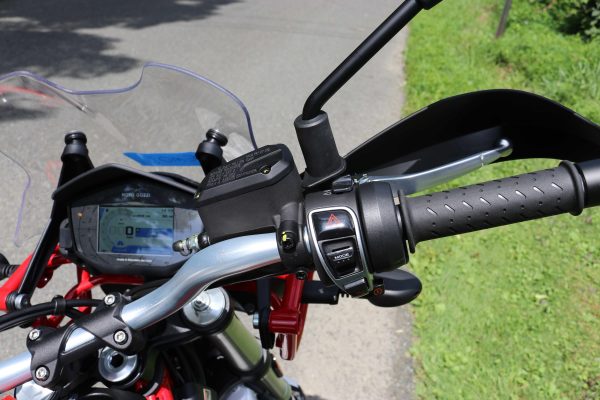 Hitting the starter, the V85 TT fired up, with the digital instrument cluster displaying all the necessary info – ride mode (street, rain or off-road, although changing the mode can be problematic), rpm level, speed and gear. The model also comes with cruise control.
The second impression came when I engaged the clutch. A friend owns a Victory with the stiffest clutch lever pull on the planet, so stiff that he hardly rides it. The V85 TT's  clutch lever is so easy to pull that you barely notice doing so. How nice.
Pulling out and heading toward Newtown, the V85 TT's upright and comfortable riding position became apparent, and the wide position of the mirrors made them very useful, although one did become loose on the ride having not been snugged down.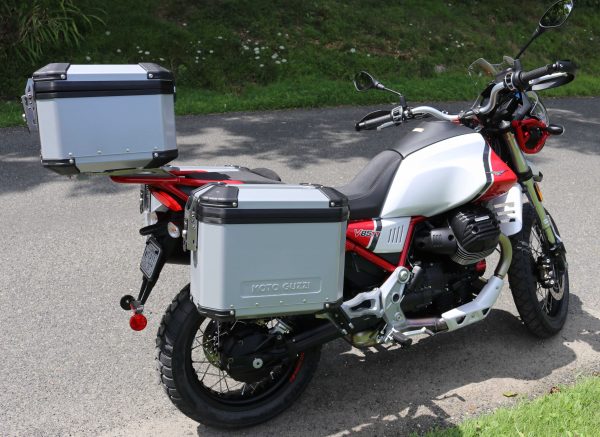 Guzzisti will be pleased to know that while modern in many ways, the V85 TT retains some of the brand's traditional tractor-like qualities. Shifting produces a loud, reassuring thunk. Riding in low gears at around 3,000 rpm results in a vibration that sizzles through the butt.
These aren't knocks. Just observations. Having owned and enjoyed two Moto Guzzis in the past, I don't expect perfection, rather character.
The V85 TT handles and tracks very well. Power isn't overwhelming but more than enough to do the job. With a 6.1 gallon gas tank, the bike has excellent range. Upon returning to Hamlin Cycles, a countdown gauge in the instrument cluster said there were 250 miles remaining until a fill-up was needed.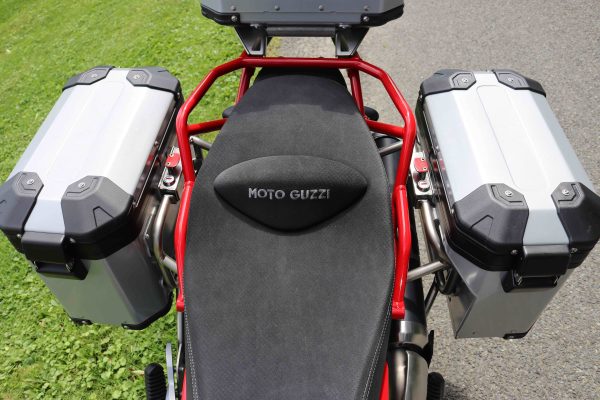 Looks-wise, the V85 TT isn't as off-putting as some other adventure models, it's more artsy looking than prehistoric. The TT, by the way, stands for "tutto terreno" or all-terrain. The test model in red and white came with Michelin Anakee Adventure dual sport tires, which no doubt serve their purpose but are a little wearing when limited to pavement.
What have I failed to mention? As one would expect, the Brembo brakes are sound. Yes, there's ABS and traction control. I didn't notice the suspension – too focused, I guess, on maneuvering an unfamiliar bike – but maybe that says something in itself.
The V85 TT weighs in at just above 500 pounds, but it feels even lighter.
The model comes in two varieties. There's the base V85 TT model in gray at $11,990 and the V85 TT Adventure model in two-tone (yellow and white, red and white) at $12,990 with hard bags.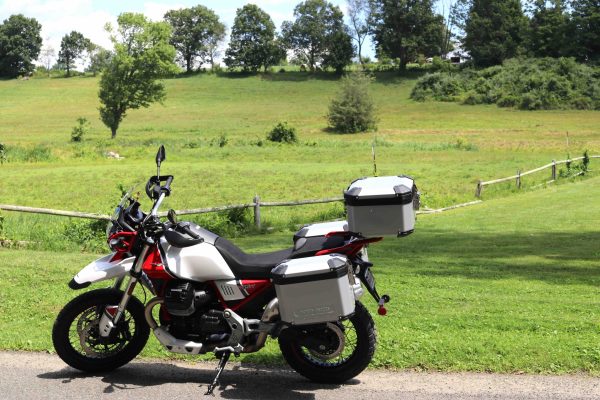 The Moto Guzzi V85 TT has a lot to recommend it.
If you're 5'10" or shorter, the V85 TT provides an option.
If you're frugal, the V85 TT provides an option.
If you think other adventure bikes are ugly, you may find the V85 TT to be more palatable, too.
For some reason, I expected the V85 TT to be a little more substantive than it is. Maybe I've stood beside too many BMW R 1200 GS, Ducati Multistrada or Honda Africa Twin models over the years.
But maybe that's a good thing. Moto Guzzi has seemingly built an adventure bike for every rider, and one that is significantly raising the brand's profile.