KENT, CT – Some products can spoil when the delivery time to market is too long. It was way back in the fall of 2017 – yes, 2017 – that Royal Enfield announced plans for two new retro models with 650cc, twin-cylinder engines.
The company even showed off an example of the Continental GT at the Progressive International Motorcycle Show in New York in December 2017. Here it is 18 months later and the Continental GT 650 as well as the INT650 are finally reaching dealerships.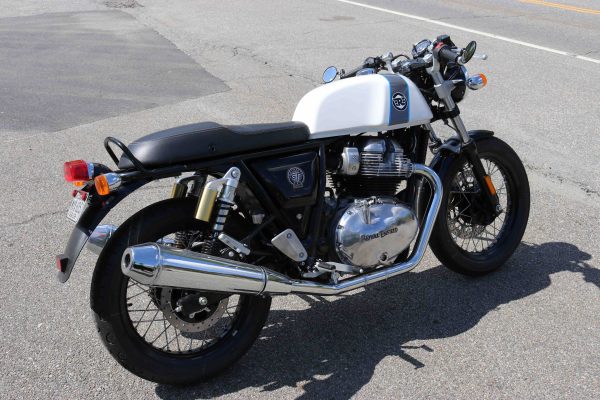 Royal Enfield of Kent received its first four on Monday – three INT650s and one Continental GT – and immediately texted an invitation to RIDE-CT & RIDE-NewEngland to test them out. Rather than take 18 months to respond, I rushed over on the first sunny day, which was Wednesday.
Suffice to say that while the wait for the models to appear was frustrating, it was worth it. Based on test rides, Royal Enfield has designed two extremely affordable models that are sharp and solid.
However, the most compelling aspect about these models are the prices. The INT650 has an MSRP starting at $5,799, while the Continental GT begins at $5,999. And both come with a three-year unlimited mile warranty and roadside assistance.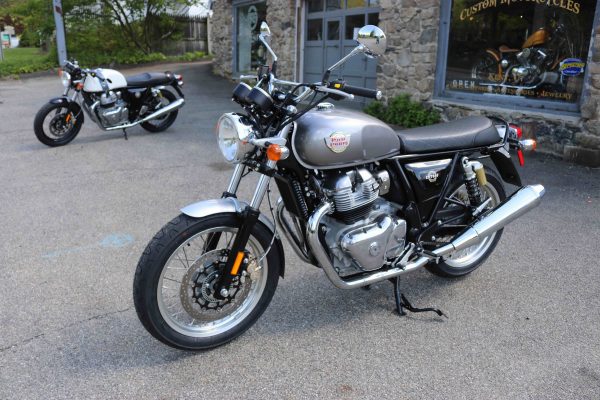 If you want a similarly-styled bike, such as a larger 900cc Triumph Bonneville T100 or a 733cc Kawasaki W800 Cafe, you'll pay much, much more. The Bonneville has a starting MSRP of $10,450 while the W800 starts as $9,799. That's a whopping price difference.
What first impresses about the Royal Enfields are the fit and finish. They don't look cheap, rather somewhat refined and polished. The dealership's Rick Dolson had set aside the cafe-styled Continental GT for demoing, and had traded out the "Mickey Mouse" rear-view mirrors for bar-end mirrors, making the model look even sportier.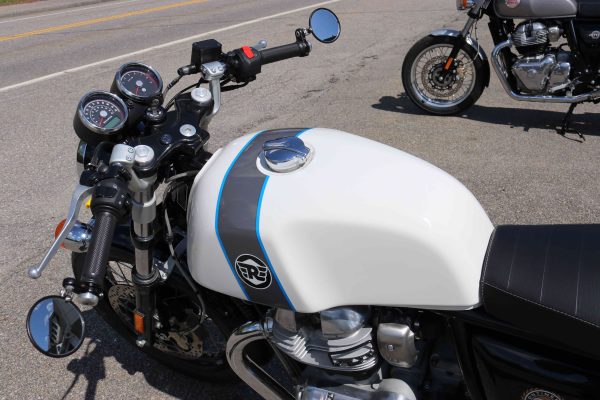 The Continental only had about 100 miles on the odometer, so Dolson asked that that the revs be kept below 4,000 rpm. Not a concern. What was worrying was that the clip-on style handlebars and minimally rear-set foot pegs would be too severe for an old and aching body.
That wasn't the case. An 18-mile ride up and down Route 7 showed the Continental GT to be surprisingly comfortable, despite having a price-point suspension and seat, and sufficiently powerful.
Having once ridden a friend's vintage 650cc Triumph Bonneville, a bike with lots of "pull," I knew engine size doesn't matter. Other factors contribute and the Continental GT's light weight of 437 pounds helps make it peppy and nimble.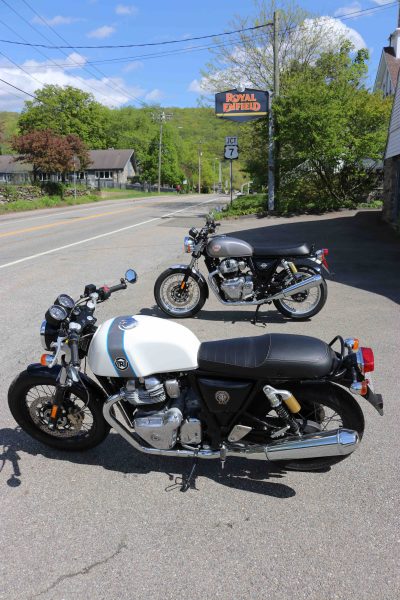 Riding the familiar road, I was pleased with the bike's solid feel and excellent power. The gearing is masterful, with never an instance of feeling a need to search for a different gear. The sound was pleasant and there was a definite lack of vibration.
Especially pleasing was a lack of throttle-by-wire. An old-fashioned cable controls the throttle and it is super-smooth. Didn't really get the opportunity to get on the brakes.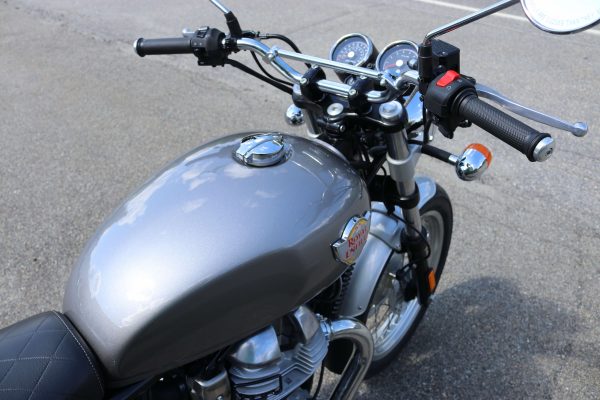 Having completed the test ride on the Continental GT, Dolson allowed me to take an INT650 destined for the showroom floor for a half-mile scoot to get a feel for its upright riding position. The distance was insufficient to draw any conclusions.
Bottom line on both models, though, is that buyers will get a lot of bang for their buck. While Royal Enfield's 500cc models have always seemed a bit frail, the 650s come across as beefier (of course) and much better constructed.
Would it be worth paying thousands more for a Bonneville or W800? I'm the owner of a 2014 Bonneville and love it to death, but would seriously consider an INT650 (in orange, please) if I were shopping today to save money and to get a reaction from other riders.
Will the Continental GT and the INT650 be game-changers in the U.S. where Royal Enfield is a tiny niche brand? Possibly. At least the brand now has two credible models with enough heft to draw broader attention. They certainly didn't spoil during the waiting period.