HARTFORD, CT – North Granby resident and RIDE-CT & RIDE-NewEngland columnist Paul Siciliano has been recognized for his efforts in co-chairing Heads First Connecticut's attempt this year to get a universal helmet law reinstated in the state.
Along with eight others, Siciliano was presented with a "Thought Leader Award" by the Brain Injury Alliance of Connecticut at a "Music for Thought" banquet Thursday night at the Connecticut Science Center.
Among the others honored were state Rep. Jillian Gilchrest (D – West Hartford) and Chion Wolf of Connecticut Public Radio.
Heads First Connecticut is a coalition of health care professionals, members of law enforcement, safety experts and motorcycle riders that surfaced during the current legislative push for a helmet law, saying that helmets save lives and save money.
Siciliano and Garry Lapidus, director of the Injury Prevention Center at the Connecticut Children's Medical Center and Hartford Hospital, co-chair Heads First Connecticut.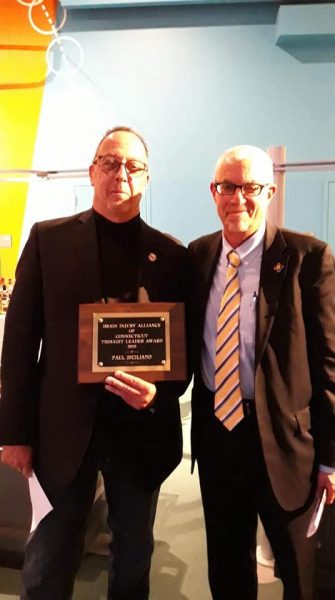 In remarks prepared for the banquet, Siciliano credited Lapidus with bringing greater visibility to the need for a universal helmet law. Siciliano raised awareness to the fact that many riders support such legislation.
"Garry has passionately given countless hours of his time to presenting to our lawmakers how such a law would not only save lives and money, but would significantly reduce the chance for a traumatic brain injury for a motorcyclist involved in a crash," he said.
An item in a bill that would have required that all riders in the state wear helmets didn't make it out of the Transportation Committee, but a different bill that would require all riders under 21 to be helmeted was approved by a 113-33 vote in the House of Representatives this week.
The bill now goes to the Senate.
Besides writing for this website, Siciliano is also an instructor with the Connecticut Rider Education Program. He is a veteran of the United States Marine Corps.
Top photo: Paul Siciliano speaks at the banquet.
(Photos by Emily Linnebur)