It's The Week in Review for the week ending Feb. 15, with Items from Harley Davidson, Indian, Ducati, Royal Enfield and more. They're culled from near and far; from press releases and other websites – all so you don't have do the searching yourself:
New Harley-Davidson Edition Ford F-250
It was roughly six weeks ago that it was revealed that a first-ever Harley-Davidson edition GMC Sierra pickup truck was on the way after years of a similar model being built with a Ford truck model.
Some wondered if Ford was being abandoned. That's not the case. Tuscany Motor Co., which churns out the custom models, announced Thursday that a 2020 Ford F-250 with Harley-Davidson badging is on the way.
The new truck will contain "65 edition-specific components." Only 250 will be produced. No price can be found on Tuscany Motor's website. If you have to ask, well…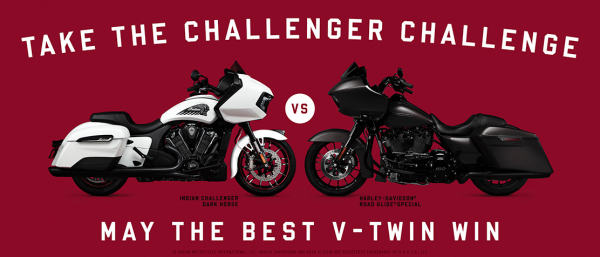 Indian Plans Head-To-Head Test Rides
Indian plans to give visitors at select dealerships the opportunity to test ride its new Challenger model as well as Harley-Davidson's equivalent Road Glide Special model back-to-back.
Indian's calling the promotion the Challenger Challenge, and will kick it off in Florida on March 6 during Daytona Bike Week.
"Over the years, the Road Glide has firmly entrenched itself as the category leader and has become the default choice, but our bike is simply better," said Indian Motorcycle President Michael Dougherty.
"The difference when riding these two bikes back-to-back is undeniable, and we're excited for riders to experience it for themselves with the Challenger Challenge."
"100% Biker" Magazine Shuts Down
Yes, another motorcycle magazine has folded. Hot on the heels of the shutdown of "Motorcycle Consumer News" here in the U.S., the U.K. publication "100% Biker" announced Saturday that it, too, has ceased to exist.
The current issue, #256, is the last. The magazine launched in 1999 and focused on the British custom scene.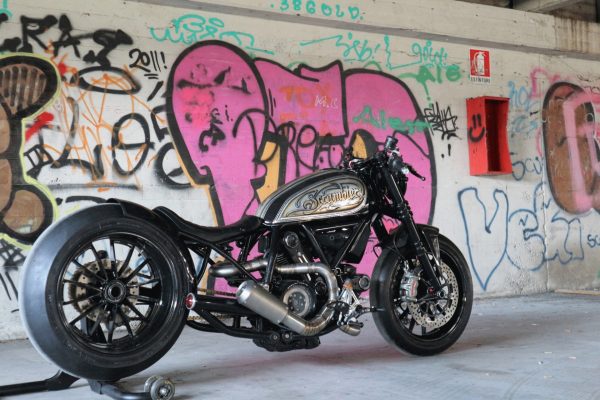 Voting Begins In Ducati's Custom Scrambler Contest
Voting has begin in Ducati's "Custom Rumble" contest, which has 74 customized Scrambler models competing in five categories.
The Ducati Scrambler 800 and Sixty2 models are vying in the Rocker, Cut-down, All-Terrain and Outsider categories, whiel the Scrambler 1100 is featured in the Bully category.
Voters have until March 15 to cast ballots. The prize for best custom will be announced May 23 at Bike Shed London.
Royal Enfield Registers Names
How are these for motorcycle model names? Flying Flea, Roadster, Sherpa and Hunter.
Royal Enfield has reportedly registered those names for possible future use.
Sherpa and Hunter could certainly be used for variants of its popular Himalayan adventure model, while a Roadster model might tuck into between the INT 650 and Continental GT in its 650cc line.
As for the Flying Flea, why not a smaller, entry-level model?