Jillian Leca calls it the "most difficult training – physically and mentally – that I've ever done." It lasted three weeks and ended two weeks ago with the Connecticut State Police trooper graduating and becoming the first female to admitted to the agency's Motor(cycle) Unit in the 120-year history of the state police.
"I'm overwhelmed and honored. I certainly wasn't trying to set any record. I was just very passionate about the unit itself," Leca said by phone earlier this week.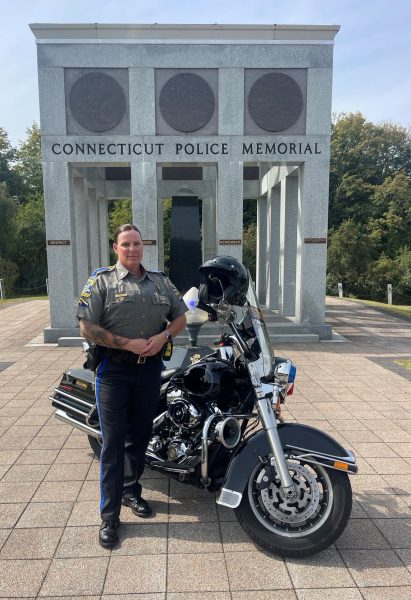 Members of the Motor Unit not only serve on patrol duty during shifts but are also visible providing valuable escort service for funerals, parades and other events. Only the most highly-skilled riders who are able to operate a more than 800-pound Harley-Davidson Road King model with ease and precision qualify for the unit.
Watertown Native Works As Firearms Instructor
Trooper First Class Leca, a Watertown native and 1994 graduate of Watertown High School, isn't normally on patrol duty, rather works as a firearms instructor at the state police's Firearms Training Unit in Simsbury.
"It certainly encompasses a lot of our history," said Leca of the Motor Unit, which can be traced back to1911 with the purchase of a Henderson motorcycle. "It certainly grabs a lot of attention. It was always incredible to me and I always wanted to be part of it."
The Connecticut State Police's website quotes an article from the "Hartford Courant" dated Dec. 25, 1920. It reported "…a force of about seventy-five men equipped with motorcycles could do the work well. Motorcycles, it was said, would get the men about their 'beats' much more efficiently and expeditiously than horses under existing conditions."
The agency used Hendersons for a couple of decades before shifting to Indian and Harley-Davidson models. The unit went into mothballs in the late 1960s but was revived in the early 1980s. It then used Kawasaki KZ1000P models, the kind that the characters of Jon Baker and Frank "Ponch" Poncherello rode on the long-running TV series "CHiPs," but eventually switched to the Harley-Davidson Road King.
Leca Joins Elite Unit
By passing the rigorous training, Leca not only joins a skilled group of riders who work in law enforcement, but she also can be viewed as one of the best riders in the state of either gender. The Motor Unit currently has 20 members, which includes the class that passed training on Sept. 22.
Leca, who is 46, reported that she's only been riding a motorcycle for 10 years. She accompanied her husband for 10 years before that – until she got the urge to ride herself. After passing the state's Basic Rider Course, she used her husband's 2007 Harley-Davidson Street Glide.
 Eventually, she decided to apply for the Motor Unit. "I went out for it the first time 2015. I was definitely not ready," Leca recalled. Unlike many other men before her (and since), she failed. That prompted her to get a 2000 Harley-Davidson Electra Glide of her own to practice on. 
"I decided I needed a lot more practice," she said, explaining that she didn't want to ruin her husband's motorcycle in the process. "I did that for a number of years. Last year I tried again for the second time. I again struggled a little with the stress of the course."
Yes, she failed a second time, but kept practicing and enrolled in the Motor Unit training course for a third time again this month. "Third time's a charm," Leca said.
Training Can Be Nerve-Racking
Anyone who has taken any of the Connecticut Rider Education Program (CONREP) courses over the years can attest that learning to ride a motorcycle can be nerve-racking. It requires focus to master the required skills. The C.S.P.'s requirements are significantly more demanding.
The course includes demonstrating practical skills, such as riding through cone patterns that become increasing complex and difficult. Riders then learn how to operate a motorcycle in the field, including conducting traffic stops, parade formation riding, dignitary protective training, highway riding, and firearms use while operating a motorcycle.
"It was all tough. I think for me it was my own nerves; my own getting out of my head, being afraid to fail," she said. "Unfortunately, I'm my own worst enemy when it comes to skills tests. You want to do well and you want to pass. I put a lot of pressure on myself."
This time, though, Leca was calmer. She realized "I can actually do this. It's pretty amazing what these bikes can do."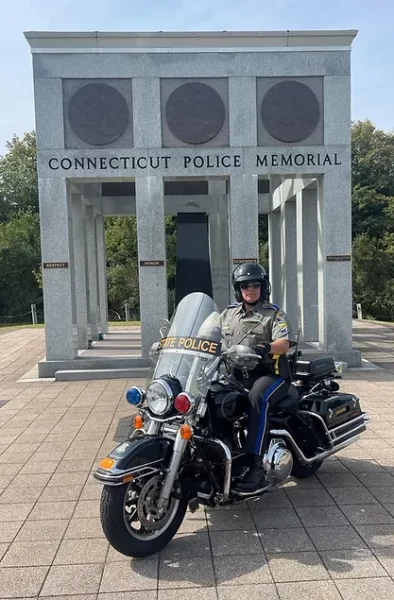 Leca calls riding with top proficiency "a perishable skill." While she's the first women to secure a spot in the elite Motor Unit, she doesn't want to be the last, and encourages other riders to follow in her tire tracks. "If you want something, you just go after it," she said. 
Due to demands of work and home life, Leca doesn't get to ride much for pleasure, and when she does ride, she takes her husband's mount. "I still have the old Electra Glide. The amount of practice I've done on that bike, she needs a rest," Leca said.
(Photos courtesy of Connecticut State Police)
A version of this column originally appeared in the "Republican-American" newspaper on