NAUGATUCK, CT – The temperature change during October has some riders putting their bikes into hibernation. Then there are the motorcyclists who can't get enough and get more riding time by extending their riding season several months or by riding all year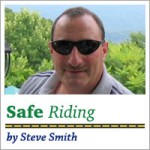 long. For them chilly temperature is no reason to forego a weekend ride or not to use the bike to commute to work. Here are some quick tips for cold weather riding: 
As the temperature drops, be cautious of the mix of cold tire and cold pavement. Cold tires will have reduced traction until they warm up. Ice, especially black ice, can occur any time the temperature has been near the freezing point. Be cautious of the air temperature and consider installing a low-cost thermometer on the bike. Bridges and overpasses are more susceptible to ice. Watch out for potential black ice anywhere that the road looks wet and is not in direct sunlight.  
Even if when the temperature is well above freezing, sandy patches on the road can be almost as nasty as ice. So can wet leaves. Hitting some unexpectedly while leaned over in a curve or while making a slow, tight turn can have an unpleasant result. The best advice is to be observant of road conditions. When riding on sand or leaves limit lean angle and avoid abrupt changes in speed or direction. 
Dress for cold weather success. Hypothermia is a condition of lower than normal body temperature. A sign that you are already hypothermic is shivering. Hypothermia can slow your reactions, cause loss of concentration, and affect muscle movement. Not the things we want to happen while riding a motorcycle. Temperatures do not need to be below freezing to induce hypothermia. Wind chill takes its toll, and remember it worsens with increased speed.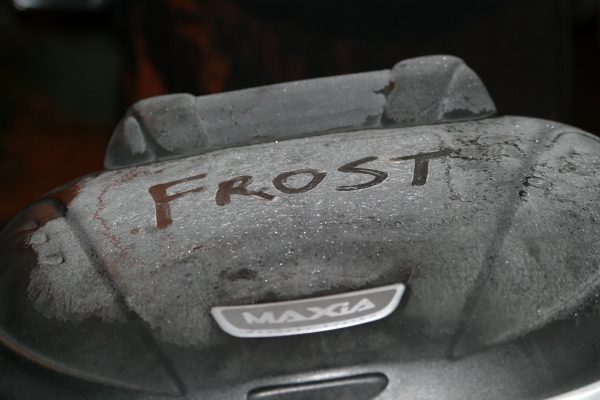 Choosing proper windproof protective gear and layering insulated garments will help. A full-face helmet will help keep chilling wind off your face, and a bandana or balaclava can help seal the neck. Many riders are going "electric," using heated riding gear that is powered by the motorcycle's electrical system.  
Make sure your motorcycle is equipped for the cold weather. A bike with a windscreen can help reduce the chilling effect of the wind. A fully faired bike or one that has added body work can also deflect wind from the rider. If your engine is water cooled, make sure your antifreeze level is adequate. To avoid being left stranded, be sure that your battery is in good condition. Using a battery tender when parked at home will help prolong the life of the battery.  
Do you have other quick tips for cold weather riding to share?