BROOKFIELD, CT – The German company Touratech, which caters to adventure riders with gear, accessories and parts, is expanding its U.S. footprint by opening a retail store and East Coast distribution center here.
"We're targeting early May for an opening," Touratech marketing director Matt Lewis said this afternoon, explaining that an initial "soft opening" of the new store in Brookfield will be followed later by an opening party. "This will be the second stand-alone store."
Touratech's U.S. division is based in Seattle where the company opened its initial store in 2006. It also has a third store that's incorporated into a motorcycle dealership in Florida at Motorcycles of Miami. The company sells name brand motorcycle apparel and goods as well as its own branded items.
Work is progressing on the new Brookfield location. "It's fun," said Lewis, allowing that "it's hard to set up a store from 3,000 miles away."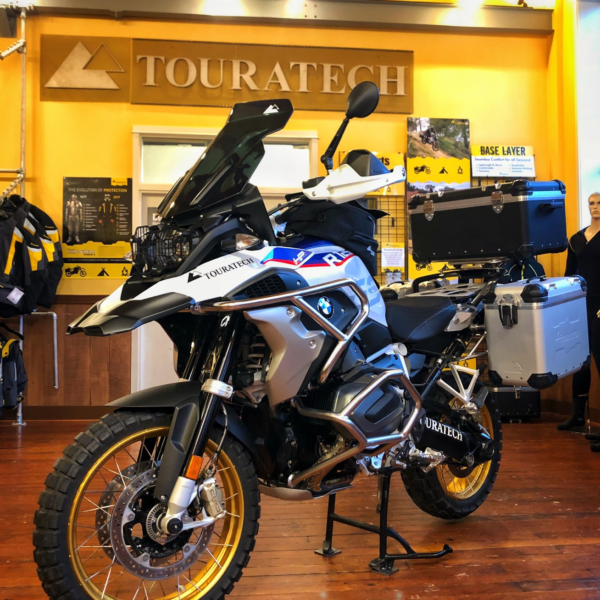 Like the Seattle store, the Brookfield outlet will be designed as a destination for riders. "We're definitely approaching it as a place for riders to go whether they're touring or on a day ride," Lewis said, adding that it will be a place to "stop and take a little break, talk motorcycles or sit on the couch and watch TV. "
The 3,000+ square foot store will precede the opening of a distribution center. "That's a ways off," said Lewis, reporting that it can be expected within the next two years.
Touratech began more than 25 years ago and currently supplies nearly 200 motorcycle dealers in the U.S. Lewis said that more than 90 percent of its own retail sales are online.
Brookfield was chosen as the location for Touratech's East Coast hub because of its proximity to so many metro areas. "We did a lot of research and looked at where customers are coming from and riding to," said Lewis. "We have to be at somewhat of a central location. A lot of our stuff comes by air. We polled customers and did a lot of analytical research."
Touratech is currently seeking employees for its Brookfield store. An application may be filled out via the company's Facebook page.
(Photos courtesy of Touratech)
Hello! If you enjoyed this story, please share it with other motorcyclists by clicking on the social media buttons below.