FALLS VILLAGE, CT – Toymakers Cafe, the colorful eatery that catered to motorcyclists for nearly two decades before closing in early September, is planning a comeback.
It will no longer be a full-scale restaurant open for breakfast and lunch, rather a spot to enjoy a cup of coffee and shop for tchotchkes. Its revival is set for the weekend of July 10-11. It will operate with limited weekend hours and a new name – Toymakers Coffee and Eccentrics.
Hours will be 9 a.m. to 2 p.m. Saturday and Sunday. It will feature coffee, other beverages and some food as well as crafts and other items in a flea market setting. It will also be accessible "by chance or appointment" Monday though Friday.
Menu For Toymakers Coffee and Eccentrics Uncertain
In an email this week, co-owner Annie Bidou said the exact menu is "uncertain as we are waiting to hear from the health department about what we are allowed to serve" under a lesser restaurant classification. More than likely it will be limited to drinks and light fare, such as pastries.
Bidou and her chef husband, Greg, started the British-themed Toymakers Cafe in 2002. It soon became a gathering spot for riders, especially on Sunday mornings when they gathered at picnic tables alongside the parking lot. It was known for its banger platters and sweet potato waffles.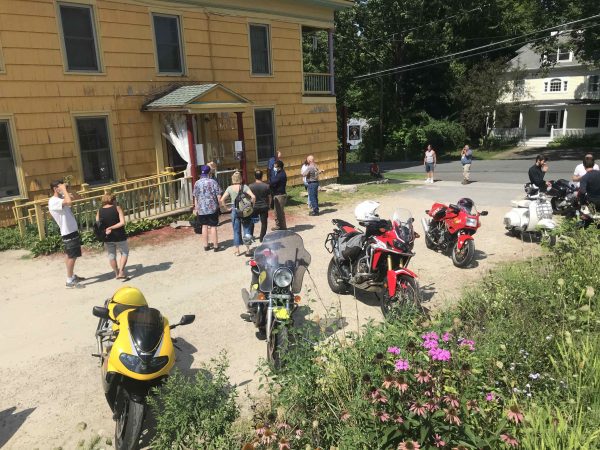 The COVID-19 pandemic, however, made access to the cafe impossible. The specter of red ink caused by hefty bills for food supplies, utilities and insurance forced a decision for them to close the business. It ended its run on Sept. 7, causing heartbreak in the motorcycle community.
Since then, the Bidous have had the west side of the Toymakers building repainted. They have also quietly invited regulars to visit for coffee on occasional Sunday mornings. That spurred a germ of an idea to modify the cafe's approach into a more realistic business model for going forward that will enable them to maintain the camaraderie.
Hello! If you enjoyed this post, please share it with other riders by clicking on the social media buttons below.