WASHINGTON, D.C. – Last year was a deadly one on the nation's highways with traffic fatalities soaring 10.5 percent over 2020, estimates released today by the National Highway Traffic Safety Administration reveal. Motorcycle deaths rose nine percent in 2021.
Deaths totaled 42,915, the highest number since 2005. The agency said deaths in 2021 registered the largest annual percentage increase since its Fatality Analysis Reporting System was inaugurated in 1975.
Here in the Northeast, the biggest percentage jumps in deaths could be found in Vermont, Massachusetts, New Hampshire and Connecticut.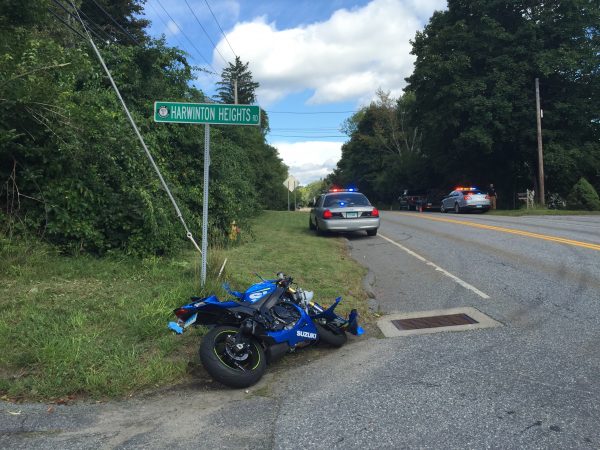 Nationally, fatalities involving multi-vehicle crashes and fatalities on urban roads were up 16 percent each, while fatalities among drivers 65 and older increased 14 percent. Deaths involving pedestrians or involving one large truck jumped 13 percent.
Deaths attributable to speeding or alcohol use were each up 5 percent as were bicycle fatalities.
No region of the country showed a decrease in deaths, with seven of the 10 regions studied exhibiting a double-digit rise in fatalities. Four states in the Northeast topped the national average in terms of increased deaths.
Region 1, which includes all of New England except for Connecticut, showed a 14 percent increase. Region 2, which includes Connecticut and New York, was up 12 percent. Individually, Vermont showed the greatest percentage increase in deaths in the Northeast. Maine actually saw a dip in traffic fatalities.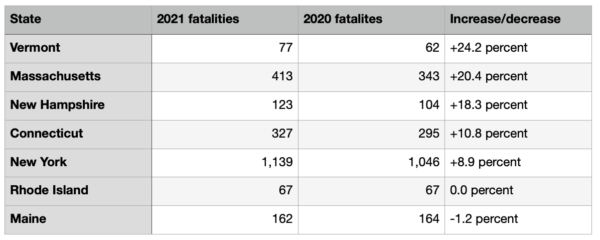 Meanwhile, preliminary data from the Federal Highway Administrations show that vehicle miles traveled in 2021 rose by about 325 billion miles, or 11.2 percent, over 2020.
Hello! If you found this story useful, please share it with other riders by clicking on the social media buttons below.