CHESHIRE, MA – The longtime owner of the private Museum of Vintage Trail Bikes, Jim Hoellerich, has died at 88. He passed away on Sunday, one day after hundreds of riders attended one last open house at the hilltop museum he founded that houses 100 or so models made by such companies as OSSA, Bultaco, Penton and Yankee.
"Jim passed away only hours after the event ended," wrote friend Paul Stannard in an email to RIDE-CT & RIDE-New England. "Jim is gone but his legacy will live on forever here in the Northeast and around the country."
A celebration of Hoellerich's life is planned for 11 a.m. June 25th at the farm where he started the museum more than 30 years ago. Besides old bikes, the museum has signage, vintage leathers, boots, and trophies from races past. It began with some relic OSSA models.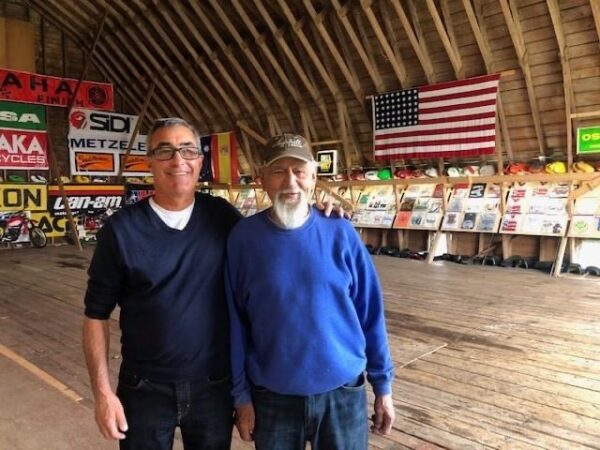 Museum Came About By Accident
"A guy had four or five of them in town," Hoellerich said back in 2010, recalling how he bought the OSSAs and was able to salvage enough parts to make two complete bikes. The collection grew over time, with pieces from "here, there and everywhere. A lot of people find me. I've got some (bikes) that people donated."
Hoellerich was a restorer, curator and the person to call to book an appointment to tour the museum. "I'm a collector. I don't sell," he said.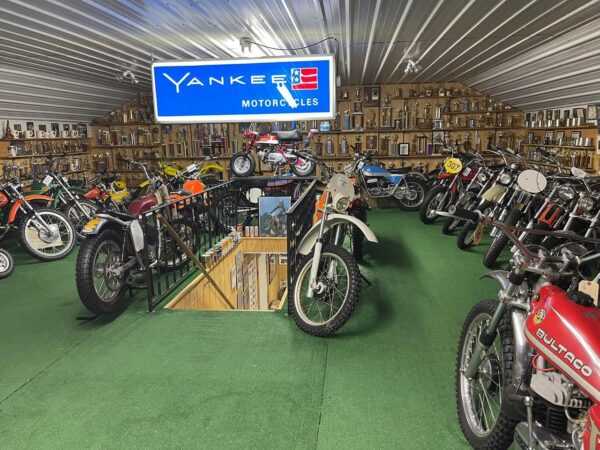 The museum was started so Hoellerich would have something to do to occupy his time after retirement and for the company it brought him. He didn't charge admission but he did accept donations.
"Everybody said, 'You're going to get lonesome when you retire,'" said the former dairyman, who figured "maybe a few people would stop to see." He ended up getting at least 400 to 500 visitors a year — by appointment only. "I'm open whenever you call. I tell everyone to call ahead. I'm always getting calls. It's worked out real good."
Open House Sendoff Was Well Attended
Sunday's sendoff for Hoellerich was well attended. "The open house had well over 300 fans and friends of Jim's showing up to show the love to him for all that he has meant to us all these years," Stannard wrote.
Back in 2010, Hoellerich said that artifacts in the museum would be sold upon his death. "All the stuff's going to auction. It's in my will," he said. Maybe the collection will remain intact, but even if it doesn't, "It'll go to collectors anyway."
Hello! If you found this story newsworthy, please share it by clicking on the social media buttons below.