ELLINGTON, CT – The sale of TSI Harley-Davidson has been completed, resulting in a name change for the dealership and a promise by new ownership of "more inventory and a better selection of everything."
Effective Thursday, the store became Old School Harley-Davidson.
In a Facebook post, co-owner Chad Clark also reported that the 47-year-old dealership will have "additional sales people and mechanics to better serve your Harley-Davidson wishes and needs."
TSI Harley-Davidson was founded in 1972 by Harry Levesque Sr. His son, Harry Levesque Jr., said back in May that "a few different things" went into his decision to sell.
The new owners are Clark and Bryan Castor, who also own Sheldon's Harley-Davidson in Auburn, MA and Spitzie's Harley-Davidson in Albany, NY.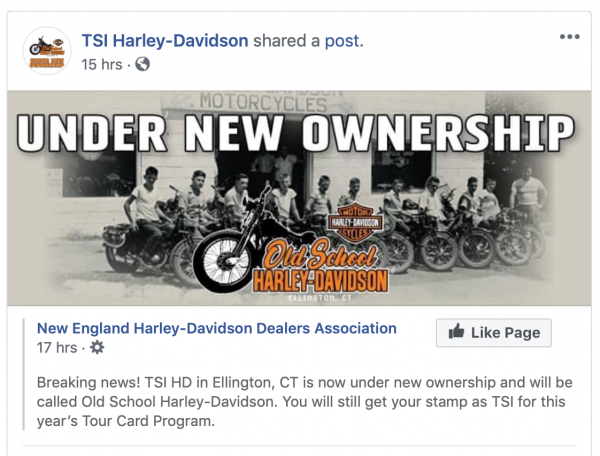 Clark and Castor have owned Sheldon's H-D since January 2013. They purchased Spitzie's H-D in May 2018.
Clark is a former district manager for Harley-Davidson, while Castor worked at several Harley-Davidson stores before becoming an owner.
Old School Harley-Davidson has already launched a new website that proclaims that the dealership is "Under New Ownership." Posts are still being put up on TSI Harley-Davidson's Facebook page.