BRIDGEWATER, CT – Cultural immersion is one of the greatest benefits of riding outside of the United States, but there's also the gorgeous scenery and gastronomic delights to enjoy. Doing an out-of-country tour with a local guide only enhances the experience, as I recently discovered by riding through the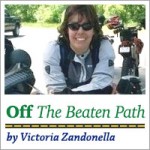 Tuscany and Umbria regions of Italy on a Ducati Scrambler. It was the second European moto tour that I've done in the past five years and a bucket list trip I had long awaited to embark upon.  
This particular tour was staged by Rome-based Hear The Road. It had 10 total participants and seven bikes. Leading the tour was guide Enrico Grassi, founder and owner of the tour company. We had three pillion couples, three single female riders, and an esoteric array of bikes, including BMW, Ducati, Harley Davidson and Moto Guzzi. Participants came from Australia, the U.S., Kuwait and Ukraine, along with our tour host who is a native Roman.
Most of the group had never visited this alluring part of Italy before and were all anxious to experience the riding, scenery, culture and cuisine. The tour began in the heart of Italy where the group got to experience ancient Rome with a welcome dinner and an evening stroll through the old city, which went past many well-known monuments, including the Pantheon. Throughout dinner, and as we walked, we learned a bit more about each other, and our respective homes and past touring and life experiences.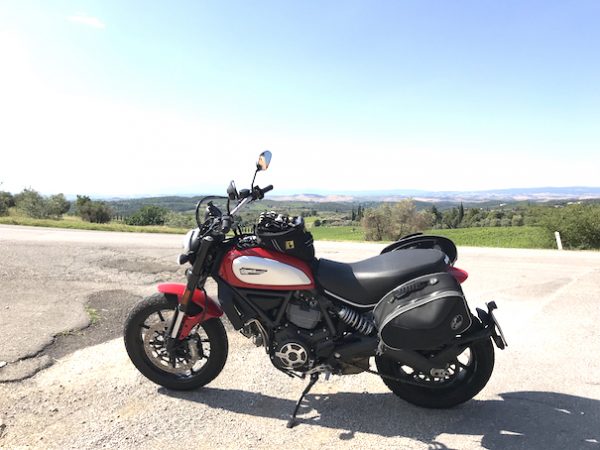 Energy and excitement were high as we shared our aspirations for the upcoming tour into the countryside. 
The next morning, we saddled up and headed out of Rome – an adventure in itself thanks to traffic – and onto the Autostrada towards Tuscany. We immediately noticed that the traffic rules of European riding are radically different from our countries of origin. Passing, lane splitting, and high speeds are quite the norm, which can take some getting used to for those from countries with stricter laws.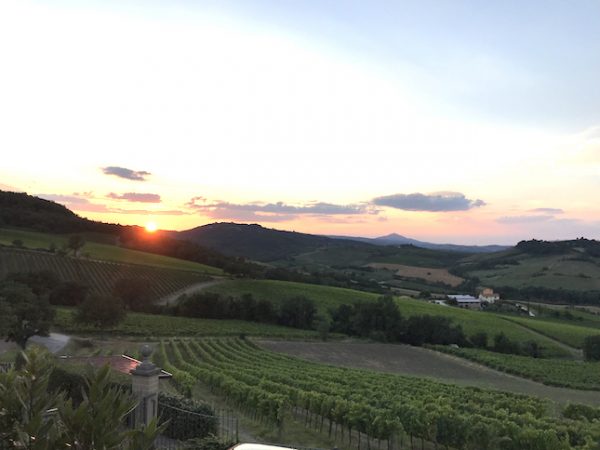 Soon we were winding down the luxuriously twisting lanes of the Tuscany region. Rows of cypress trees adorned the landscape along with stands of olive trees, grape vines and huge round bales of golden straw dotting the countryside. The pack melded into a sensible rider order with the more spirited riders gravitating towards the front of the pack, with those who chose a more relaxed pace moving further back. This order remained the status quo for the remainder of our tour.
Understanding each other's riding style was crucial to enjoying the journey. We were fortunate to have a very tenured crew in this respect. Everyone, no matter the type and size of their steed, was extremely proficient. This allowed us each to relax and establish a proper pace and buffer behind the rider we followed. Lane position and consistency were critical factors in understanding how to stay safe in the pack and make our fellow riders comfortable within the group at the speeds we were traveling.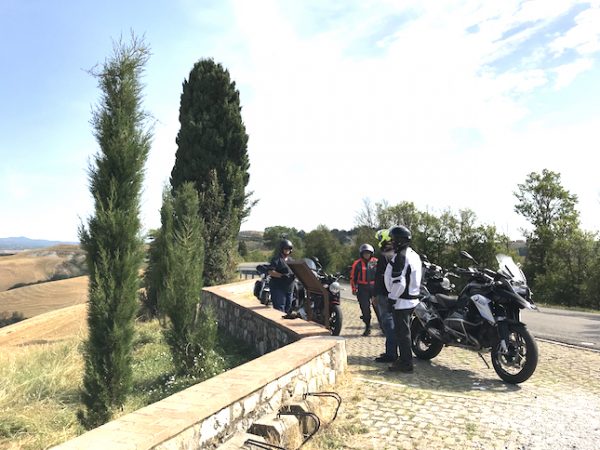 We were fortunate to have moto-journalist Mark Hinchliffe of the Motorbike Writer website in Australia in the crew. He and his wife made a great team, capturing many high-quality stills and videos of the group. They would ride ahead to scenic locations and capture the group as we passed, providing many wonderful keepsakes from our adventure.
The scenery in Tuscany and Umbria became more dramatic with each successive day, and our midday and evening repasts always amazed. The locations we stayed in Sienna and Orvieto were a feast for the soul with mind-blowing scenic beauty everywhere we looked. Free days allowed us to tour these cities and bask in the history of these ancient and historically epic locations.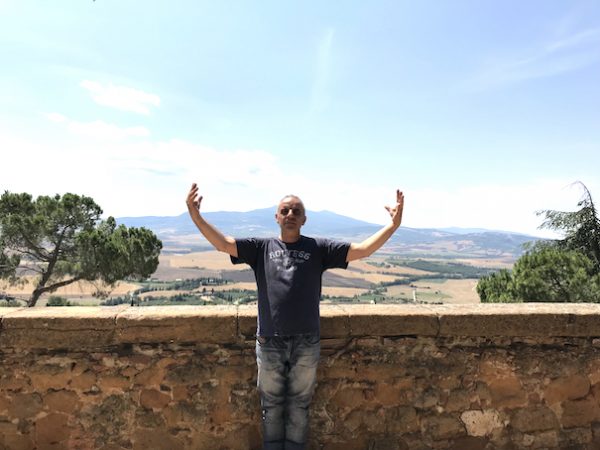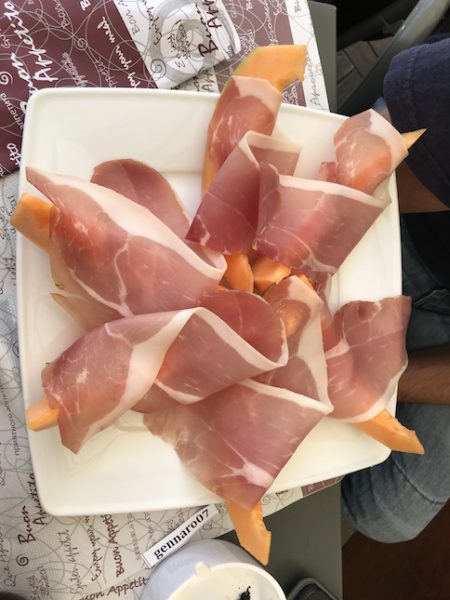 We learned so much from Enrico with his insider's view of his home country. He shared the history of this amazing place along with the best roads to ride and spots to visit along the way. The après-ride cuisine and wine we enjoyed was authentic and beyond our expectation.  
Personalities can be an element of group touring. For the most part, we were fortunate to have several wonderful folks to enjoy the trip with and we quickly bonded as friends. I am pretty sure we'll make future connections with our tour mates in hosting each other for future moto adventures in our respective home territories – another significant benefit for choosing a global tour!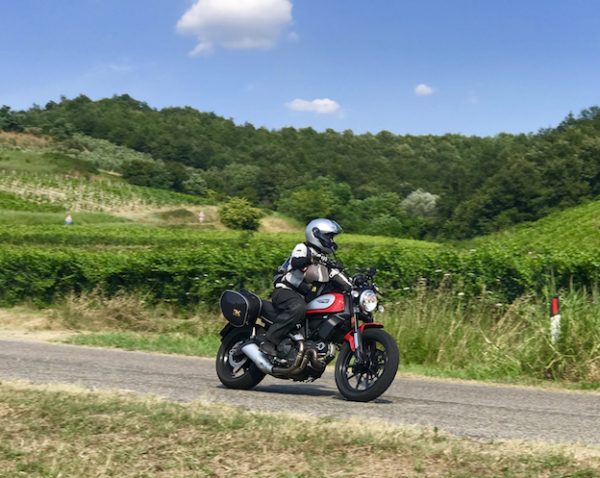 If you haven't yet taken an out-of-country tour, it is an experience that will shed a whole new perspective on riding. The eclectic mix of bikes and participant cultures added greatly to the richness of our tour experience. Not only did participants learn much about the lands we traveled from our Italian tour guide, we also enjoyed the cross-cultural exchange between our fellow tour mates.
As tomorrow is never promised, pick that far-away place you've always dreamed of touring and make your plans for the adventure of a lifetime. 
And, as always, enjoy the ride!
Photos unless otherwise noted are by Victoria Zandonella