HARWINTON, CT – In a social media post last month, I mentioned how RIDE-CT & RIDE-NewEngland had just held its first-ever staff lunch, bringing together most of our far-flung writing staff to kick around ideas for improving the website. There were dozens of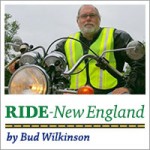 suggestions, which have resulted in a few changes, with more to come.
Over the last week or so, some pages have been added and one other page, Hot Links, revived. New are the Staff Inflection, Bookshelf and Test Ride pages. The website has also been adjusted to make commenting easier, and readers are encouraged to do so.
Also addressed in recent days has been the continuing issue of how quickly the website loads when a person clicks on the URL. We've been tweaking storage and compacting pictures, which seems so far to have improved the load time a tad. A slow load can be irritating. The problem is being addressed and will continue to be addressed.
The new pages are pretty self-explanatory:
– Bookshelf will feature reviews of new motorcycle books and author interviews.
–  Test Rides will feature staff-written reviews of new models. This was something RIDE-CT & RIDE-NewEngland did in the early days, but the practice fell by the wayside. The national magazines were already filling this role and I figured it would be wiser to allocate resources to covering local stories.
However, with so many mags folding or trimming the number of issues they put out, and a staff itching to try out new bikes, we're getting back into reviewing later this spring. Most of the manufacturers and many dealers are on board, so look for new model reviews soon.
– Staff Inflection is a place where the staff comes together to voice opinions. It may in reaction to a news event in the motorcycle world, a trend or even something frivolous involving bikes.
Getting brought out of  mothballs was the Hot Links page devoted to interesting motorcycle-related websites that readers may not be aware of. Again, this was a page from the website's early days, with Bob Rosen doing the suggesting. A switch in software/theme more than a year ago resulted in a change in the way this page currently looks. Some tweaking is needed here to make it more attractive. Give us time, and this will be fixed. In the meantime, if you know of an interesting site worth touting, let us know.
More changes and improvements and even some more new pages are on the horizon, so you can expect the appearance of the website to change a bit more in the coming weeks and months. The goal is to improve content and make RIDE-CT & RIDE-NewEngland even more of a resource for riders in the northeast.
If you enjoy RIDE-CT & RIDE-NewEngland, please spread the word!