HUDSON, MA – When is a motorcycle not a motorcycle? One answer may be when it doesn't have a rear wheel, rather two treads.
Tucked in a corner at the newly-opened American Heritage Museum here is such a vehicle – a German-built ""Kettenkrad" from World War II. Formally known as the Sd.Kfz. 2 Kleines Kettenkraftad HK 101 and built by NSU, it is categorized as a "German light tractor."
Like a motorcycle, the Kettenkrad has one wheel up front with forks, handlebar and a sprung seat for the driver.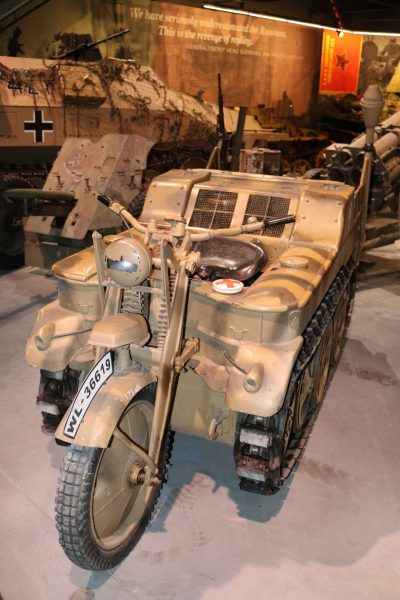 "This is actually a cross between a motorcycle and a snowmobile," lead docent Colin Rixon said Saturday. "The Luftwaffe would have had a lot of these and they would use them on the air fields to tow the ammunition and bombs out to planes to reload them, and also to save fuel, they would tow the aircraft to the end of the runway to refuel them. They were just used as a runabout."
The Kettenkrad was produced between 1939 and 1948. Powered by a four-cylinder Opel engine and weighing nearly 3,500 pounds, it could go 44 miles per hour and had three forward gears and one reverse.
"They're quite neat to drive. They're actually steered by the handlebars. It's attached to the brakes and the tracking system and as you brake on one side, it turns the tracks. They go quite fast and they turn over quite easily if you're not handling it right. It's quite a neat bit of machinery," said Rixon.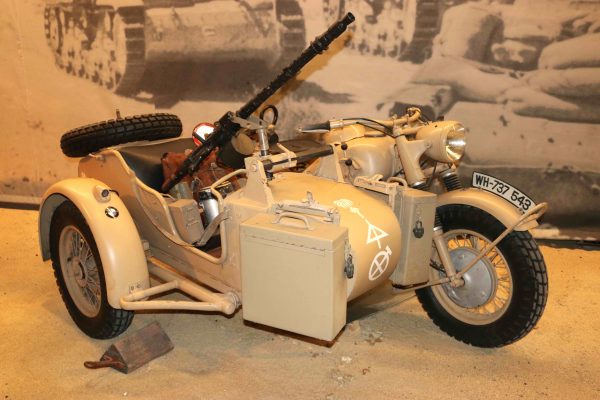 The American Heritage Museum does have one actual motorcycle on display. It's a 750cc, World War II-era BMW R75 with sidecar. It was used by the Wehrmacht in North Africa.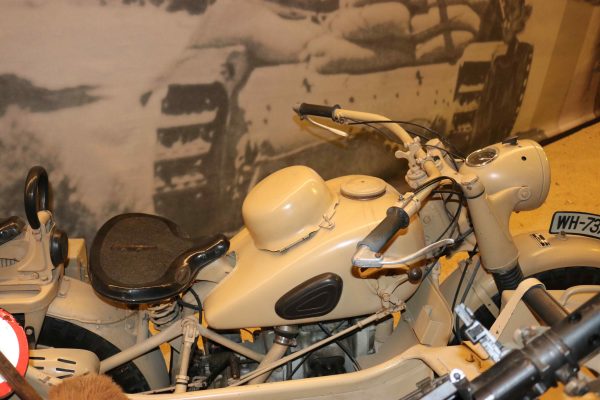 The American Heritage Museum only opened on May 3. It's filled with military weapons of war from World War I through today, including many tanks. (A full story will appear soon in the Destinations section.)
The museum is open Friday through Sunday from 10 a.m. until 5 p.m. Admission is $20 for adults, $18 for seniors, $10 for children 12 and $18 for active duty military. World War II veterans get in for free.