VERNON, CT – Having spent $6.5 million and obtained more than $4 million in state loans to open the New England Motorcycle Museum in the Rockville section of town in late summer, founder Ken Kaplan is now revisiting crowdfunding to help keep the grandiose project moving forward.
On Wednesday, Kaplan launched a begging campaign via patreon.com. As of this evening, two "patrons" had pledged $18 per month. He's seeking $500 per month initially. When that goal is reached, he promises, "I will start a special podcast series and interview 1 patron every month about there (sic) life journey with motorcycles and or music."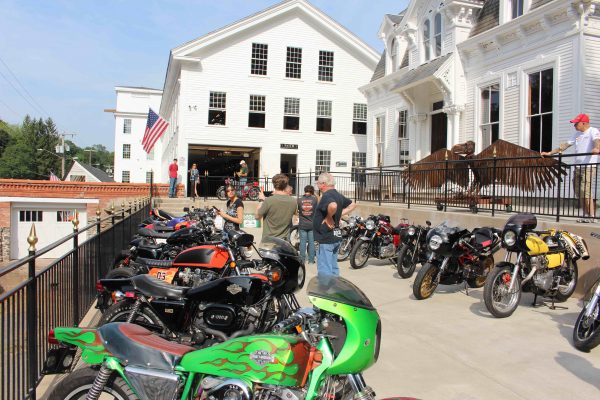 Kaplan's crowd-sourcing page touts the New England Motorcycle Museum as a venue that will eventually feature a museum, restaurant, and bar as well as space for outdoor movies and concerts.
"JOIN KAPLAN AMERICA AND MAKE ROCKVILLE GREAT AGAIN!" the page proclaims, "Kaplan America" being the muscular super-hero persona that Kaplan has created for himself.
"Obviously, we're out of money again," Kaplan told RIDE-CT & RIDE-NewEngland, launching into an explanation of how he's taking a broad approach to bringing in cash for the non-profit museum. That includes a monetized YouTube channel. The channel has produced 1,500 videos, which have garnered six million views. It has 13,500 subscribers and brings in $600-$800 a month.
Kaplan said he's going the crowd-funding route despite an unsuccessful Kickstarter effort a couple of years back. His goal then was to raise $250,000 but when the effort failed, he had to return $20,000 in pledges. "We were really discouraged about that," he said.
His hopes this time regarding crowd-funding are a bit more modest. "Even if it doesn't bring in a lot of money, every little bit helps. It's not like Kickstarter where it's all or nothing," Kaplan said, reporting that the museum has a $4 million mortgage. "We need other sources of income," he said.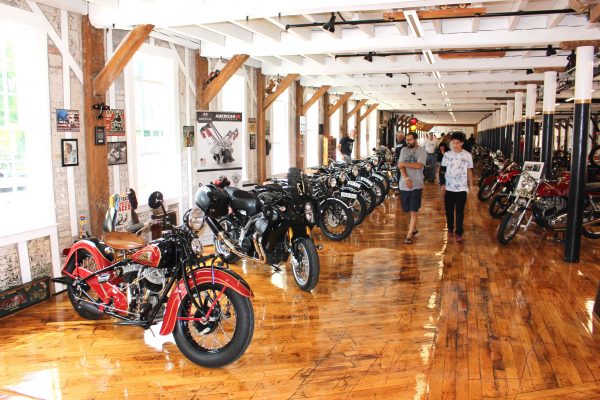 Kaplan has spent more than five years constructing the museum in the former Hockanum Mill. The four-story facility was built in 1814, destroyed by fire in 1854 and rebuilt. The museum opened on Aug. 25 with a Café Fever party that included a ribbon-cutting ceremony involving local politicians.
Since then, Kaplan has staged other parties and kept a high-profile on social media. "It's our No. 1 way of advertising," he said.
As previously reported, in November be teamed up with Haymond Law and posted an aggressive video on YouTube titled "Beware Bike Thieves." He declared he was going after bike thieves and offered a $2,000 reward. In the video, Kaplan appeared as "Kaplan America" along with a posse that brandished shotguns. In a voiceover, he declared, "Motorcycle thieves, your reign of terror is now over. There's now a bounty on your head."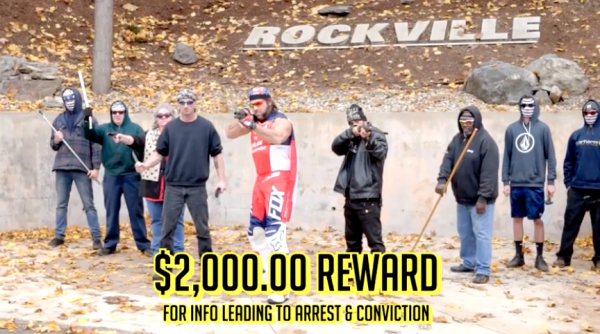 The New England Motorcycle Museum is open from 10 a.m. to 5 p.m. Monday through Friday and from 10 a.m. to 3:30 pm. Saturday and Sunday. Admission is $10. Kids 10 and under get in for free.
-By Bud Wilkinson