MANCHESTER, NH – Having been "disappointed to be disappointed" upon taking a first test ride of a new Harley Davidson Pan America 1250 on Friday at a dealership that I dubbed "Dealer A," I nonetheless kept my appointment for the second ride on Saturday at a different dealership.
Everyone else has loved this machine; what was I possibly missing? The answer was "Sport" mode. I was missing Sport mode.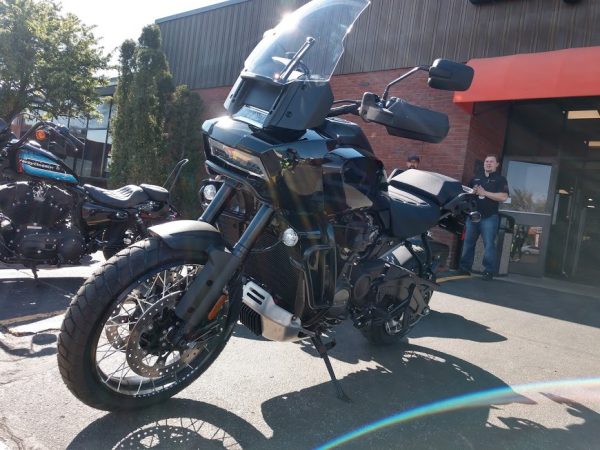 Dealer B is 20 minutes up the road from me, so an easy back-roads jaunt. I got there right as they opened. A salesperson came up to me, pointed at my Yamaha Super Ténéré, and said, "What is this?" A Super what?
I soon learned that the salesperson who was helping me didn't ride a motorcycle and didn't have her license. She assured me she sold bikes just fine anyway. Out of curiosity, I started asking everyone in the place, "Have you ridden the Pan Am? What do you think? What can you compare it to? What else in this segment have you ridden?"
Most responded that, yes, they'd ridden the new Harley but, no, they couldn't compare it to anything else in its class. One guy made jokes about some "janky BMW" that someone traded in and that they could maybe ride that to compare. It turned out to be a late-aughts RT, so not really a comparison, but I'm not sure they grasped that.
Unlike my visit to Dealer A, no mention was made of the demo truck that Harley-Davidson has been sending to dealerships to educate stores on the Pan Am, which is the brand's debut ADV model. 
Dealership Does U-Turn On Test Ride Invite
It was at this point that the salesperson blindsided me by saying flat-out that they weren't allowing test rides except for "serious buyers" – even though I had made an appointment for a test ride days before and they'd called me to schedule it.
I asked myself, "What had I made an appointment for?" I then asked the salesperson, "How do I know whether I'm a serious buyer without riding the bike?" She went to "get her manager" to get an answer.
After some time, someone apparently decided I was "serious enough" and I got the green light for a test ride. Like the previous day, the ride would be escorted, and they made me wear a bright yellow Harley-Davidson vest with a license plate attached to the back – complete with license plate bolts. Think they'd dig in on a get-off?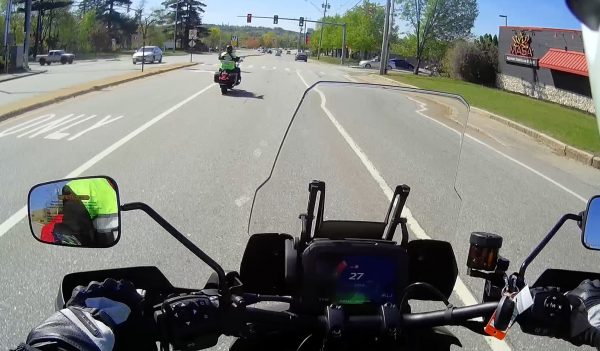 This time, I made sure to put the bike in Sport mode and, friends, it found its testicles.
Throttle response went from bland on "Road" mode (as I detailed on Sunday) to "Thank you, sir, may I have another?" power. All the horses were awake and working. Now we're talking!
To be fair, the bike is not the coiled-spring of a Ducati MultiStrada. It's not the on-demand careful-what-you-ask of a modern BMW GS. But it's also definitely not the Honda Deauville that I was initially fearing Harley had reproduced.
The smoothness of the Pan Am's engine masks the character so many H-D motors have, but I'm sure with ownership the v-twin will start to talk to you. It's not a Ducati conversation to be sure, but it's not quite an appliance either.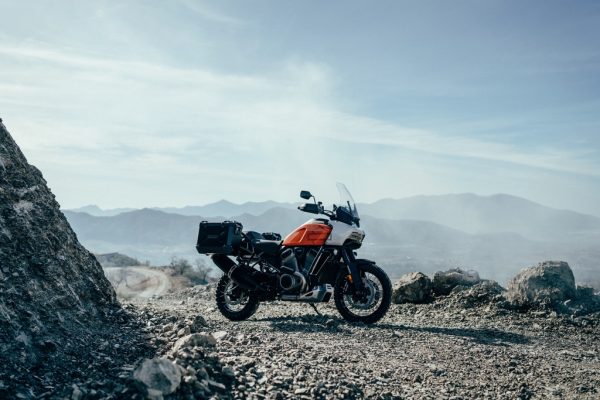 The other ride modes on this bike knock it down from Sport mode, so perhaps the designers (probably smartly) had an eye toward making this bike beginner-friendly. In Road mode (and probably much more so in Rain mode) it feels eager but reined-in. It'll do what you ask it to do, but you have to ask sternly and mean it. In Sport mode, you ask and it immediately delivers.
The other modes are Off-Road and Off-Road Plus. It's also possible to create your own custom mode.
What Came Next Was A Full-Force Sales Effort
When we got back to the dealer I was so impressed that when they asked if I might be interested in purchasing a Pan Am and could they give me a number for a trade-in on the Ténéré, I said sure.
Big mistake.
Long story short, an hour and a half later after telling them no-thanks, please don't run a credit check on me and needing to ask for my bike's registration back, I left the dealer without buying. 
But, boy, did they try. Three different salespeople hit me with the "What can I do to get you on this bike today" line, they offered me easily $2,000 over what I could sell that '13 Ténéré for in a private sale, and the finance manager (if I recall correctly) actually chased me out to the parking lot to ask me what the blocking issue was. 
I left that place feeling like I needed a shower. But I got back on my Ténéré and knew I'd made a good decision. This bike has never let me down in 46,000 miles and while that Harley was minimally better than the 'Ten at everything, it absolutely wasn't "low to mid twenty" thousand dollars better.
(Yeah, this dealer doesn't put price tags on anything and wouldn't give me a sale price for the bike without running a credit check.)
I am admittedly gun-shy about investing that kind of cabbage in an absolutely all-new, first-model-year machine. For the record, the MSRP for the Pan America 1250 begins at $17,319. The flashier Pan America 1250 Special starts at $19,999.
Center Stand Needs A Second Look
While I couldn't find too many things to complain about on this bike, I do have a couple gripes:
The center stand. It feels like an extreme afterthought, like someone at Harley looked at them five minutes before ship time and said, "WAIT! These bikes should have center stands!"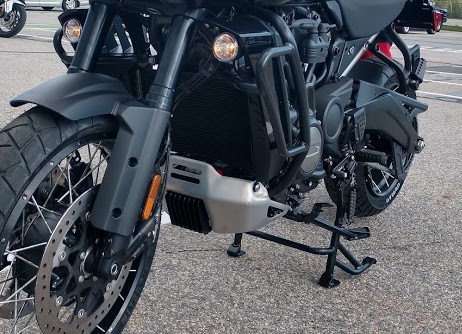 The Pan Am pops up just fine, but the side stand and center stand "argue." You can't put the side stand up or down if the center stand is down. That feels a little bit too "We're new at this" to me.
Another issue is the turn signal switch. It's standard Japanese design – one little button that you push right or left. To cancel, either push it in the same direction again, or push it in. The button is too low-profile and I was constantly struggling to cancel my signal.
That's very little to complain about. Harley did a damn fine job on its first entry in the ADV category. Would I buy one? Yes. But if I did buy this bike, I'd go to Dealer A.
Hello! If you enjoyed this review, please share it with other riders by clicking on the social media buttons below.