NORTH GRANBY, CT – How the ride known as the "North East 7" came to be cannot easily be determined. I first heard about it two or three years ago from fellow CONREP instructor Dollie Fonseca during an instructor training class. She shared that her husband, Ralphie, led a ride that covered seven states in the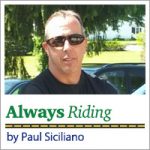 northeast in one day. Once she learned about my long-distance riding experience, she thought I might want to join up one year. 
This year I got an invite, and Ralphie Fonseca (a.k.a Fonz) revealed that the ride is approximately 600 miles, beginning and ending in Bridgeport, CT. There are stops for breakfast and dinner. If you complete all seven states, you'll qualify for a patch that was designed specifically for this ride. 
Fonseca reported boots would go up at 6 a.m. sharp; and if you didn't have an E-ZPass, order one. When I asked if I might bring a friend, or even several, his reply was, "Any friend of yours is a friend of mine. Yes."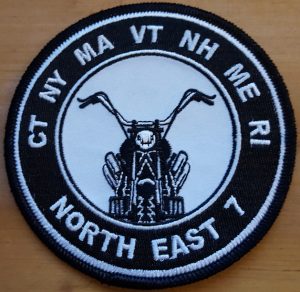 A grandiose ride such as the North East 7 can be a challenge and as the day gets closer some riders admit it may be more than they can handle. I would never criticize anyone who recognizes their own limits and makes that decision. Indeed, several of my own invited riders chose at the last minute to do just that.
In the spirit of good motorcycling etiquette, Fonseca invited those who did take part to peel off at any time they saw fit, although he set a tone as if the ride was designed for anyone. The ride began with 19 riders, three of them passengers. I believe all but two riders completed all seven states.
Fonseca was not able to tell me how or why this ride came to be. He, too, had learned about it from a fellow CONREP instructor who was leading it when he joined his first one in 2009. Several years later, in the latter part of 2015, the talk of the 2016 North East 7 seemed to be nonexistent. It was thought (though not confirmed) that medical reasons prevented the ride leader from organzing the ride, so Fonseca stepped up to keep it going. 
The route for the North East 7 changes each year. Living in north-central Connecticut and not wanting to ride to the shoreline to have to backtrack, along with two friends, I joined the pack at O's Hillsdale Country Diner in Hillsdale, N.Y. for breakfast. The ride then took us into Massachusetts, passing through Mount Greylock, and then crossing into Vermont for our first break at Hogback Mountain.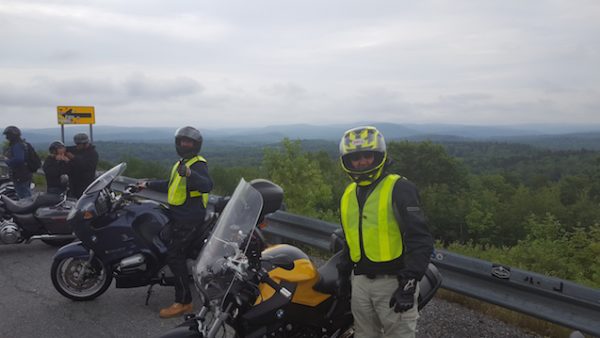 Once mounted again, we rode thru Keene, NH, passing through Concord to Wells, ME where everyone enjoyed a seafood dinner at Billy's Chowder House. The pack rode in staggered formation and enjoyed the safety of two sweepers, one of whom was in communication with Fonseca up front. 
Through the many towns, our pack only experienced one act of driver aggression, which was handled safely and tactfully by our sweepers Ed and Marlena. Ed skillfully protected the pack inserting himself between the vehicle and the pack (after the driver cut into us), while Marlena gathered us back into staggered formation. It was impressive to watch how skillfully they did this while the pack rolled safely along not missing a beat.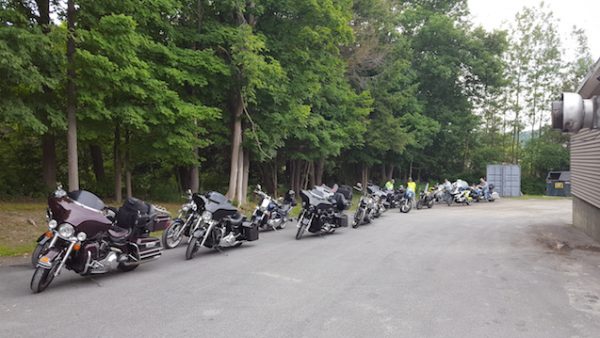 No matter how much experience a rider has, riding with a group will always be a learning experience. Understanding the mechanics of group riding proved to be a challenge for several riders on the North East 7, including my invited guests. The distance involved increased the challenge as fatigue becomes a factor for those not accustomed to long-distance riding.
I've always believed that every ride is unique, as is every rider. Conditioning for the ride like the North East 7 is important. My invited guests aspire to complete an Iron Butt Association SS-1000 and during our post ride discussion I used the analogy that no one should toss a football around a parking lot and think they can play an NFL game that weekend.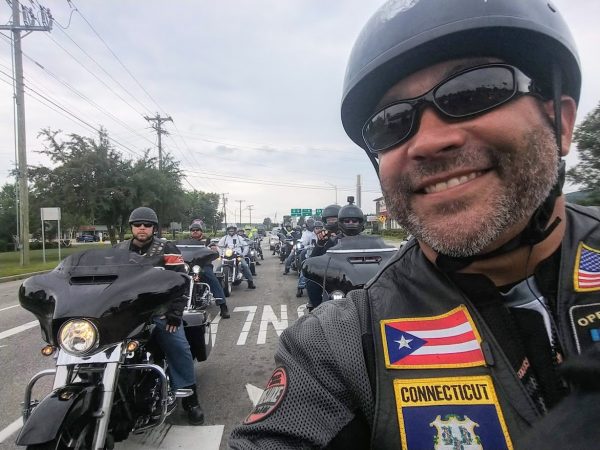 The North East 7 was well-planned, well-executed and conducted at a respectable pace by Fonseca. The ultimate goal is to arrive alive. The odds of this happening can be increased through practice, planning and conditioning. That's a fact.
Having now earned a patch, I'm already looking forward to next year's North East 7.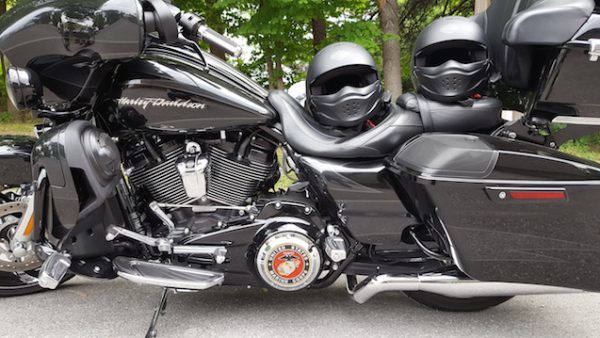 Photos by Paul Siciliano unless otherwise noted.