VERNON, CT – The founder of the New England Motorcycle Museum is threatening more physical violence against bike thieves.
In a new video posted Tuesday on the museum's YouTube channel, Ken Kaplan offers a new warning to "dirtbag bike thieves" that vigilante justice will come to pass if some recently stolen bikes are not returned.
"We're coming for you, little buddy, and it ain't going to be pretty," threatens Kaplan, brandishing two clenched fists. He's dressed in his well-known "superhero" persona of "Kaplan America." This time he's wearing a mask that resembles a United States flag and a red, white and blue boxing robe.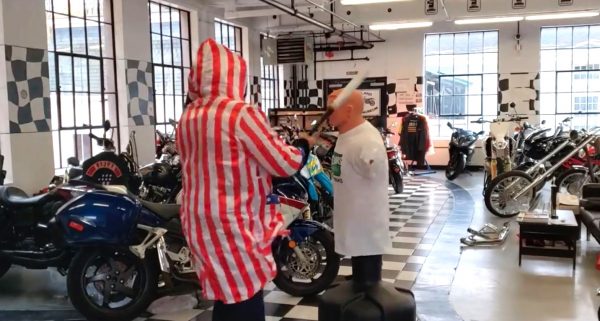 Later in the video, Kaplan dons boxing gloves and proceeds to pummel a dummy that has been set up in the office/showroom of the museum. He then picks up a baseball bat and repeatedly strikes the dummy atop the ahead.
"That's what you're going to get. Give up the bikes," Kaplan declares in the video that is titled "MESSAGE TO THE BIKE THIEVES, WE ARE COMING, THE DRAGNET TIGHTENS!"
In a separate post Tuesday on Facebook, Kaplan states that nine motorcycles have been taken from four families in recent days in eastern Connecticut and says he's posted a $3,000 reward "to bring the thieves to justice."
Kaplan asks Facebook readers to "help send these dirtbags to prison before they end up in a body bag. You will get cash and be doing them a favor" – the inference being that he'll hunt down the thieves himself and slaughter them.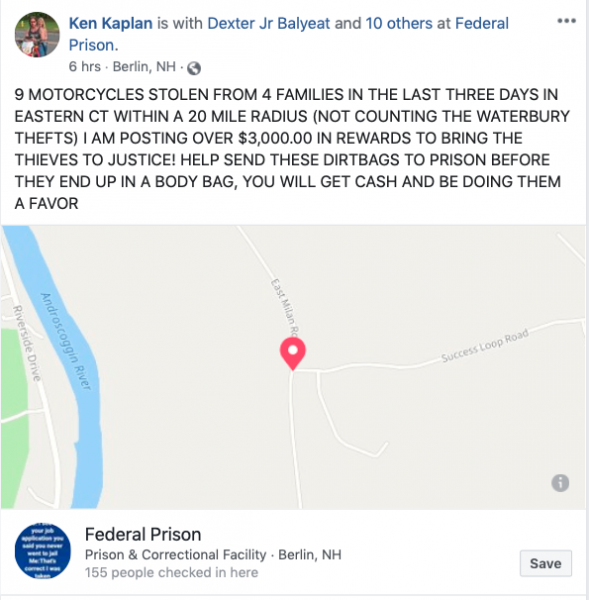 Kaplan's outlandish video comes almost a year after he posted another over-the-top video titled "BEWARE BIKE THIEVES" in which he announced the formation of a posse to take on bike thieves. RIDE-CT & RIDE-NewEngland reported on that video here.
In that video, Kaplan and posse members brandish shotguns and other weapons. He proclaims, "Motorcycle thieves, your reign of terror is now over. There's now a bounty on your head."
He's later shown swinging a broomstick. "If you'e lucky, the cops will get you first," he says.
As of 6 a.m. today, Kaplan's new video has received more than 3,000 views and more than 100 comments.