It's a fascinating video that contains some surprising and not-so-surprising conclusions on the build practices of various motorcycle brands. It's perhaps predictable that the Chinese brand Yin Xiang gets labeled as "atrocious but cheap" and Italian makes Aprilia and Ducati get written off as "shoddy." However, Royal Enfield from India claiming first place in the quality derby certainly comes as an eye-opener.
The 7½-minute video was posted a week ago on FortNine's YouTube channel and so far has nearly 475,000 views. In it, host and writer Ryan Kluftinger tells how a "cleanliness technician at a major car manufacturer" made him an offer to put first-service oil from 12 new motorcycles under a microscope.
(FortNine, by the way, is a Canadian online retailer of motorcycle parts, gear and accessories.)
Kluftinger doesn't reveal the car company's name, but does say it wasn't BMW or Honda, which both build cars and motorcycles. Oil samples provided by volunteers with new bikes were tested for the amount of particulates present and for the size of those particles; greater than five micrometers, 10 micrometers and so on.
"Some were clearly made with pride in hermetically sealed workshops, while others wouldn't pass muster in the North Korean prison factory," Kluftinger reported of the bikes in the comparison test. The results reflect on the build quality of the brands. "It's like a report card on how clean the manufacturing is," he explained.
The laboratory found a variety of materials in the oil samples – carbon, metal shavings, cloth fibers, sand from molds, plastic from packaging and even a wood chip. Kluftinger called them "all things you'd find in an assembly area but not things you'd want in a cleanly and precisely built motor."
Yin Xiang, Aprilia And Ducati Are The Worst
Worst of the lot by a wide margin was Yin Xiang with 11.8 million particles, followed by Aprilia with 2.3 million, Ducati with 1.8 million and Harley-Davidson with 506,112. Best in show by a goodly margin were Royal Enfield with 62,808 and BMW with 62,811. Grouped in the middle were Honda, KTM, Kawasaki, Yamaha, Triumph and Suzuki.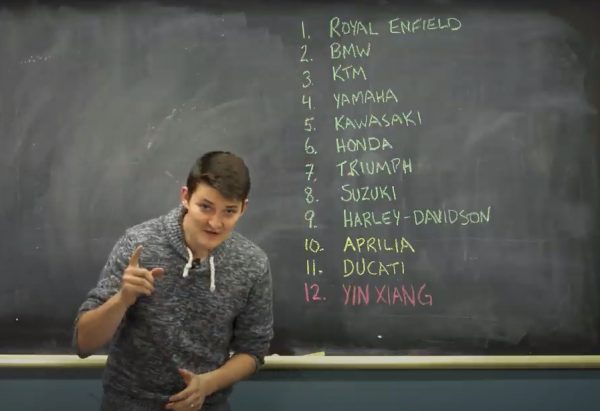 "The Chinese motor was so full of shit that it broke the fancy microscope," said Kluftinger. "Basically, other than our Chinese and Italian motors, all the engines are considered clean enough – for now."
As for Royal Enfield coming out as exhibiting the best quality, he called it "an unexpected cherry atop this sundae of confirmed clichés."
Here's the video:
Hello! If you enjoyed this story, please share it with other riders by clicking on the social media buttons below.