There were some open spaces on showroom floors last year caused by the COVID-19 pandemic. Customers who were anxious to buy motorcycles and escape were a big part of the reason for the gaps, but factory shutdowns also presumably played a role. If dealerships did well in 2020, they may do even better in 2021.
Results of the latest RIDE-CT & RIDE-New England reader poll reveal that riders are anxious to buy new bikes, and the pent-up demand could certainly be good news for dealers. Nearly 60 percent of those expressing opinions over the past month or so were open to the idea of buying a new model.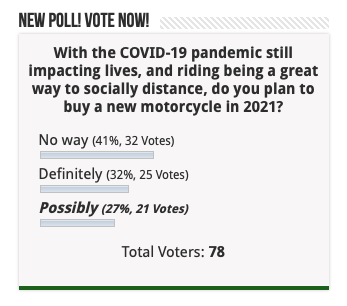 Yes, 41 percent did say "No way" to buying a new motorcycle this year, but 32 percent said they'd "Definitely" do so. An additional 27 percent said "Possibly."
The poll ran from Feb. 11 until this morning, with turnout rebounding from the previous poll.
New Poll Asks Whether You'll Attend Shows This Year
A new poll has now been posted. It asks riders whether they will attend shows and rallies this year now that arms are getting jabbed and state restrictions enacted last year because of the pandemic are getting rolled back.
An Event Calendar for 2021 has been posted on the website and is being updated regularly as shows and rallies confirm that they'll go forward or announce that they'll postpone for another year due to the pandemic.
Vote now! The poll is atop the upper right-hand column of every page of this website.
The website's polls are non-scientific and conducted just for fun and out of curiosity. They run for no set period, from a couple of weeks to a month or more. If you have a suggestion for a poll question, please email budw@ride-ct.com.
Hello! If you found the latest poll to be fun, please help boost balloting on the new poll. Share this post with other motorcyclists by clicking on the social media buttons below.