WOODCLIFF, NJ – A new BMW motorcycle dealership "servicing the five New York boroughs" is "expected by Spring 2022," a spokesman for BMW North American said today, while confirming the contents of a recent email to customers informing them of the impending closure of the company's current motorcycle store at 555 West 57th St.
BMW of Manhattan Motorrad will close Dec. 31 "for both motorcycle sales and servicing as BMW Motorrad prepares for the next chapter with a new location servicing the five New York boroughs – expected by Spring 2022," wrote spokesman Oleg Satanovsky in response to an email sent to the store by RIDE-CT & RIDE-New England.
BMW of Manhattan Motorrad dates back to 1996. Unlike other BMW dealerships that are independently owned, it is owned and run by BMW North America. Satanovsky's email came in reply to an email sent this morning by this website to BMW of Manhattan Motorrad general sales manager Fred Smallwood seeking clarification after a Tuesday night post on Facebook stated the store is closing and the employees are being fired.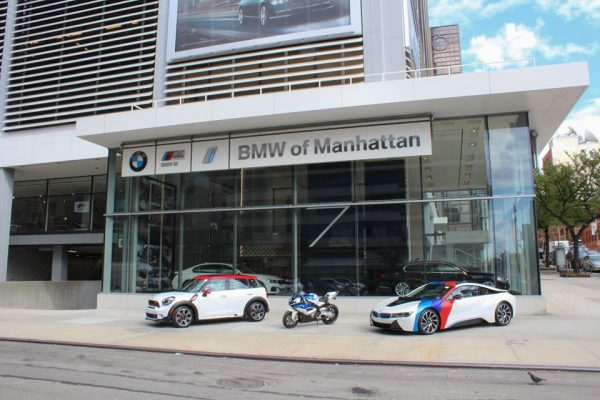 That post, which RIDE-CT & RIDE-New England detailed in a story Tuesday night, immediately generated dozens of comments and much speculation.
While Satanovsky did not comment on employee status or directly address why the store is shuttering, he explained, "The current BMW Motorrad showroom will be taken over by a new building resident and the current Motorrad service area will be transformed into a new BMW CPO Certified Pre-Owned automobile showroom."
Further details were not given, but the original Facebook poster, Israel Kessler, later commented in the thread on the BMW MOA club's Facebook page that Mini of Manhattan will be the replacement occupant in the building where BMW cars are also sold.

Just where BMW of Manhattan Motorrad may land hasn't been announced. Satanovsky said, "For the time being, existing BMW Motorrad owners can locate their closest BMW Motorrad dealer via the dealer locator."
The closest BMW dealers to midtown Manhattan are Cross Country Cycle in Metuchen and Hasbrouck Heights, NJ; Max BMW in New Milford, CT; and Gold Coast Motorsports in New Hyde Park, NY, although comments on the original Facebook post about BMW of Manhattan Motorrad suggest that Gold Coast's status may be shaky.
Hello! If you enjoyed this post, please share it with other riders by clicking on the social media buttons below.