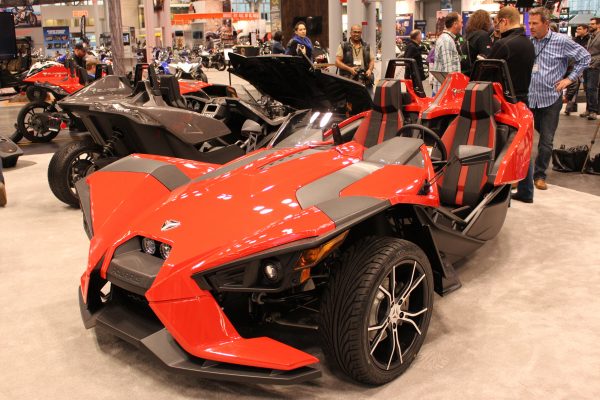 A recent test drive of the Polaris Slingshot by Connecticut's Department of Motor Vehicles failed to convince the agency to allow the new three-wheeled model to be sold and registered in Connecticut.
Polaris brought a Slingshot to DMV headquarters in Wethersfield on Dec. 8 for inspection and a test drive, but the result was that DMV reaffirmed its earlier ruling that the reverse trike cannot be "classified or registered as a motorcycle."
Polaris builds the Slingshot at a plant in Spirit Lake, Iowa using several parts that are made in Connecticut. The company maintains that it is a motorcycle and not an automobile because "it does not have airbags, it does not meet automotive safety standards," according to fine print on the Slingshot website.
However, in a Dec. 10 letter to Polaris, DMV senior attorney Sharon Geanuracos reiterated DMV's position and suggested that Polaris pursue legislative options. She explained, "It is the consensus of the DMV that this vehicle closely resembles an automobile in appearance, and is equipped (brake, clutch, accelerator, steering wheel, four cylinder engine, seatbelt, gear shifter, etc.) and handles like an automobile rather than a motorcycle."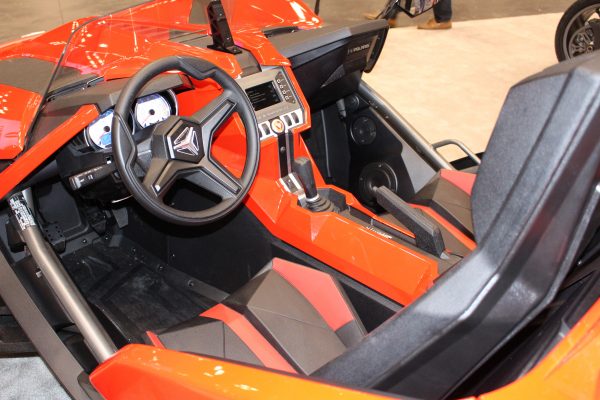 The letter went on to detail that the state definition of a motorcycle excludes vehicles that have an enclosed driver's seat, which the Slingshot has, and a motor that is not in the enclosed area. The Slingshot's engine is in a separate compartment from the driver's seat.
"For these reasons, we believe it is within the province of the legislature to develop a separate classification for this vehicle and similar vehicles that are also attempting to enter the market in Connecticut," Geanuracos wrote.
Damon Libby of Libby's Motoworld in New Haven, which is a Polaris dealer, said Tuesday that he'll now push to get the legislature in its next session to amend the existing statute and allow for the registration of the Slingshot.
"I don't think this will be a problem. We have the backing of several senators and several representatives. It might take a little time but it will come about," Libby said.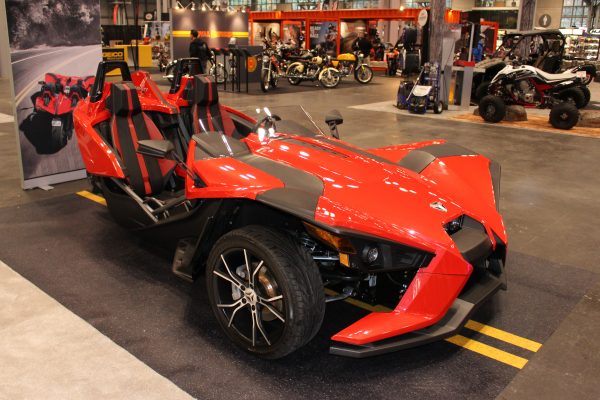 While it may currently be illegal to register the Slingshot in the state, some residents are already itching to own the low-slung roadster. Jim Reda of Island Powersports in Massapequa, N.Y. said he has taken deposits for Slingshots from two Connecticut residents, one of whom plans to register it elsewhere.
Libby said he has taken "four or five" deposits for Slingshots. "Connecticut is losing out on a lot of revenue. It's something people want," said Libby, referring to lost sales tax not only for new vehicles but also for service, parts and accessories.
The base price of a Slingshot is $19,999 with the premium "SL" model going for $23,999. The Slingshot is powered by a 2,4-liter, 173-horsepower dual-overhead cam engine. It has a five-speed transmission, electronic stability and traction control, and ABS on all three wheels. It weighs in at less than 1,700 pounds.
Alinabal Inc. in Milford is the Connecticut company that is making components found in the Slingshot, including stabilizing linkage, ball joints, outer tie rods and steering gear.
A legislative fix would likely not only allow for the sales of the Slingshot but also for a three-wheeled Morgan from England, which like the Slingshot has two wheels in front and one in rear.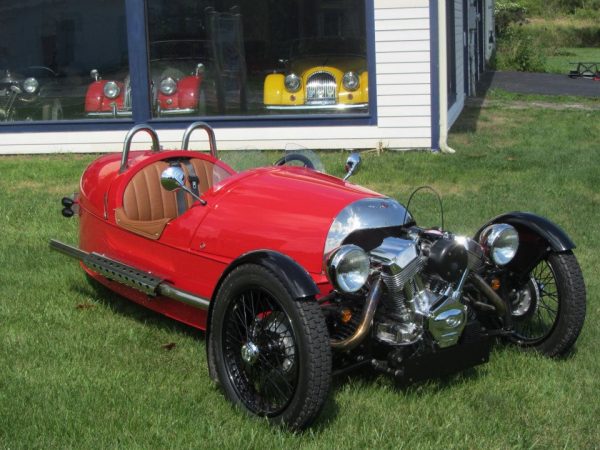 Larry Eckler of Morgan Motors of New England in Copake, N.Y. has been trying for years to get the DMV to allow Morgan sales in the state. "We've been round and round with them. They have to change the statute. It's a legislative matter," he said. "It's probably going to take a while. The legislature typically doesn't act quickly."