BRATTLEBORO, VT – It's called Top of the Hill Grill, although it might better be called Side of the Hill Grill as the ground adjacent to its patio and beneath it expansive deck plummets to lush green lowland just north of where the West River joins the Connecticut River. The setting provides customers at the roadside barbecue eatery a scenic overlook to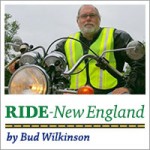 enjoy their pulled pork and beef brisket. Looking over the rail, though, makes one wonder how it has stayed rooted for so many years.
Top of the Hill Grill opened more than 20 years ago selling only grilled chicken and cornbread. The menu now seemingly stretches to Boston. Not only is there BBQ, but Cajun, Mexican and even vegetarian fare. There are also homemade desserts and Top of the Hill Grill-branded root beer and cream soda.
The setting is casual. Riding partner and "Always Riding" columnist Paul Siciliano suggested upon parking shortly before 11:30 a.m. on Wednesday that the place looks like a shack with a treehouse. He meant it as a compliment, also predicting that its rustic appearance was a sure sign of good food to come.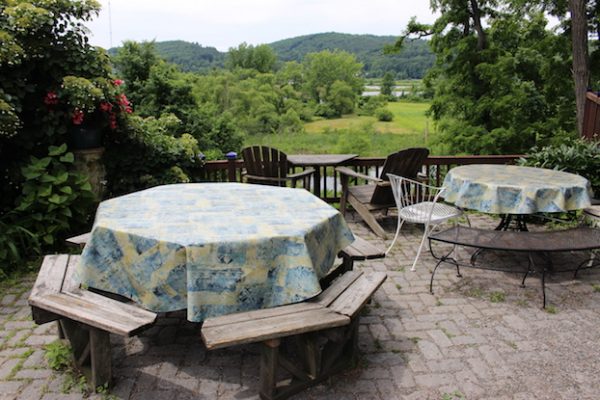 We'd left Connecticut sometime before 10 a.m. Paul was on a tight schedule – leash, actually, as he didn't want to leave his dogs, Adicus and Mya, cooped up in his house for too many hours – so we took the slab. Riding I-91 north through Springfield, MA proved surprisingly easy. The roadway has thankfully been repaved and it's much less of chore to navigate than in years past.
Once we hit Vermont, though, the asphalt was being milled. For me, that meant slowing down a bit, loosening the grasp on the grips, and allowing the bike to find its own natural path. Repeated signs warned motorcyclists to use caution. No kidding? As per the directions on Top of the Hill Grill's website, we got off at Exit 3 and headed south on Route 5 for .9 miles.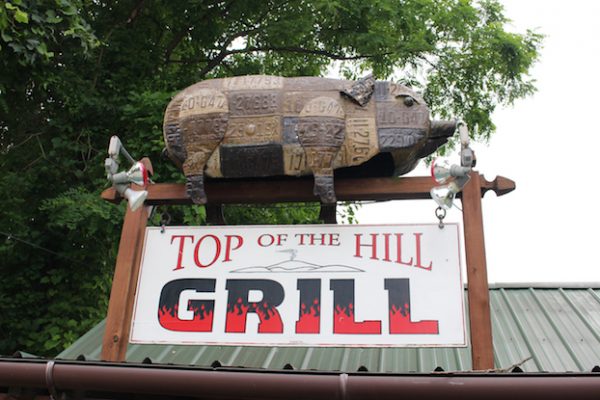 Top of the Hill Grill opens at 11 a.m. Monday through Friday (11:30 a.m. on Sunday) and closes at 8 p.m. Only one car was in the lot at 632 Putney Road (Route 5) when we arrived, so we took a few minutes to stretch and peruse the menu. Deciding what to order proved difficult for both of us because of the many choices.
Perhaps some hickory-smoked meat – pulled pork, beef brisket or ribs? No, not in the mood.
Chicken? No, something more adventuresome.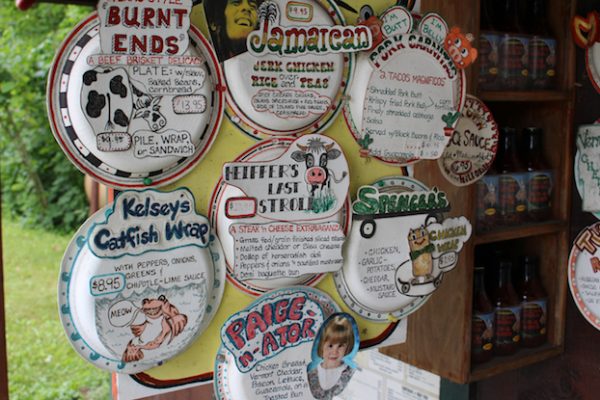 Paul was leaning toward a Philly cheesesteak until I reminded him that he could get that almost anywhere, so he opted for a black bean burger with a garden on top. After some indecisiveness, I ordered the chicken and sausage gumbo and was given a playing card, a King of Hearts, to hold until the order was called.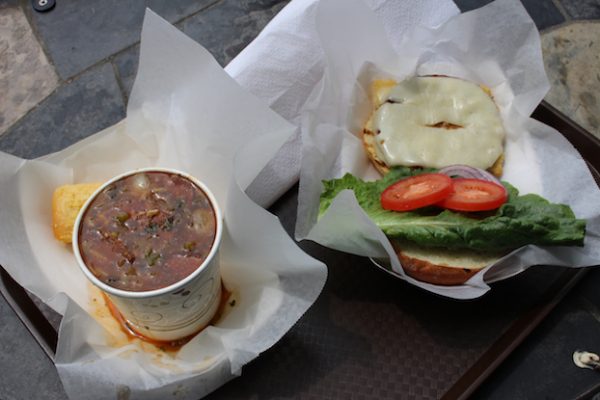 We found seats on the patio and only had to wait a short time before "King of Hearts" came over the loud speaker. I immediately noticed that the gumbo wasn't lacking in a wonderfully fatty film on top. Grease means flavor, and the gumbo was rich and toothsome, filled with sausage bits and hunks of chicken. Paul was likewise pleased with his non-meat burger.
As we ate and talked, others began filtering in, claiming spots on the deck, so we got to see what other orders looked like. One table ordered Cajun catfish and beef brisket, while another had a pulled pork plate and a pulled pork burrito. Talk about melting pot of cuisines!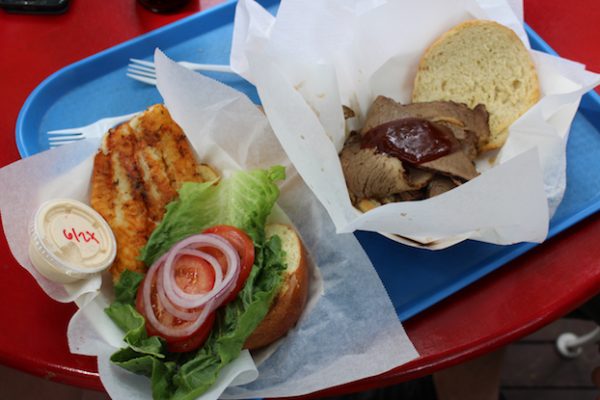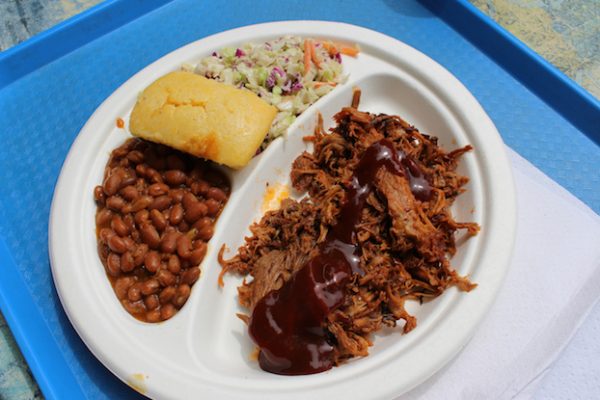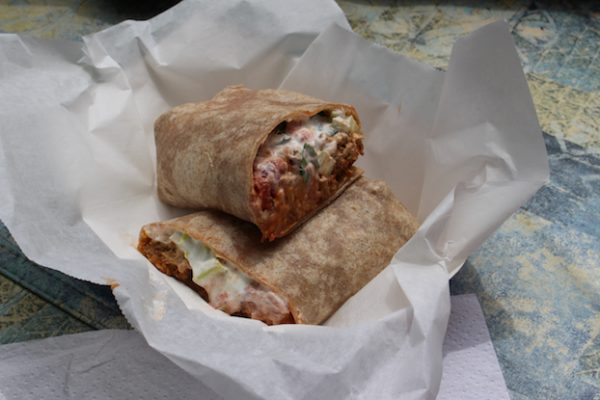 Given the prices, portion size was adequate, but certainly not generous. For some reason, the presentation struck me as being even more calculated than that of a fast food restaurant, rather than the haphazard and pleasingly "sloppy" approach that might be expected at a joint like this. No matter, the food was tasty.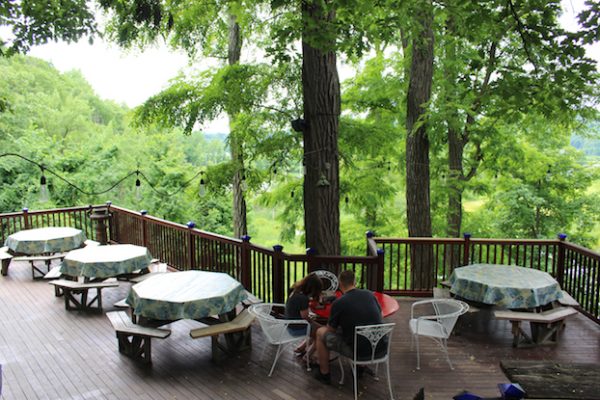 We didn't stick around for dessert, such as carrot cake and pecan pie, because the road was calling again. Having previously noticed construction on southbound I-91 in Massachusetts, we avoided much of I-91 on the return trip. We took Route 5 down to Northampton, MA where we filled up for $3.59 a gallon for premium. Don't you love price-gouging gas stations that are located next to Interstate highways?
Adicus and Mya were pleased to see Paul upon our return. The round-trip took roughly five hours (which included a stop for ice cream near Hatfield, MA).  We need to do it again because of the extensiveness of Top of the Hill Grill's menu.