MINNEAPOLIS – Retaliatory tariffs imposed by the European Union, which had Harley-Davidson feeling the fury of President Donald Trump this week after announcing that it plans to move production of new motorcycles destined for Europe out of the United States, are also having an impact at Indian.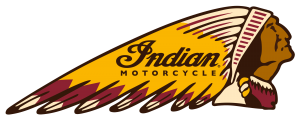 Getting overlooked during the fusillade of Harley-Davidson bashing by Trump (stories here and here) on Twitter were statements by Indian that it is quietly studying moving production overseas as well – to a plant in Poland.
"Nothing is definitive. We're looking at a range of mitigation plans," Jess Rogers, spokeswoman for Indian's parent company, Polaris Industries, told the "Des Moines Register" newspaper.
In a separate statement to the "Minneapolis/St. Paul Business Journal," Rogers explained, "The recent EU retaliatory tariffs have required us to expend time, energy and resources to evaluate mitigation plans, including the possibility of moving production of Indian Motorcycles destined for Europe from Iowa to our facility in Poland."
The new tariffs went into effect on June 22 and raised the rate on exports from 6 percent to 31 percent. Harley-Davidson said that will increase the cost of an average motorcycle built in the U.S. by $2,200. The new tariffs are in retaliation to the Trump's administration imposing duties on European steel and aluminum.
"The growing impact of this trade war is increasing the production costs of our vehicles. We continue to examine various options for managing the cost increases from both tariffs and the domestic materials pricing," Polaris' Rogers wrote in a statement to the "Business Journal."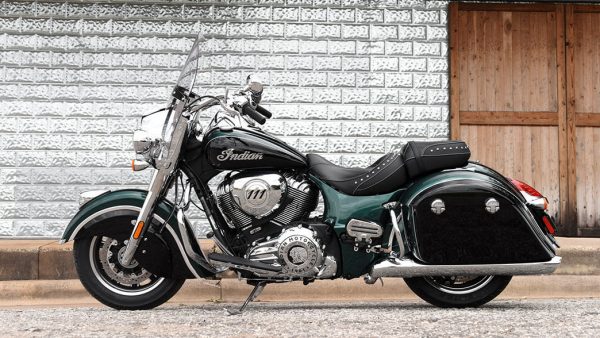 Indian Motorcycles are currently assembled in Spirit Lake, IA. Polaris' plant in Poland has 345,000 square feet and has a capacity for 500 employees. It opened in 2014 to build off-road vehicles.
Meanwhile, not only did Harley-Davidson have to deal with Trump's repeated lambasting this week, it also had to answer a fake quote attributed to President and CEO Matt Levatich posted by a user on Twitter, which claimed he referred to Trump as a "moron." The Tweet by the user @tinsleman went up Tuesday afternoon and had generated 25,000 retweets by Wednesday afternoon.
Levatich slammed the fake quote. "It's shameful that we live in a time when people create fake quotes," he said in a Twitter response. "There's one attributed to me on Twitter. I have not, nor would I ever speak about the President of the United States or anyone else in that way."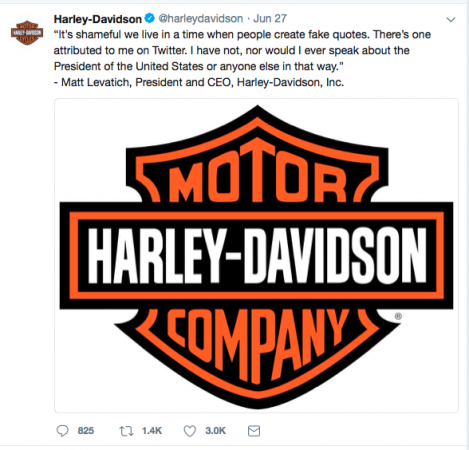 – By Bud Wilkinson