It has taken more than 6½ years, ever since Indian was re-launched under the ownership of Polaris, but Harley-Davidson has finally taken a big swipe at the revived brand that was its head-to-head rival back in the early days of motorcycling more than 100 years ago.
Social media has provided the playground for the promotional fisticuffs. Some slick pro-Harley-Davidson ads of indeterminate origin have popped up in the past few days asking, "Honestly now, did you spend your youth dreaming about someday owning a Polaris?"
The Answer Is Obvious
The unstated answer is that Harley-Davidson is an iconic brand with a long heritage, while Indian is just another motorcycle purveyor with the purchased name of a long-dead company.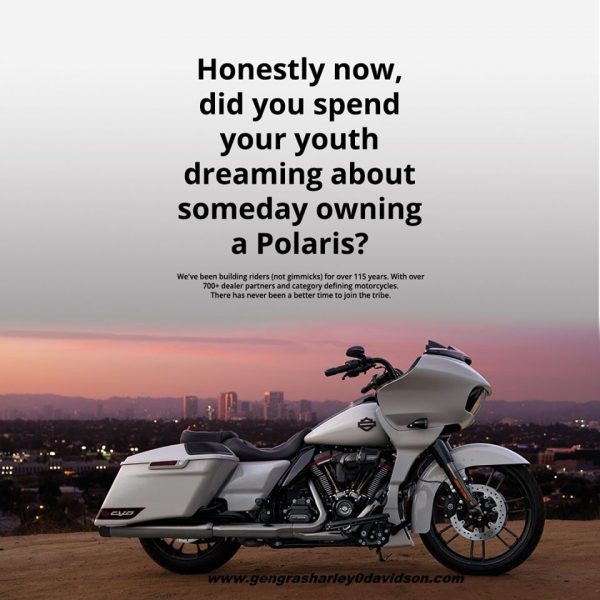 The original Indian was founded in 1901, but went out of business in 1953. Harley-Davidson began in 1903.
The ads are apparently in response to Indian's recently announced "Challenger Challenge." Indian plans to offer back-to-back test rides in various locations on a new Indian Challenger bagger and on a Harley-Davidson Road Glide Special, and claims "our bike is simply better."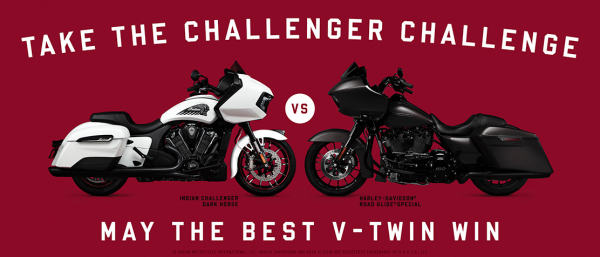 It isn't often that competing brands take to guerrilla pugilism such as this, but it sure is fun to watch from the sidelines. The website Asphalt & Rubber posted a story on the battle on Monday, which included a different ad (below).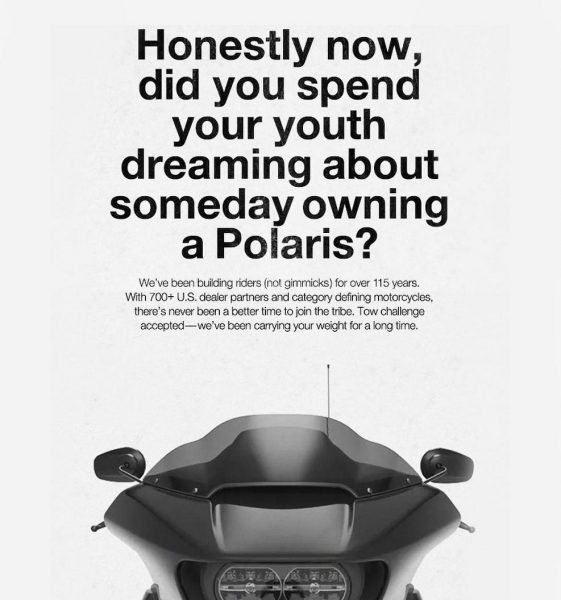 The gloves may not have come off here in the northeast until yesterday morning when Gengras Harley-Davidson in East Hartford, CT posted on its Facebook page, but without commenting the revived rivalry between the brands.
(Note to Gengras: There's a typo in your website address added at the bottom of the ad.)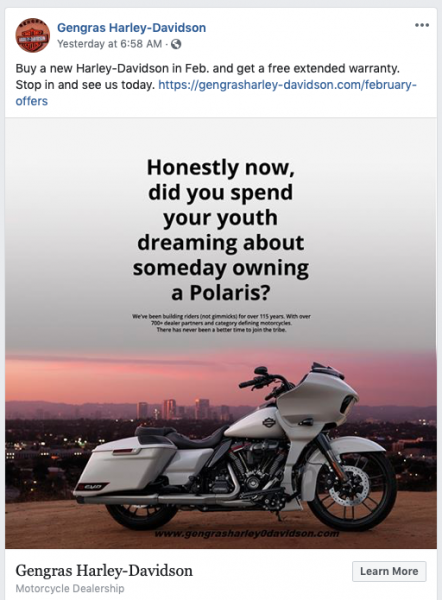 Harley-Davidson's ads do seemingly jab Indian's Challenger Challenge as a being a gimmick while noting that it has been the heavyweight cruiser leader for, well, forever.
Remember The Pepsi Challenge?
Indian's Challenger Challenge harkens back decades to the days of the Pepsi Challenge, when that soda maker was trying to steal customers from Coca-Cola. There's really no surprise that Indian has tried the identical tactic.
Perhaps more surprising is that Harley-Davidson reacted; even as it's shifting its attention away from the aging baby boomer demographic and trying to attract younger customers with some new TV spots that emphasize the riding experience over brand loyalty or history.
Give Harley-Davidson credit, though, for being aggressive. With the overall V-twin market sagging and Harley-Davidson especially declining (while Indian is still in a start-up growth mode), it's nice to see an old rivalry regenerated in such a visible manner.
Round one looks to be a draw. Will there be a round two?