(Update: Jack Loughrey passed away at his home on Wednesday, July 8, surrounded by his family.)
SUFFIELD, CT – Seated on a 2014 Ural Gear-Up, Debbie Howard gently used her fingertips to brush the thin hair atop Jack Loughrey's head as he sat quietly in the adjacent sidecar. "It's all happy tears," said Howard, almost in a whisper, as she joined her "significant other" for the past 11 years for what was billed as a "Hero's Last Ride."
Two years ago, the 67-year-old U.S. Marine Corps veteran and retired Spirit Airlines pilot, was diagnosed with brain cancer. Besides grounding him from flying, Loughrey also had to give up motorcycles after decades of riding.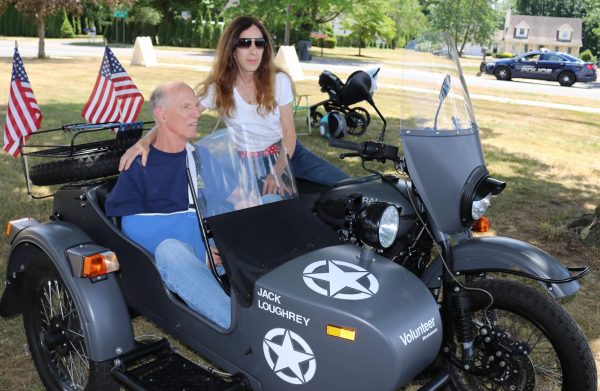 This afternoon, members of the Connecticut chapter of Patriot Guard Riders and other supportive riders gathered at a Suffield Fire Department firehouse to enable Loughrey to feel the wind in his face one more time, while he was still able to enjoy it.
"To give somebody their last ride is a real honor," said Gregg Barratt, state captain of the CT Patriot Guard Riders. His chapter performs an estimated 200-250 "missions" a year, most often escorting funeral processions and holding U.S. flags at cemetery services.
While this mission brought some tears, it also was immensely pleasurable for the more than 50 riders in attendance. "They told him on Father's Day and his eyes lit up," said Barratt.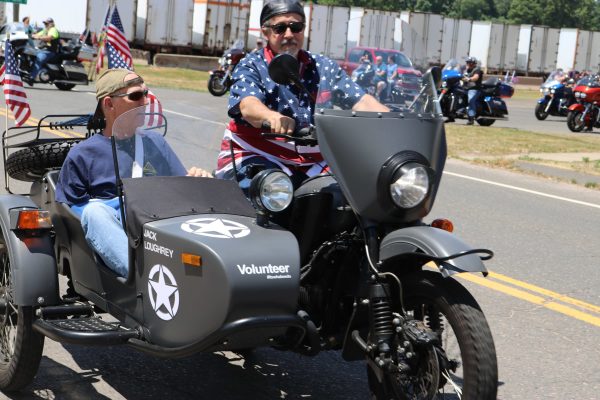 Andy Soliecito of Norwich, CT, provided the sidecar rig. "There was no way I could refuse," he said.
Upon gathering at the firehouse at noon, riders were briefed by Barratt on the route, a short jaunt to the Shamrock Cafe and back. Loughrey was then picked up at his nearby home and brought back to the firehouse.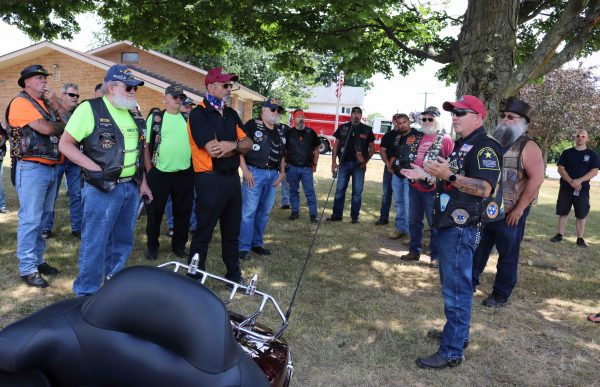 With the Suffield Police Department providing escort and the town's fire and ambulance personnel joining the parade, the roughly 15-minute ride ensued at 1 p.m. on what was a sunny, 86-degree day. In addition to those riding, another group of 40 or so supporters were also on hand at the Shamrock Cafe.
The honoree served four years in the Marines; from 1971 to 1974. He joined out of high school, trained at Parris Island, and rose to the rank of sergeant. He has lived in Suffield for more than 30 years.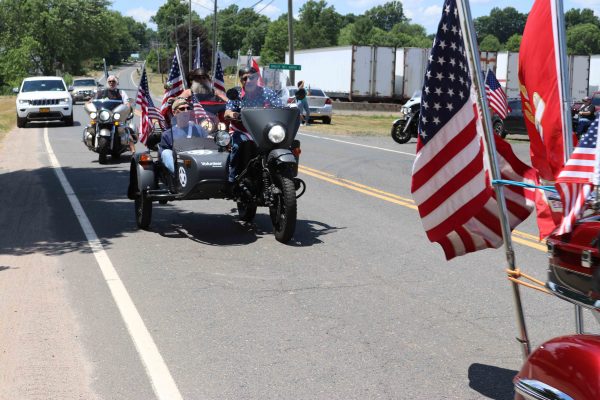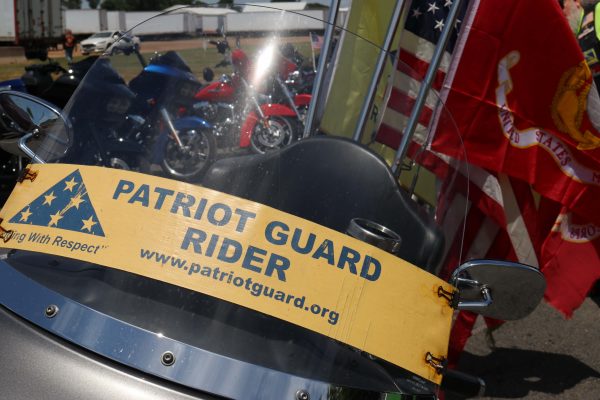 Witnessing the event were members of Loughrey's family, and it came off without a hitch. Patriot Guard Riders, a non-profit organization which has chapters in every state, has many veterans among its membership but has non-veterans as well.
Founded in 2005, its purpose is to honor "our military, veterans and first responders," according to the website. Barratt said Patriot Guard Riders welcomes "anybody who wants to show respect."
Barratt added that the Connecticut chapter has about 1,300 riders on its mailing list and that 80 percent of its missions involve funerals. That Loughrey was able to enjoy the experience made it special.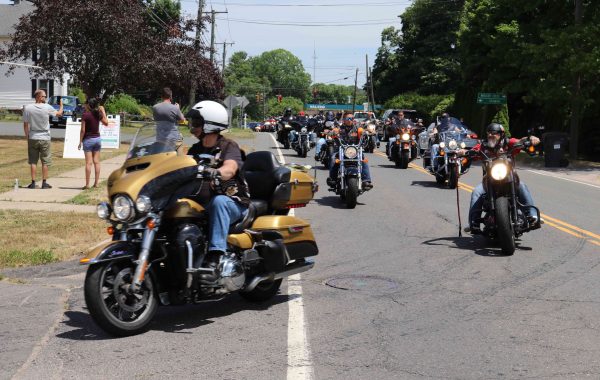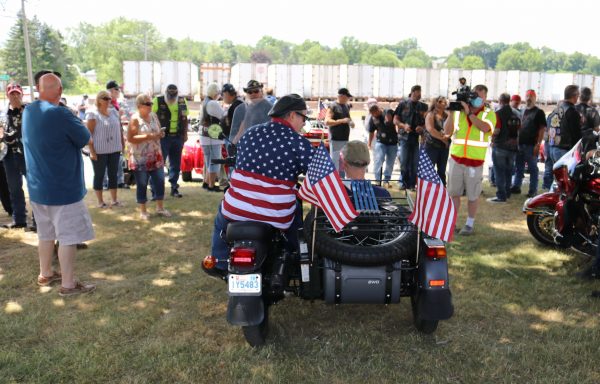 Hello! If you enjoyed this story, please share it by clicking on the social media buttons below.