QUEZON CITY, PHILIPPINES – It opened in January, and Dunkin' even put out a regional press release in early March, but the story went largely unnoticed outside of the Philippines where riders of bikes, mopeds and motorcycles now have the option of riding through a dedicated drive-thru lane to buy coffee and donuts.
How a rider can juggle a cup and a cruller while holding on to the handlebars wasn't mentioned in the press release, but it did say the biker's lane drive thru "has been receiving rave reviews" since opening at a solitary store here four months ago.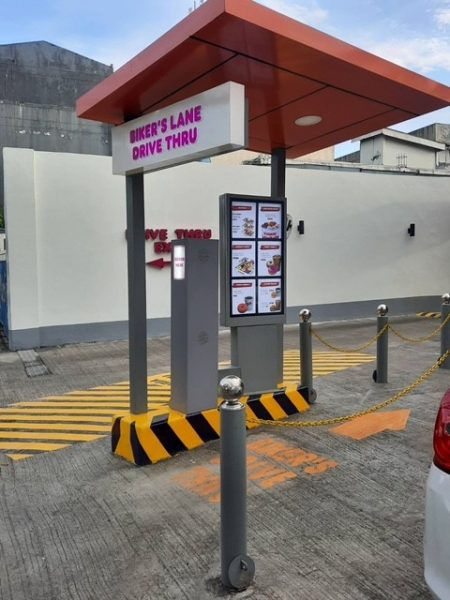 "We're very proud to bring Dunkin's first bike-thru lane in the world to the Philippines, giving our guests even more access and choice on their terms," said Rini Ernawati, Regional Vice President of Asia Pacific at Dunkin'.
"Our licensee, Golden Donuts Inc., has been a pioneer in the industry by providing innovative and relevant experiences to meet our customers' needs. We've received overwhelmingly positive feedback from guests and employees, and we look forward to expanding this exciting offering to even more Dunkin' Philippines locations soon."
No word yet on whether more bike-only drive-thru lanes have been added to other stores in the Philippines or whether Dunkin' plans to expand the feature to other countries.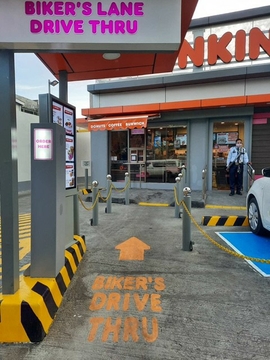 Riding while munching on a glazed donut or while sipping an espresso seems unwise from a safety standpoint as well as downright difficult. And how many bikes anywhere have cup holders?
A check this morning of the Dunkin' website – Dunkin' is based in Canton, MA – reveals the press release about the drive-thru lane for two-wheeled operators wasn't posted in North America. Maybe it's an idea that's too radical outside of the Pacific region where bikes, mopeds, scooters and small motorcycles are much more prevalent.
Or it could be that daring motorcyclists in North America just ride through existing drive-thru lanes.
(Photos courtesy of Dunkin')
Hello! If you enjoyed this story, please share it with other riders by clicking on the social media buttons below.