WORCESTER, MA – It's a ritual that needs to be halted. Now. Immediately. No exceptions.
The ritual is this: Person buys a motorcycle at a dealership, a picture gets snapped of the smiling buyer with the salesperson, and the pic gets posted to social media. It makes the buyer feel special and promotes the store.
Except that currently it violates the guidelines of the Centers for Disease Control and Prevention for halting the spread of the COVID-19 virus.
The CDC says, "The virus is thought to spread mainly from person to person" and "Between people who are in close contact to one another (within about six feet)."
That's why "social distancing" is being encouraged.
Yet across social media today the ritual of taking pictures of buyers and posting them continues by dealers.
Not to single out Wagner Motorsports in Worcester, MA, but two posts on its Facebook page just gobsmacked me. One was posted Monday and asked customers to "maintain 6 feet of separation if possible" as well as "No shaking hands" and "Wash your hands and use hand sanitizer after touching common spaces."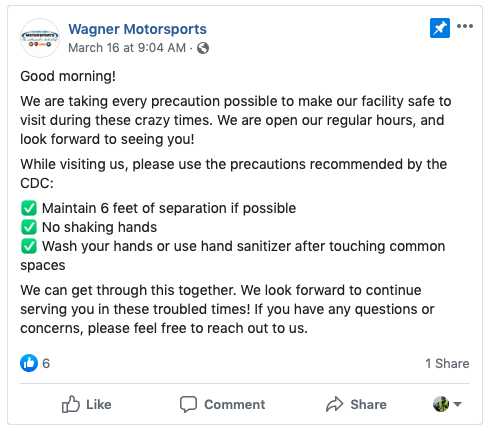 The second post went up about noon today and shows a salesman with a happy new buyer. They're seen standing shoulder to shoulder and shaking hands.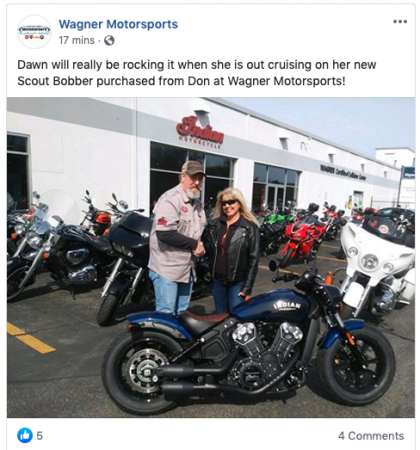 While the picture could have been taken days ago, before the start of the COVID-19 pandemic, the timing of the post suggests it's a more recent sale, making the post a hypocritical case of "do as I say, not as I do."
(Updated – 7:40 a.m. March 19: Since the story was posted Wednesday, the buyer of the Indian Scout Bobber, Dawn Mathieu, learned of the story and responded with a comment to RIDE-CT & RIDE-New England. She reported that her purchase was indeed made "prior to the protocol in place right now." Mathieu also said that both she and Wagner do take the precautionary guidelines seriously. That's certainly reassuring.)
Wagner isn't alone in continuing to roll out new ritualistic buyer pictures.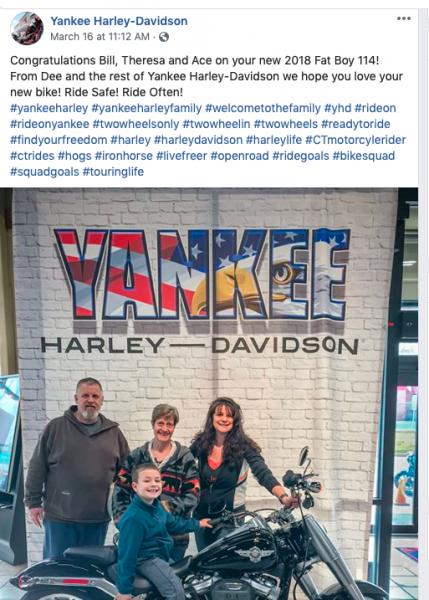 Giving the growing number of COVID-19 cases and the increasing number of deaths, it's time for dealers to stop encouraging unsafe behavior, even if they're doing so unintentionally. It's time to halt the ritual. Now. Immediately. No exceptions.