ROCKVILLE, CT – In a threatening, over-the-top vigilante video posted on YouTube, New England Motorcycle Museum founder Ken Kaplan declares that he is going after bike thieves. He's formed a posse, which he says includes Haymond Law and various motorcycle clubs, and has announced a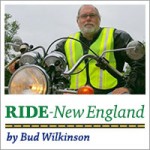 $2,000 reward to bring to justice anyone who steals bikes.
In the video titled Beware Bike Thieves, Kaplan adopts a super hero persona of "Kaplan America" and brandishes shotguns while vowing to reduce thievery. In a voiceover, Kaplan proclaims, "Motorcycle thieves, your reign of terror is now over. There's now a bounty on your head."
Turning to "scripture," Kaplan then implores, "Fight with me against them that steal our motorcycles. Take hold of thy shield and sword and stand up and help." He's soon joined by "brother Carlos" who promises thieves "buckshot for you baby." Swinging a broomstick, Kaplan adds, "If you're lucky, the cops will get you first."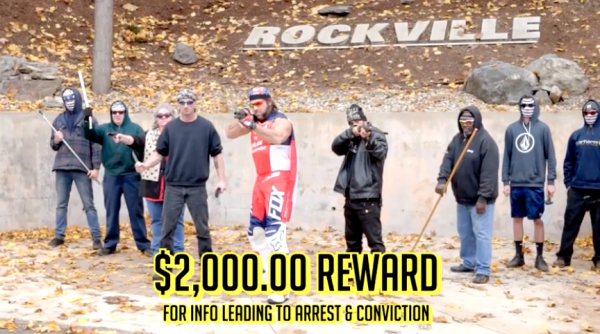 Kaplan's goal with the video and reward is to deter theft. "I know it's a little edgy, a little out there to some people. We're feeling pissed off," he said late Wednesday afternoon, telling RIDE-CT & RIDE-NewEngland that there has been a rash of incidents lately where thieves have followed off-road racers home after meets and then stolen their bikes.
The New England Motorcycle Museum was itself victimized in May 2017 by thieves who broke into the museum's showroom/office and got away with two dirt bikes. They were soon arrested.
Kaplan said the strident approach in the video was taken on purpose. "If you don't do something unusual, you won't get people's attention," he said. That's why his posse members bear weapons and why he declares in the video, "Let destruction come upon those who steal our motorcycles."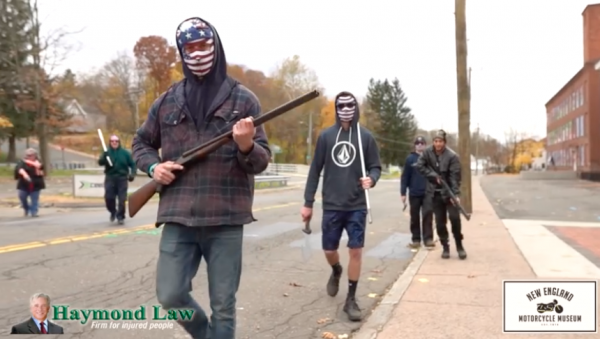 Kaplan said that he and Haymond Law have each put up $1,000 for the arrest and conviction of thieves. Also part of the effort is the Connecticut Coalition of Motorcycle Clubs. Tipsters may call him at 860-454-7024. "We feel it's going to deter motorcycle thefts in the Connecticut area," he said.
Kaplan favors vigilante justice when warranted. "Yes, if somebody comes on my property armed and dangerous, we're armed and dangerous, too. It's definitely pro-Second Amendment. It's definitely pro-vigilante," Kaplan said of the video, adding that he has both a shotgun and hand gun within reach on his desk.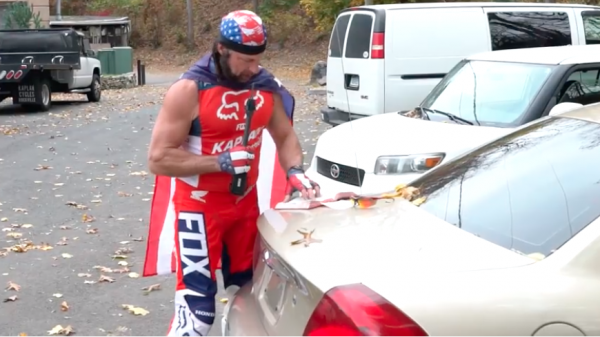 As for the "Kaplan America" character seen in the video, Kaplan says it has been featured in other videos. His personal/museum YouTube channel has produced hundreds of videos. As of this morning, it has 12,659 subscribers and its videos have more than 5.5 million views.
Summing up the thrust of his anti-theft campaign as depicted in the Beware Bike Thieves video , Kaplan said, "We're all cowboys and they're horse thieves."