THOMPSON, CT – The invitation came unexpectedly. The winner of a contest held by the New England Riders motorcycle group was unable to attend an upcoming non-sportbike track day and organizer Ed Conde wondered if I'd like to fill the slot. Set for May 7 at Thompson Speedway, the street rider training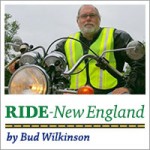 course would be conducted by instructor and author Ken Condon and Tony's Track Days, a company in Longmeadow, Mass.    
Sure, I thought. Other astute riders had been urging me for years that the experience would improve my riding skills, and I was curious – at least until I learned my Progressive insurance policy wouldn't cover me if I crashed. When Condon posted a video on Facebook of him riding the track, noting at one point that he was hitting 135 miles per hour, I even got nervous. 
For one, there was no way my new-to-me 2014 Triumph Bonneville would go 135 miles per hour. There was also the fact there was no way I would go that fast on two wheels. I then learned that participants would be sorted into groups – slow, medium and fast – by bike type and skill level. Watching another video of a slow group in action calmed my nerves. Weighing the risk versus the potential reward, I accepted the invite.
Arriving at Thompson Speedway shortly after 7 a.m. that Monday, I signed in and proceeded to the track-side garage, joining roughly 90 other riders who came from across New England and from as far away as Georgia. I taped my mirrors with blue painter's tape and the Bonneville underwent a tech check to make sure the tires were good and the bike wasn't dripping oil. The tape on the mirrors would prevent glass fragments from getting on the track if the bike went down and the rider from seeing others approaching from the rear, forcing each to concentrate on the track ahead.
During the tech check, I requested the slow group and a red sticker was placed on the fly screen on my bike. Others got yellow (for medium) and blue (for fast). The garage was filled with bikes of many brands and styles: Aprilia, BMW, Ducati, Harley-Davidson, Honda, Indian, Kawasaki, Suzuki, Triumph and Yamaha.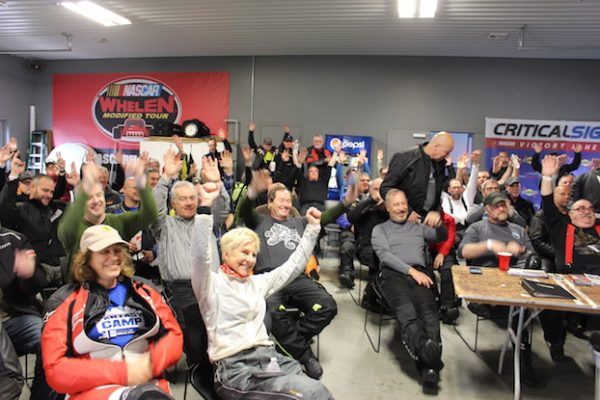 During the classroom orientation that followed, Condon repeatedly emphasized safety. Up next were some "follow the leader" laps around the track with other instructors to learn the 1.7-mile road course. "The purpose of the day is really to advance skills. It's not about going fast. You can have fun, that's fine, but the priority really for us is to treat this as a school. The reason the racetrack is so advantageous is you don't have the distractions and dangers that are typical for street riding," Condon later told me.
 Roughly three-quarters of the participants were first-timers and about 10 percent were women. During the orientation, Condon also noted that anxiety is normal. "The anxiety comes from just the fact of the environment. When we say it's on a racetrack, people have a vision of that. Rightly so. Racetracks. We know of them – competition, danger," said Condon, who wrote the books "Riding in the Zone" and "Motorcycling the Right Way."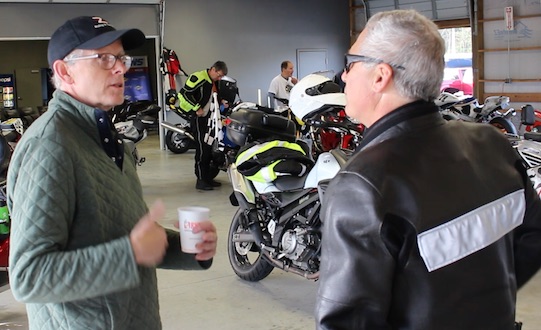 "We treat this as a road in a controlled condition. We don't have sand on the road. We don't have animals running out across the road. We don't have intersections. We have no Buicks, no minivans, no texting teens. When you take all those dangers and variables out of it, you can concentrate on developing your skills." 
The day's schedule listed 20 minutes of classroom time and 20 minutes of track time per hour. Six hours of instruction in all. Among some of the items to be taught were vision (where to look when riding), countersteering, trailbraking, identifying and taking the proper line on corners, and body position. Some aspects I already knew and practiced, others were experientially new and required intense concentration and practice.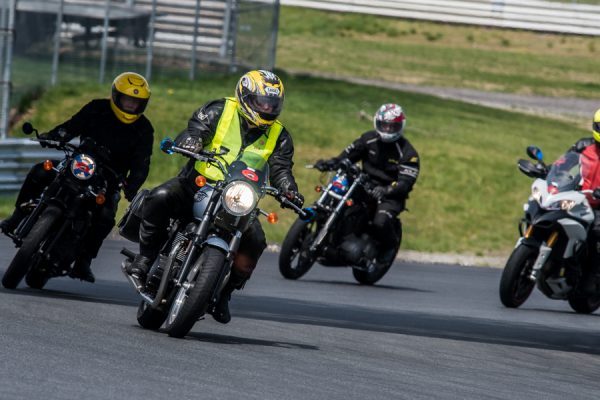 Without mirrors to see anyone coming up from behind, I flinched slightly when a Harley-Davidson passed me on the inside for the first time, and smiled the first time I passed another bagger. Riders quickly learned to take a line on the track and maintain it as well as to trust that others would do the same, allowing for safe passing. Condon later compared riders passing on the track to skiers doing likewise on a snowy slope, which helped reduce the worry factor. 
 The overriding goal of the day was to be smooth and consistent on the throttle. I discovered that "slower is faster." While others cracked the throttle and sped down the straightaway, after a few laps at 85-90 miles per hour, I took to keeping it closer to 50-60 mph to allow the pack to get well ahead of me before turn one. With smooth operation through ensuring corners and by taking the proper line, I found myself catching up to the group on every lap.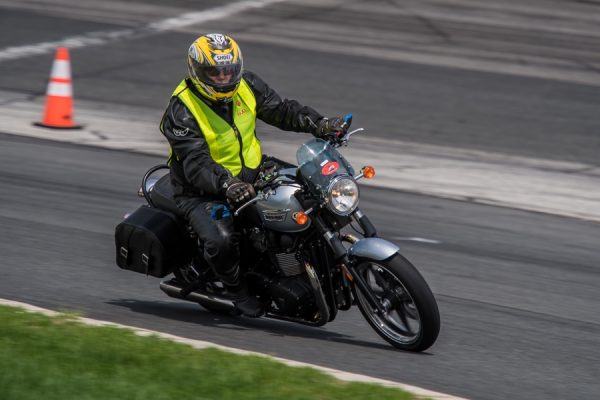 I also began grinding foot pegs on corners, a new experience, and learned that it was a result of improper body position. By shifting my butt on the seat and adjusting my posture, the problem was eliminated. Throughout the day, Condon, Tony's Track Day owner Tony Iannarelli and other patient instructors provided thoughtful lessons, positive feedback and helpful tips.
 By mid-afternoon, I was fatigued both mentally and physically, and perhaps a bit dehydrated. Placing safety first, I skipped the final two track sessions, but still came away from the non-sportbike track day feeling that much had been gained. The improvement was evident on the ride home. Operating the Bonneville seemed easier, more natural and, yes, much more fun.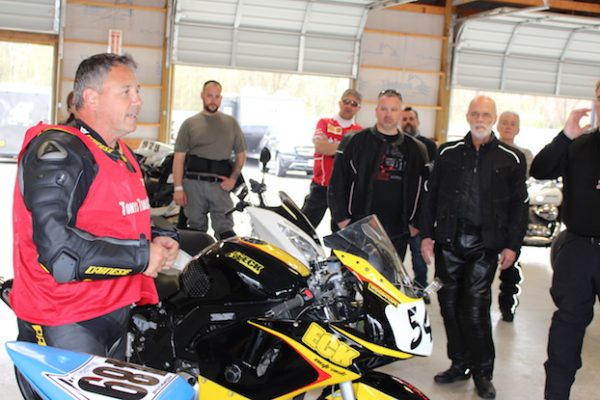 "We have people that have been riding for 20 years and then they come here and they realize how little they actually know about riding," Iannarelli said. "They learn more in that one day than they have in the 20 years that they've been out there."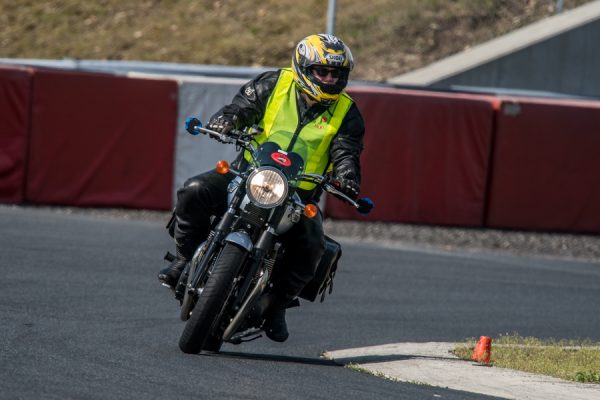 Action photos (of Bud Wilkinson) by Arcy Kusari of On Track Media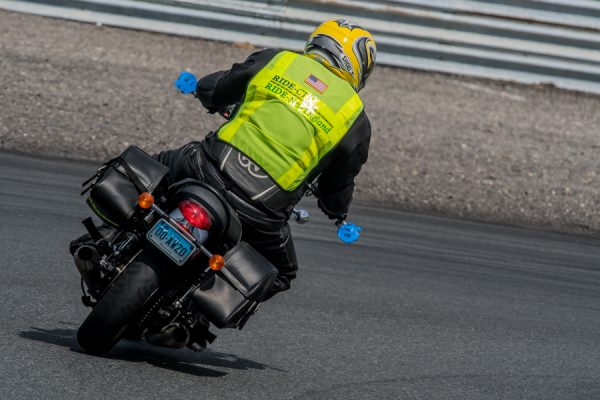 (This column originally appeared in the "Republican-American" on May 19, 2018.)