HUDSON, MA – Kerri Ann Oberhauser is a landscape designer by profession, a 1987 graduate of the UMass Amherst, and a familiar sight at motorcycle shows across New England. At each event, she sets up a booth and sells T-shirts, illustrations and other items that display intricate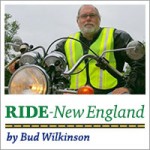 drawings of old motorcycles that she has patiently created under the company name Das Oberhaus Designs. She's been doing it for a decade.
"I really love old motorcycles and you couldn't find any drawn images of them," she said over the weekend, recalling what prompted her to start drawing motorcycles back in 2008. "I wanted old Norton Dominators, Brough Superiors – the really, really cool bikes. Nobody sat down and actually spent the time to draw them."
So Oberhauser did just that. She didn't get really serious, though, until she was involved in a motorcycle accident in 2010. She got t-boned while riding her 1999 Kawsaki Vulcan 500, suffering to two broken vertebrae and other injuries in the process.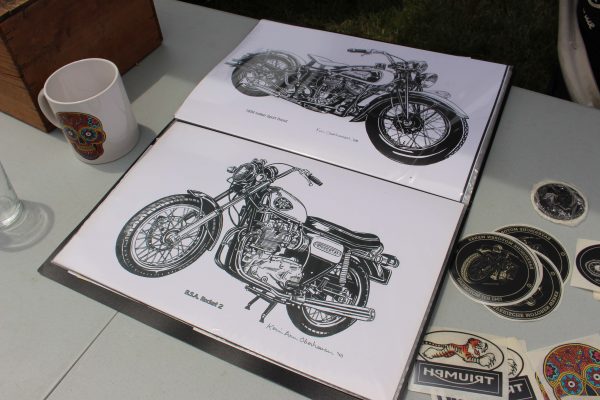 "I was stuck in the house for nine months with nothing (blanking) to do. I was just trying to fill up my time. I've always been an artist," she said.
Oberhauser now has a catalog of 30 drawings that include vintage BMWs, Indians, Triumphs, Harley-Davidsons and more.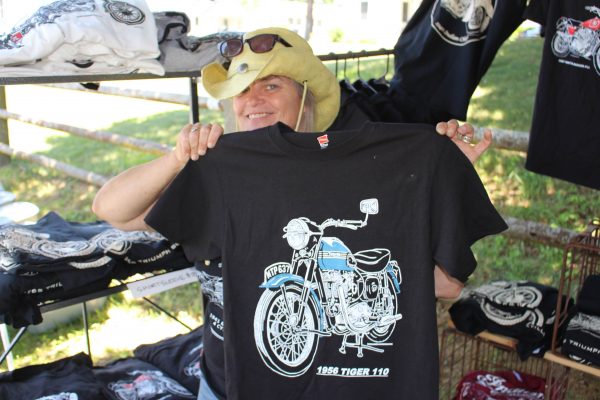 She also has dozens more in various states. "Sometimes you don't know if something is going to work out until you get hip deep in it," she said.
Oberhauser's drawings – done both with pen and ink as well as on computer – are filled with fine details. "I try to draw in a style that reflects the time back when most of these bikes were produced," she explained.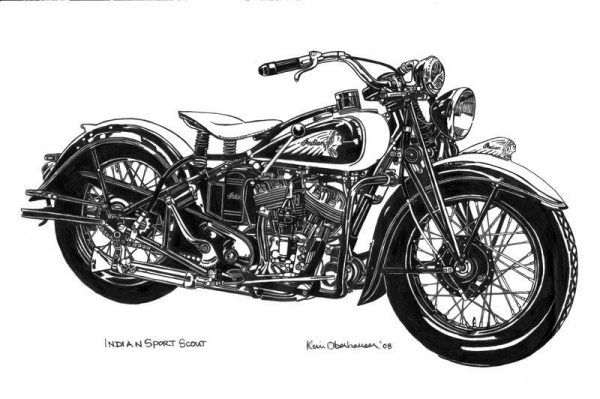 Besides doing motorcycles, Oberhauser also draws vintage cars. "A car can maybe take me a day. A motorcycle can take me a hundred hours easy – all the spokes, the tire treads, the engine details." She's not doing it for the money, though. "I do this because I'm trying to draw the best thing I possibly can."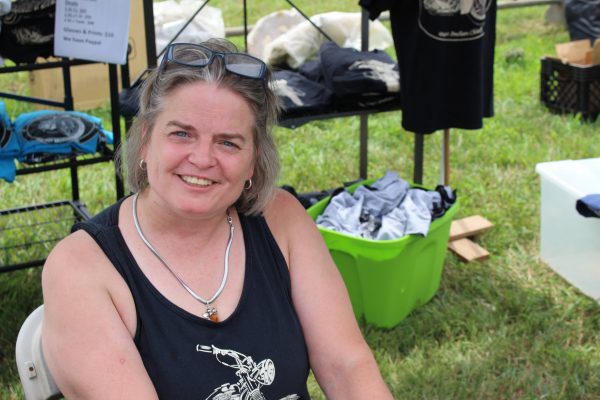 Oberhauser usually attends about a dozen motorcycle shows a year. On Sunday, she was at Brit Jam, staged by the British Iron Association of the Connecticut at the Haddam Neck Fairgrounds in East Hampton, CT.
The event proved memorable for her – not because she sold a lot of merchandise, rather because her name was picked as the door prize winner of a 1967 BSA Shooting Star.