VERNON, CT – With only a week to go until Rockville Motorcycle Mania, Ken Kaplan (aka "Kaplan America") took to Facebook on Saturday night for a more than five-minute live promo on the event that's set for this coming weekend at his New England Motorcycle Museum.
Nearly one-fifth of his message was devoted to touting that beer will be sold. "It's going to be the best event of the summer at the museum. We're breaking out all the stops for this one," Kaplan proclaimed.
"We got Hooker Brewery coming … with not just one but two trucks this time so (there will) be twice as much beer this time. I'm subsidizing it. I'm actually buying four kegs – $250 a keg they're charging me to bring their craft beer there and charge dollar brews. So we're going to have dollar beers. They're bringing over 30 kegs total – four of 'em are going to be dollar drafts."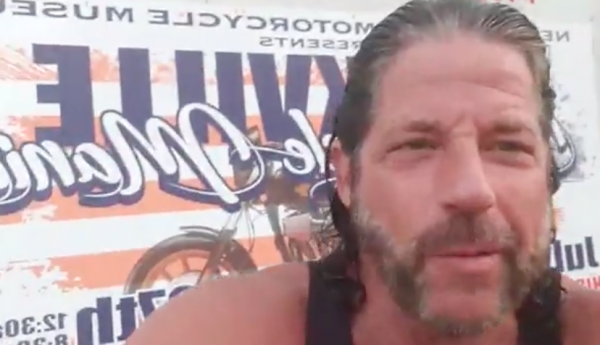 He reported that two kegs of $1 beer will be sold Friday night and another two kegs of $1 beer on Saturday night. He then moved on to talking about the lineup of bands before returning to the subject of beer.
"I got a special deal for you guys. If you happen to drink too much, you can leave your bike at the museum. The first floor is done. I'm going to have it cleared out, so if you drink too much we'll get you an Uber home. You can leave your bike there. Don't worry, we've got a $50,000 security system. There will be armed guards on duty watching your bikes if you want to leave them overnight, so don't worry about it," Kaplan stated.
Rockville Motorcycle Mania Is Friday and Saturday
After ticking off some of the activities planned at Rockville Motorcycle Mania, which runs from 4:30 to 8:30 p.m. Friday and 12:30 to 8:30 p.m. Saturday, Kaplan circled back again to talk about the beer blast aspect of the show and seemingly contradicted himself.
Having earlier said the event will feature "not just one but two trucks this time" and promising "twice as much beer this time," which suggests that beer has been sold previously, he then crowed, "We've got beer. We haven't had beer at any of our events and a lot of people have complained about that."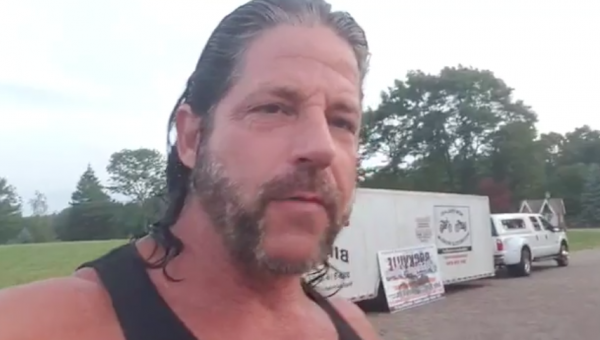 Kaplan then thanked the town for making it possible for the sale of suds and for what sounds to be as much a brew fest as a bike meet.
Beer And Bikes Are A Dangerous Mix
The problem is that beer and bikes don't mix.
While responsible riders routinely say, "If I'm riding, I'm not drinking and if I'm drinking, I'm not riding," many other riders aren't as wise. The results of their poor judgment can be seen in statistics compiled by the National Highway Traffic Safety Administration.
Alcohol is a factor in 25 percent of all motorcycle fatalities, more than any other type vehicle.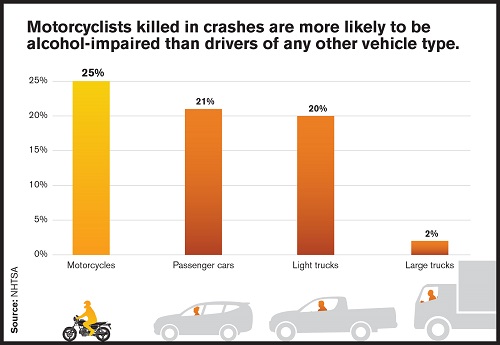 It's not so much the fact that beer will be sold, rather that Kaplan is pushing it so much. The fact that he's opening his museum to let drunken riders stow their motorcycles overnight compounds the problem as it actively encourages over-imbibing.
And, let's face it, how many blotto riders with false bravado brought on by booze will simply choose to try and ride home anyway?
Will the Vernon Police Department have sobriety checkpoints? Might be a good idea.
Granted, Rockville Motorcycle Mania will probably come off without a hitch, and that's certainly the hope. It's just that the optics of Kaplan's Facebook pitch are horrific. As of late this morning, Kaplan's video has more than 2,000 views and has been shared 94 times.
Rather than set an example and promote safe riding, he's sending the wrong message and urging just the opposite: Drink up! Ride on!