(Editor's note: As of this morning (April 8), the letter announcing the dealership's closing has been posted on Hudson Valley Harley-Davidson's website and Facebook page.)
NANUET, NY – After five years in business, Hudson Valley Harley-Davidson is closing permanently, a victim of the COVID-19 pandemic. Its last day will be Saturday, according to a letter from ownership to the Hudson Valley HOG Chapter that the Ramapo Motorcycle Club club shared this evening on social media.
"This was not a decision that was made lightly, for we are extremely passionate about about motorcycles and riding," ownership wrote, explaining that the closure is "due to this rapidly escalating crisis."
Two weeks ago, honoring state "stay at home" guidelines, Hudson Valley Harley-Davidson reduced its operations "to actively support the local effort to combat this epidemic," the letter said. "There is no way to sugarcoat the fact that we also had to lay off employees, with the exception of a limited few who've been working reduced hours primarily servicing bikes."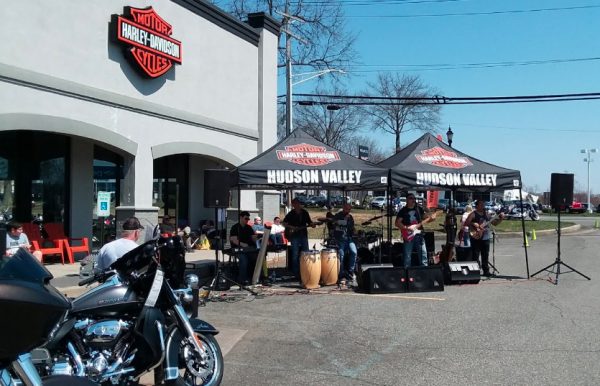 The letter to the HOG chapter stated that customers who have bikes currently being serviced need to contact the store by the end of the day on Saturday. "We've been actively working through the logistics created by the this unprecedented situation and we will communicate next steps to all HOG members, as soon as possible," it said.
As of tonight, no mention of the closure has been made on Hudson Valley Harley-Davidson's Facebook page or on the store's website. An email has been sent to the dealership seeking more information.
The letter is signed "With love and gratitude, The DiGennaro Family." The website lists Elizabeth DiGennaro, Barbara Buccola and Phil DiGennaro as the dealer principals.

The website also lists three employees in the sales department, two in the parts department, five in service, one in finance, four in apparel and one in insurance, suggesting that more than 15 employees have been let go.
"We may be down but we're not out," the letter said, noting that the family's original store in Rochelle Park, NJ – Bergen County Harley-Davidson – will remain in business. It dates back to 1975.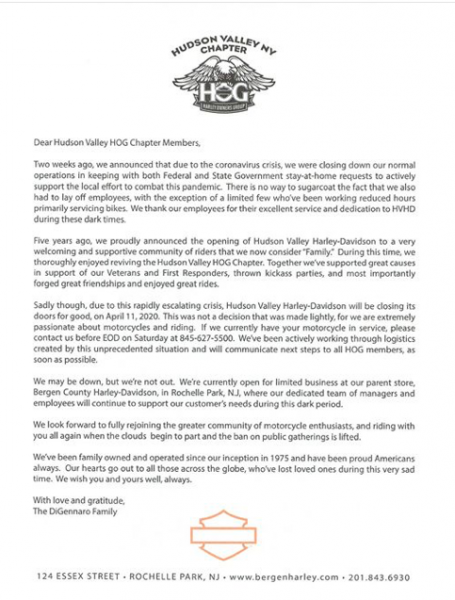 (Updated April 8, 2020 at 8:56 a.m.)
(Updated April 8, 2020 at 9:43 a.m.)