Motorcycle riders are ready to go to shows again.
Nearly 75 percent of voters in the latest RIDE-CT & RIDE-New England poll indicated that they'd likely make their way to a show ground this year to gawk at bikes and socialize with other riders. Upwards of half – 44 percent – said they definitely will attend a show this year. An additional 30 percent said they'd probably attend a show.
Only 15 percent said they definitely would avoid motorcycles show, with the remaining 11 percent saying they still have worries because of the COVID-19 pandemic.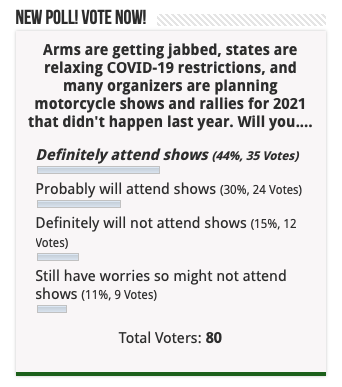 The poll ran from March 19 until mid-afternoon April 21 with about average turnout. The website's polls are non-scientific and conducted just for fun and out of curiosity.
New Poll Gauges Reaction To Spanish Glove Law
A new poll has now been posted. It seeks to get riders' reactions to a recently imposed law in Spain that requires motorcycle operators and their passengers to wear protective gloves when out on the road.
Gloves must demonstrate a high resistance to heat and abrasion. They must be made of thick leather, synthetic leather, Kevlar or a similar tough material. Gloves made of wool, denim or other easily trashed material are not permitted under the law.
Vote now! The poll is atop the upper right-hand column of every page of this website.
The website's polls run for no set period; from a couple of weeks to a month or more. Some are serious, others are frivolous. Some are tied to recent news items, others just off the wall. If you have a suggestion for a poll question, please email budw@ride-ct.com.
(Photo atop page is of a painting done by artist Ian Hemingway)
Hello! If you found the latest poll to be fun, please help boost balloting on the new poll. Share this post with other motorcyclists by clicking on the social media buttons below.