Reaction by RIDE-CT & RIDE-New England readers to the recommendation that off-road riders and the Naugatuck Valley Greenway share the land above the Thomaston Dam in Thomaston, CT wasn't surprising. Fewer than 10 percent of voters favored shared usage, according to a two-week, unscientific poll staged by this website.
An overwhelming 64 percent wanted the greenway to bypass the area, allowing riders to continue using the trails that they've enjoyed since 1975 without pedestrians or bicyclists possibly being an irritant.
An additional 22 percent urged the U.S. Army Corps of Engineers, which owns much of the land where the trails exist, to simply not build that portion of the greenway and maintain the status quo.
Add in another four percent who supported an alternative routing of the greenway, no matter the cost or hurdles, and opposition to a greenway through the riding area totaled 90 percent.
This figure can probably be expected considering that the website is dedicated to motorcyclists and presumably has very few readers who are non-riders.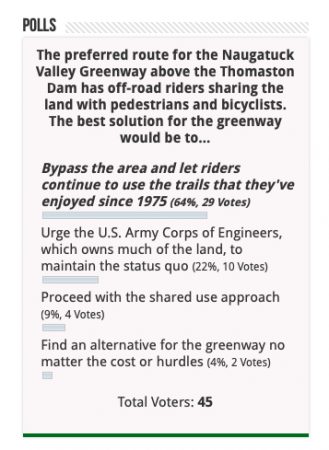 The poll was conducted Feb. 12-26 and was prompted by the release earlier this month of the Draft Project Report by the Naugatuck Valley Council of Governments for the Naugatuck Valley Greenway.
In it, planners recommended a route that appropriates the roadbed of an abandoned portion of old Route 8 on the west side of the Naugatuck River and north of the Thomaston Dam.
As previously reported, the recommended route splits the riding area for two miles, putting riders and everyone else in close proximity.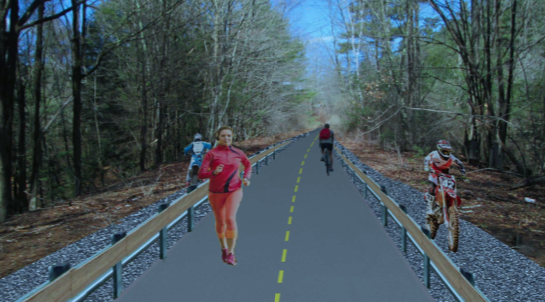 Roughly 40,000 riders use the riding area annually. As currently configured, the full trail system comprises a 13-mile loop, with northbound riders operating on the west side of the abandoned state roadway and southbound riders on the east side of the road immediately above the dam.
Public comments of the preferred route for the Naugatuck Valley Greenway are being taken through March 13.
A new poll has now been posted asking: Have you been riding already this year thanks to the relatively snow-free (so far) winter?
Hello! If you enjoyed this story, please click on one of the social media buttons below and share it.