WARREN, CT – The outside temperature was 16 degrees and I was shaking. Not from the cold, but from the low-level fear; at least of the unknown. It was the prospect of riding a motorcycle on ice for the first time that had me worried, surprisingly so considering that I've tracked my BMW F 800 R at Lime Rock Park and motocrossed as a teenager.
It wasn't until this past weekend – at age 66 – that the first opportunity to do some winter riding on studded tires presented itself. My aging body made me much more concerned about the pitfalls and dangers, though, than I would have been in my youth.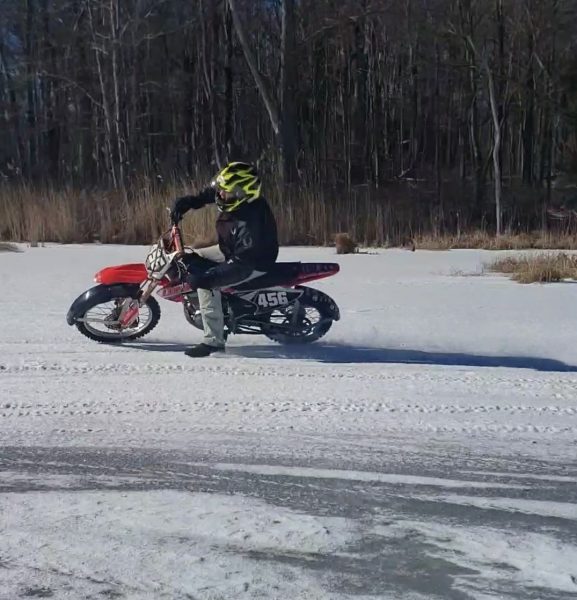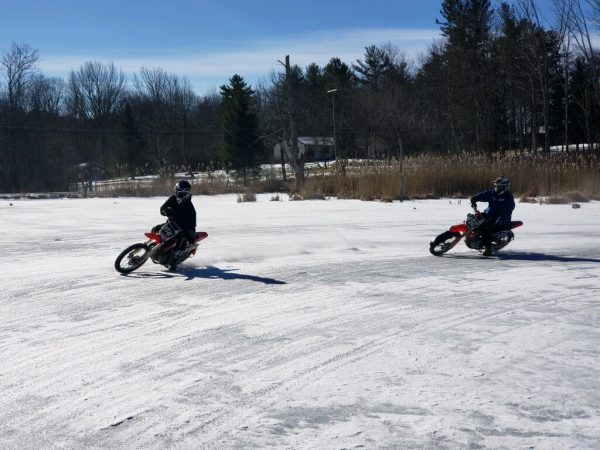 Luckily, my buddy Gary Bates and his son, John, who own "winterized" bikes and have been ice biking and moto-crossing for years, were good instructors. In preparing, I'd also watched some Ken Condon ice riding videos – numerous times in the days leading up to Sunday's outing.
The frozen pond we used just happened to be where longtime AMA Flat Track pro racer Kenny Coolbeth Jr. had used for practice when he lived down the street. (RIDE-CT & RIDE-New England watched him practice one January day in 2013).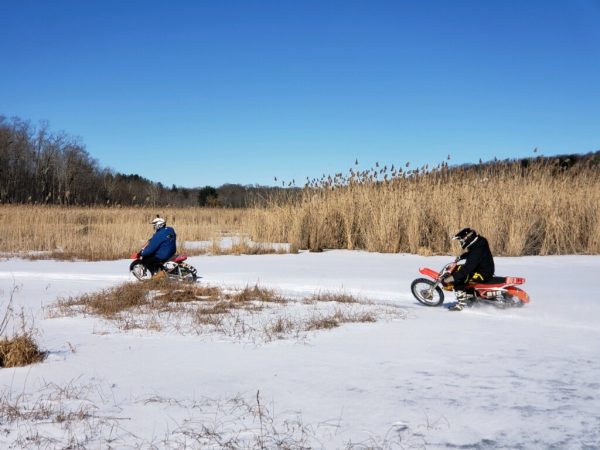 The first hurdle in riding ice was getting on the bike. Mounting it on ice was tricky as were the first couple laps. Once I got comfortable with the bike's traction level lap speeds built steadily.
What amazed me is how far you can lean a dirt bike on glare ice, provided you use proper body positioning. For instance, in turning to the left, by keeping the right foot peg weighted as well as the right hand side of the seat, you can lean the bike over and steer almost entirely with throttle inputs and handlebar corrections.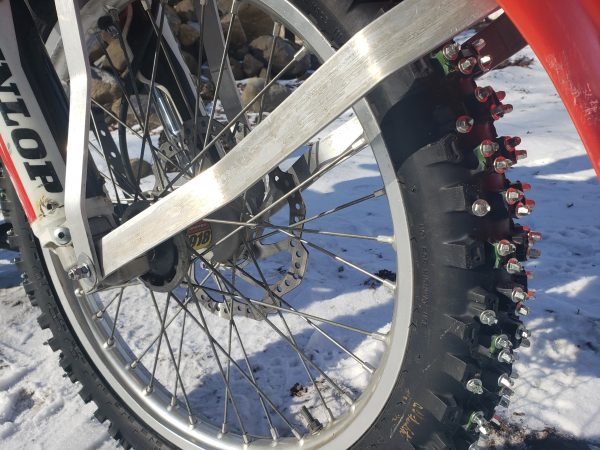 Other lessons learned were that there's no need for using the front brake. Letting off the throttle with steering lightly will rotate the bike nicely.
Perhaps the best counter-intuitive lesson was to stay on the ice and avoid the granular ice and snow that accumulates on the outside of turns. Once you get too far into the accumulated snow, the studs no longer reach the ice and traction goes away. That's when you fall.
None of us fell all day.
I was good for about 10 laps each session. After that, my arms ached and I was overheating, even on such a cold day. After a couple hours of riding, my concentration began to wan as well. When that happens, much like skiing and street riding, it's time to call it a day.
All in all, the experience was fantastic. My concerns were unfounded. I can't wait to do it again.
(Photos by John Schnabel)
Hello! If you enjoyed this column, please share it with other riders by clicking on the social media buttons below.