FALLS VILLAGE, CT – Faced with a 40 percent drop in revenue this summer due to the COVID-19 pandemic, and the annual winter slowdown only months away, Toymakers Cafe owners Ann and Greg Bidou today announced they will serve their last waffles and banger platters on Labor Day.
The closure of the cafe on Monday, Sept. 7 is certain to rock the motorcycling community in Connecticut and beyond as riders have used the eclectic, British-themed eatery as a regular gathering spot during its 18 years of existence.
"We're barely in the black and in the winter we'll go red," said Ann this morning in explaining their decision. "A lot of the big bills just don't stop," added Greg, referring to the cost of insurance and food supplies.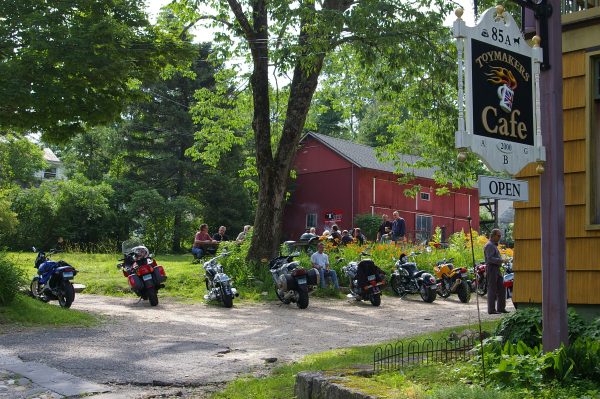 While the Bidous are positioning the cafe's shutdown as an "extended hiatus," the closure will likely be permanent unless the pandemic ends or a vaccine arrives that would allow for safe indoor dining.
Under current Centers for Disease Control and Prevention requirements, Toymakers Cafe is too small for viable indoor dining. And given their ages – Ann is 65 and Greg will be 73 later this month – the Bidous feel indoor service is too risky.
"We're open to any suggestions," said Greg. That could mean leasing the cafe's first floor space to someone else for a food operation of some kind or having it become another type of business. They're also open to having a food truck owner stage in the parking lot.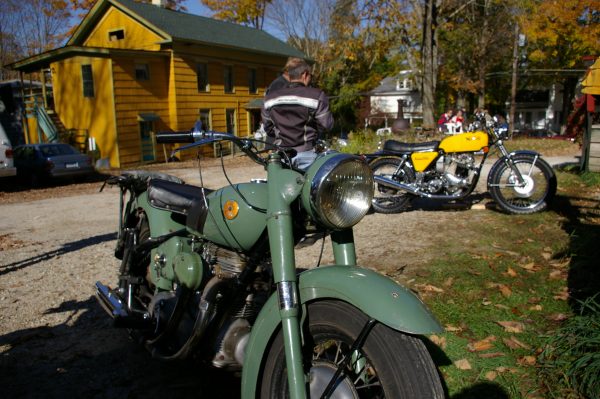 The Bidous, who live on the second floor above the cafe, are hopeful that the property can be used by a business that will be beneficial to the village as Toymakers Cafe has been since opening in 2002. "We need to scale back for ourselves," said Ann.
"I'm really going to miss the group. I'm really going to miss the regulars and the camaraderie," said Greg. Added Ann, "Right now I feel like I'm saying a real sad goodbye to people I care about."
The cafe's exit in less than five weeks will not alter plans by the Bidous to publish a cookbook titled "Recipes for a Good Ride – The Toymakers Cafe Cookery Book" in the coming weeks.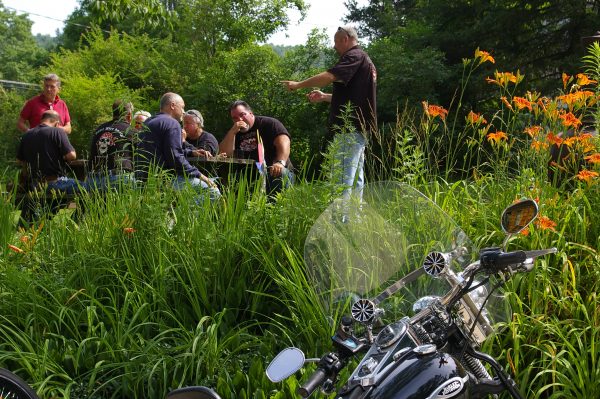 Hello! If you found this story newsworthy, please share it by clicking on the social media buttons below.