ROCKY HILL, CT – Give real estate agent Mike Samulenas points for persistence. He's been doing what he can to quickly get rid of a rather nice 1981 Honda CM400 Custom motorcycle that sits in the garage of a condo that he's selling. The closing is set for Monday and the hours remaining to unload it are ruthlessly ticking down.
Since the initial story about his predicament was posted here Sunday, Samulenas has fielded some calls, seen an initial offer of $500 vaporize, and spent some time addressing questions, including "Does it have a title?"
Up until today, Samulenas was operating with limited info. The bike has only 2,583 miles on the clock and was last registered in 1988. Cosmetically, it looks great. That it belongs to his brother is coincidental. "I'm panicking," he said this evening, reporting that the only firm offer he's received is for $400 from New England Motorcycle Museum owner Ken Kaplan.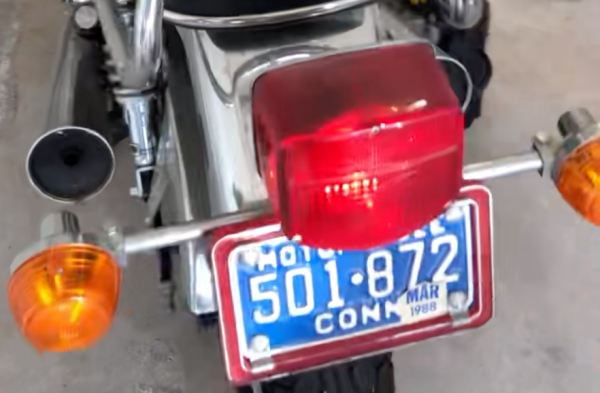 Earlier today, Samulenas decided to try to start the CM400 Custom. He attached jumpers, hit the start button … and nothing. Disappointed, he walked away, only to wonder a few minutes later about the position of the kill switch. (Samulenas hasn't owned a motorcycle himself since 1986 when he got rid of his Yamaha XJ650 Maxim.)
It's probably obvious what happened on the second attempt. "It started right up – roared into action," he said, adding that he suspects it will need a carb cleaning. "If you rev it up, about half-throttle, it starts cutting out." He also reported that the front brake is frozen.
Samulenas also revealed that the title has been located. His brother sent him a copy and has put the original in the mail.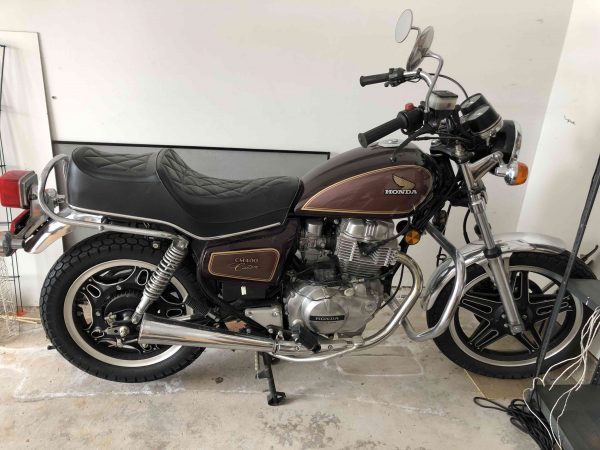 "It's a good little bike. I had a blast getting the thing running," he said. He just needs a buyer. N.A.D.A. book value for the model is $640 in fair condition, $910 in good condition, $1,365 in very good and $2,015 in excellent shape. It's certainly worth more than $400. The "Custom" version was a one-year model.
Also today, Samulenas found a place to store the bike if it doesn't sell by late Saturday. This will give him the opportunity to take a less frantic approach to finding it a good home.
Hello! If you enjoyed this story, please share it with other riders by clicking on the social media buttons below.