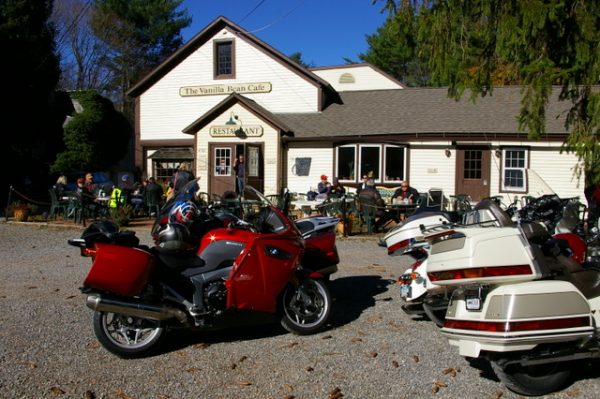 POMFRET, CT – Opened in 1989 as a small eatery with a simple food menu and ice cream, "The Bean" has been expanding ever since. The menu is extensive – from eggs benedict for breakfast to smoked mozzarella and basil ravioli for dinner. A house specialty is the chili, topped with tortilla chips, grated cheddar cheese and chopped scallions, and it is tasty. A cup is $4.75 and a bowl is $6.
One noticeable aspect of  the menus are that prices aren't listed in the insulting manner of most establishments that shave a nickel to make an item seem less expensive at, say, $7.95 instead of  $8. Indeed, the Vanilla Bean avoids the use of pennies, nickels and dimes altogether. It charges $10, $10.25 and $10.50 for a sandwich.
Sunday morning is the best time to visit if you're riding because that's when bikes gather.
(Recommended by Jack Phelps)