TORRINGTON, CT – For some motorcyclists, old models have a magical allure. They're certainly much easier to work on than their modern-day counterparts, and they also spur the imagination to speculate on their past adventures.
"I always think about the history," said collector Richard Nelson of Torrington recently as he stood near his bright orange 1946 Harley-Davidson EL with its Knucklehead engine. Parked a few footsteps away against a wall in his garage was his white 1950 Harley-Davidson FL with a Panhead motor.
"Who rode this bike when it was new?" he wondered, referring to the EL. His comment recalled the rise in motorcycling's popularity after World War II. "These guys were getting out of the service. Maybe some 20-year-old kid out of the service bought this bike."
Nelson will likely never learn the back story of the EL that he acquired at an antique motorcycle meet in Hebron, CT in 2016. The bike was a post-retirement gift to himself and it triggered a buying spree in his family.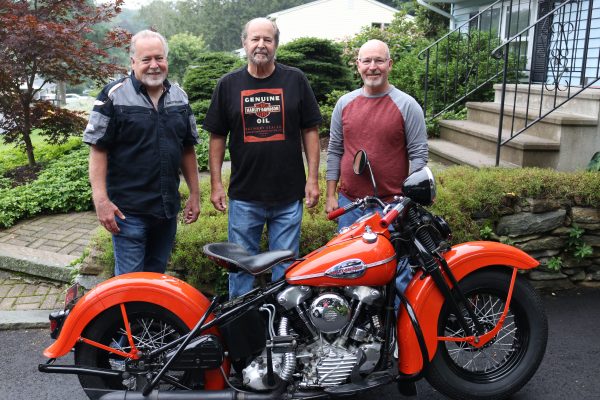 A year later, brother Steve Nelson of Burlington, CT purchased a silver 1957 Harley-Davidson FL. A year after that, son Richard "Rich" Nelson Jr. of Bantam, CT added a blue 1946 FL.
"I saw his bike and I just fell in love with it, so I started looking for a bike," said Steve of his sibling's EL. He found his FL at a swap meet in Stafford Springs, CT. It was once used by the police department in Enfield, CT. Rich, meanwhile, picked up his FL "a few miles from my house."
The Differences In Harley Models, Engines
Combined, they own five valuable, vintage Harley-Davidsons as Rich also has a red 1949 FL.
The EL and FLW models were basically the same, except for one substantial difference – engine size. The EL model came with a 61-cubic-inch motor, while the FL boasted a heftier 74-cubic-inch engine. The Knucklehead and the Panhead names reflect the shape of the rocker box covers on the engines.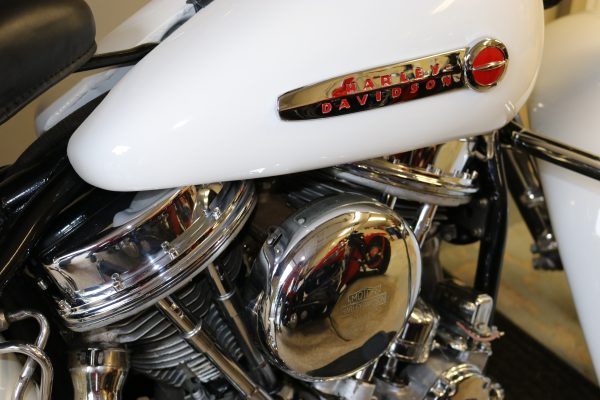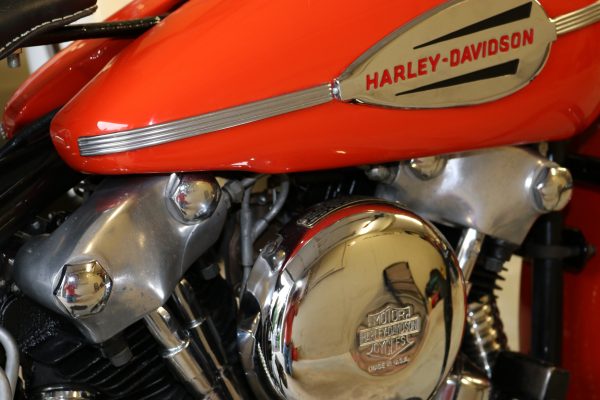 RIDE-CT & RIDE-New England first spotted the Nelsons and their vintage Harley-Davidsons at the Falls Village Car & Motorcycle Show in mid-July. Their blue, silver and orange Harley-Davidsons were strategically lined up in a row and they were answering questions from admiring spectators.
"They were all running bikes when we got them," said Rich, reporting that the restoration efforts involved removing reproduction parts and replacing them with original parts, along with getting them fresh paint.
"Basically, we brought these back to where they were in the day," said Richard. "You're trying to make them correct."
Old Bikes Are Easier To Work On
What Richard finds most appealing about the vintage machines is their accessibility. "With the old bikes, you can tinker and work on them. I like working on it as much as I do riding it. It's fun to work on. It keeps the old mind working," he said of the EL.
"I can get parts. I know how to do the timing. That's what I like about it. If something goes wrong, I'm going to fix it," he added.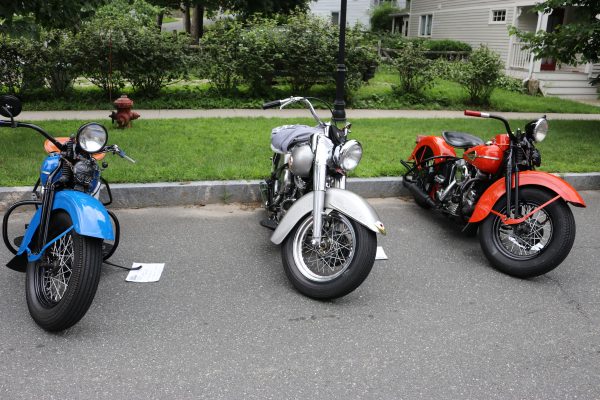 Riding a 75-year-old motorcycle is quite different from operating a modern one. There's no electric starter, no clutch lever on the handlebar and no foot shifter. They must be kick started. There's a foot clutch and a shift lever attached to the gas tank.
"It's a chore to learn that clutch. It's a different animal," said Steve, who nonetheless finds is '57 FL to be a pleasurable ride. "I cannot believe the technology and the ride for that year. It's a nice ride and they handle beautifully."
The Bikes Do Get Ridden
The old Harley-Davidsons get ridden to varying degrees. "It's rewarding to get on these bikes and just go," said Steve.
Not surprisingly, they're always on the lookout for more candidates that need rehabbing. "I want more. I am bit by the bug," said Rich. "I am proud to say we have these beautiful bikes."
The only one of the three who is maybe not aggressively looking for the next project is the guy who started the buying binge. "I need a bigger garage," said Richard.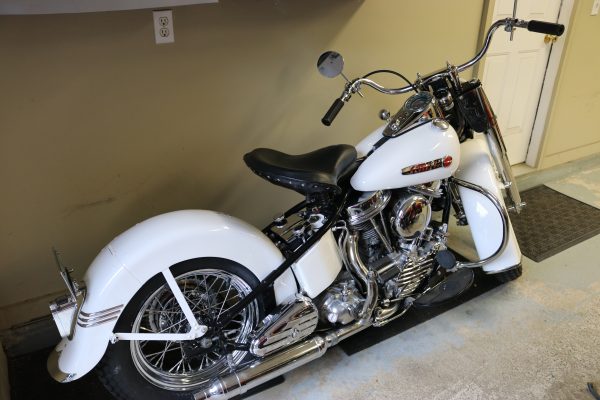 (A version of this column appeared in the "Republican-American" newspaper on July 31, 2021.)
Hello! If you enjoyed this column, please share it with other motorcyclists by clicking on the social media buttons below.