WORCESTER, MA – Wagner Motorsports was vandalized last night and an unidentified numbers of bikes were stolen, according to a lengthy post this morning on the dealership's Facebook page.
"They smashed windows. They stole bikes and other things. And we are left to pick up the pieces," the dealership wrote, prefacing the comment by noting that the post "comes to you with sadness in our hearts."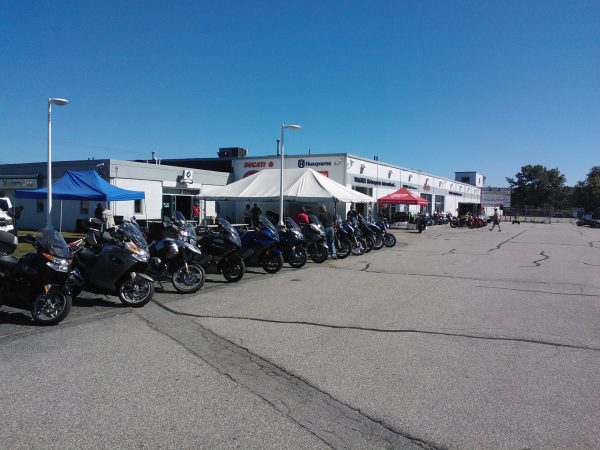 While the original post did not mention whether the break-in was a random act or if it was connected to recent protests against the killing of George Floyd in Minneapolis and subsequent looting in Worcester, a mid-morning update from the dealership suggested the former.
"We don't believe this had ANYTHING to do with protesting or vandalism," the update stated. "This was the work of thieves looking to steal valuables."

In another update at midday, Wagner Motorsports reported that arrests have already been made by police. "Using our security cameras, they were able to identify and arrest some of them almost immediately," the post reported.

Wagner Motorsports's original post took a lamentable tone.
"We have always done everything in our power to be upstanding citizens in our community. We live here. We work here. Our children are raised here. We support local charities and youth programs to help make this a better, more equitable place for everyone. And still, our family-owned, veteran-owned business was broken into and robbed," the post reported.
"We are sad, yes, but you can't break the spirit of our team. We have been here since the early morning hours doing everything we can to begin the cleanup process and make it safe for our customers, our friends, and our workers to come in and continue doing what they love."
Wagner Motorsports sells BMW, Ducati, Indian and KTM motorcycles. It is asking customers for patience "as we begin to put everything back together." The dealership said its phones may be out of service and asks customer to wishing to contact the store to use the contact form on the dealership's website.
" We are discouraged this morning, but we will continue to show up and support our community like we always have. We love you all," the post concluded.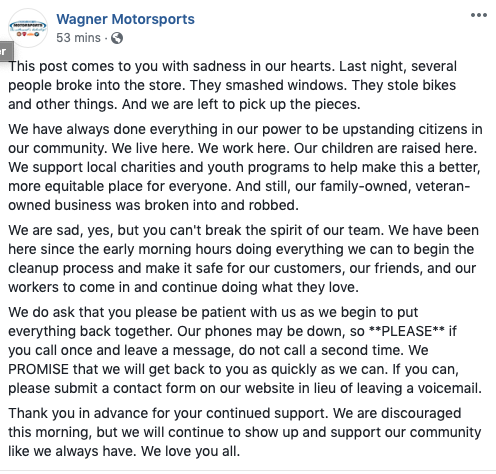 (Photos taken from Wagner Motorsports' Facebook page.)
Hello! If you found this story to be newsworthy, please share it by clicking on the social media buttons below.