It's time for TWIR – The Week in Review for the week of May 31 – June 6, news items and other tidbits that don't get a full post as well follow-ups on stories.
The big news of the week was confirmation Wednesday of the sale of Gengras Harley-Davidson in East Hartford, CT and the dealership being renamed Hartford Harley-Davidson.
Chip and Jonathan Gengras announced the store's sale to Chad Clark and Bryan Castor in a video posted on social media. Later, a letter of thanks to employees was also posted.
They wrote, "It has been a great ride!" and called the sale "a bittersweet moment for us." They also admitted, "It was not a secret that we were not Harley enthusiasts…"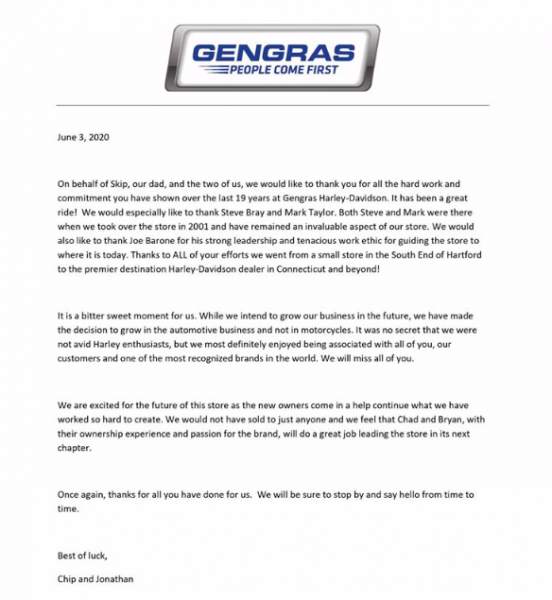 The Gengras family bought was then also called Hartford Harley-Davidson in 2001 and renamed it Gengras Harley-Davidson.
While Gengras Harley-Davidson's website was still active as of this morning, a website for Hartford Harley-Davidson isn't yet up, although a "coming soon" notice has been posted.
The banner on Hartford Harley-Davidson's Facebook page notes the store is "Under New Ownership," and then goes on to brag that its "CT's Fastest Growing Harley-Davidson Dealership," a claim worthy of at least a chuckle considering the ink is still drying on the purchase agreement.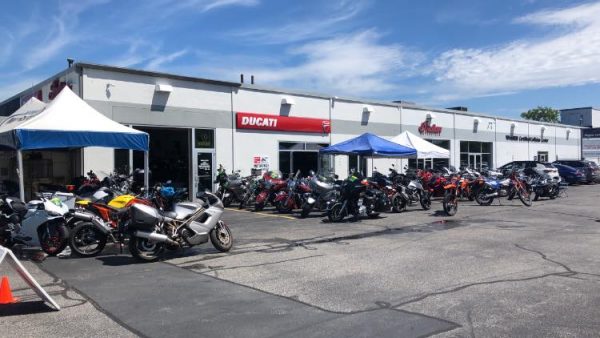 Meanwhile, also on Wednesday, it became known that Wagner Motorsports in Worcester, MA was victimized by thieves. Windows were smashed and bikes stolen, according to a post on the dealership's Facebook page.
In a follow-up post, Wagner Motorsports thanked "beloved customers, vendors and friends" who rallied behind the store and asked that everyone "be on the lookout for a 2020 Indian Scout Bobber without a seat."
The post also reported, "Several suspects were arrested."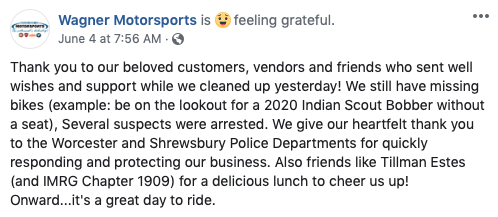 AMA Vintage Motorcycle Days Postponed
From Ohio, the American Motorcyclist Association and the Mid-Ohio Sports Car Course announced the postponement of AMA Vintage Motorcycle Days due to the COVID-19 pandemic.
The event had been scheduled for July 10-12 in Lexington, OH. New dates were not announced.
"Unfortunately, event restrictions in place under order of the Ohio Department of Health prohibit many traditional elements of AMA Vintage Motorcycle Days that our competitors and fans have come to enjoy," said AMA Chief Operating Officer James Holter.
"The social interaction and camaraderie are an integral component that we love about this event. The multi-day swap meet, the camping, in-field activities, the crowds, not to mention the organic fun of the event, are impossible in light of the current situation."
Jampot Rallye Is On For New York
Not every motorcycle show or event is canceled this year because of the pandemic. The 43rd annual Jampot Vintage Motorcycle Rallye in East Durham, NY is on for June 26 to 28.
The primarily British event will have some changes and restrictions from years past, including the wearing of masks in indoor spaces.
(Revised at 2:42 p.m. on June 7.)
Hello! If you enjoyed this story, please share it by clicking on the social media buttons below.