SIMSBURY, CT – Local ice cream is the best ice cream. Why you ask? Usually, it's made fresh on the site that serves it, and with no or minimal preservatives. This allows the pure dairy deliciousness to shine through. You can't get any fresher than going to the source where the milk is created – your local farm.
Farms around the Northeast are getting a second wind by diversifying to attract patrons and extend their seasonal sales. They provide an array of products so customers can truly "shop" at these locations. Tulmeadow Farm is one such place – offering flowers, vegetables and crop share arrangements (CSAs) as well as dairy, meats and other products. All are sourced locally.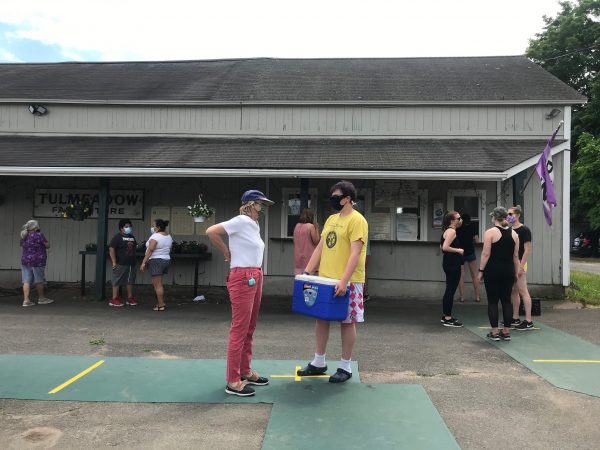 My Sunday ride to Tulmeadow was a warm and humid one, with a slight threat of thunderstorms. The hour plus journey in the heat as part of "The Great Northeast Ice Cream Run" was tiring but ice cream would surely revive a weary moto traveler.
I quickly dismounted and hopped into a queue, marked off for appropriate social distancing protocols. Several other folks eagerly awaited their chosen frozen treat. The line moved slowly. One person took orders. Another scooped and delivered. I strained to review the board listing the day's flavors. The writing was small and in light-colored marker.
I spied coconut ice cream and chose a pineapple topping to put my mind into the breezy tropics on this steamy summer day. And then another long wait…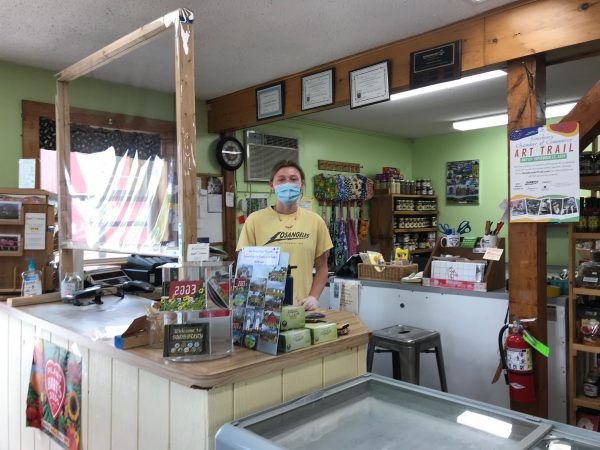 When I finally got my ice cream, it was somewhat melted so I had to eat it quickly before it turned to a creamy tropical soup. Walking across the street, the distinct aroma of 'Eau de Cow' wafted through the air. Tulmeadow is truly a working farm.
The farm was typical, a bit unkempt, giving off a "we don't really care" vibe. While the folks behind the counter were friendly, some great opportunities exist to speed service and improve presentation.
In addition to standard flavors, Tulmeadow offers a variety of their own unique flavors such as Indian Pudding (tastes like ginger snaps), Chocolate Malt, and Grapenut Cinnamon-Nutmeg. They are rotated throughout the season. They also offer several flavors of shaved ice.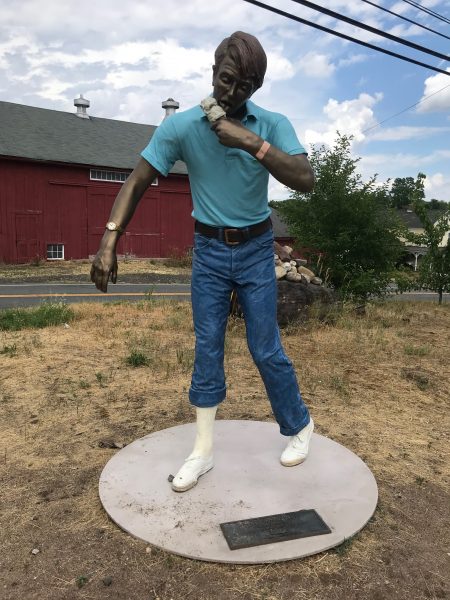 One noticeable feature at the farm is a Seward Johnson sculpture named "Hot Weather." It depicts a young man eating an ice cream cone. As I later learned, Johnson created more than 450 of these statues depicting scenes of Americana, placing these life-size sculptures on benches and street corners to integrate his inanimate subjects into the world around them.
Johnson recently passed away in May at 89 but left behind a lasting legacy of his work – adorning public places throughout our country.
Behind the ice cream stand, sits Tulmeadow Farm Store (open year-round) where you can purchase an array of farm products. Offerings include packed pints and quarts of ice cream, veggies, and other locally sourced items such as milk, honey, maple syrup, bread, salsa, chips, pesto, goat's cheese, fudge, tomato sauce, bruschetta and cocoa in addition to eggs, cheese, and Nodine's smoked meat products.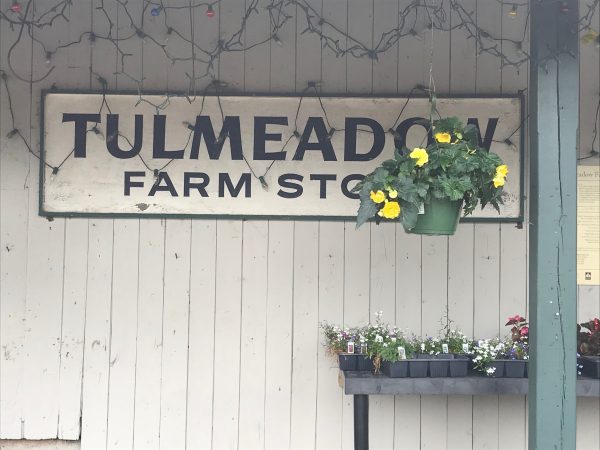 An array of candies is also available – such as the delicious raspberry gummies I purchased to satisfy my sweet tooth later in the day. The farm also offers fresh cut Christmas trees and wreaths during the holiday season.
Area routes of interest getting to and from Tulmeadow include Route 179, which travels past Barkhamsted Reservoir and the Saville Dam, and Route 202. Talcott Mountain State Park (along with Heublein Tower) is visible from Route 202 and worth a visit during your ride.
Tulmeadow Farm is located at 255 Farms Village Road in Simsbury. Summer hours 9:00 a.m. to 7:00 p.m. seven days a week. They also offer a variety of items for curbside pickup.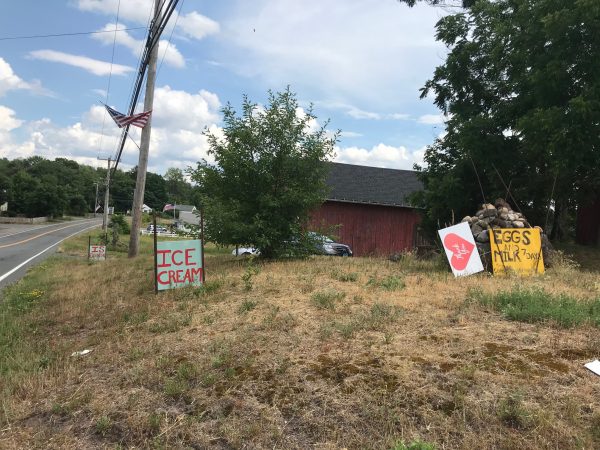 Other stops on "The Great Northeast Ice Cream Run" include:
Hello! If you enjoyed this story, please share it by clicking on the social media buttons below.