RIDGEFIELD, CT – We all have fond memories of favorite ice cream stands from our youth. You know the kind; the tiny shack with bright lights that beckon us like a tractor beam to come seek out the deliciousness inside. The shop window would be adorned with a dizzying array of offerings that boggled our pre-pubescent minds.
Ridgefield Ice Cream Shop is still that place!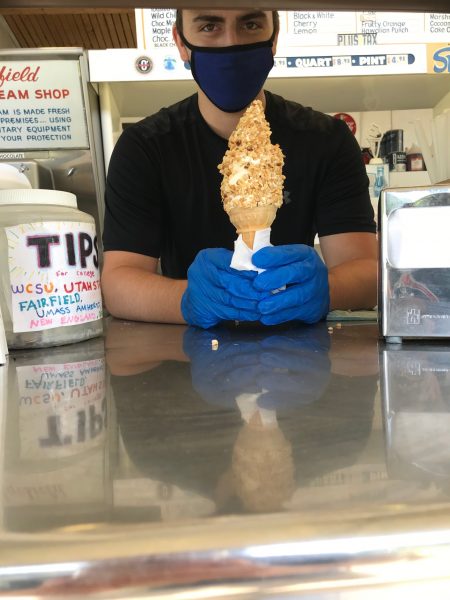 There's no arguing that 2020 has been a rather challenging year, and a tropical storm on top of a pandemic has nerves beyond frayed. With no power or internet at home to allow a better grasp of the world around me, a road trip was in order recently to see if I'd have better luck down county.
After taking a friend out to lunch in Norwalk, it was time to grind my way back north through Route 7 traffic, which was stop and go due to many traffic lights being out of commission due to storm damage. Many businesses appeared closed with darkened interiors and empty parking lots.
But then I came upon a brightly lit neon sign announcing that Ridgefield Ice Cream Shop was indeed open for business. It could not come at a better time on a 90-plus degree day.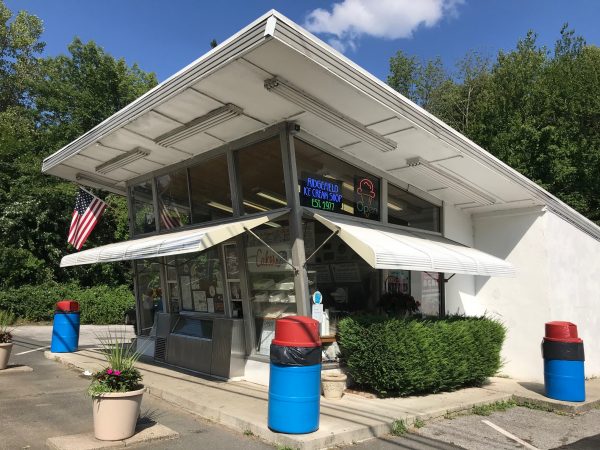 Started in 1977, the Ridgefield Ice Cream Shop serves up both hard and soft serve ice cream, along with shakes, sundaes, slush puppies and ice cream cakes. The shop is well known for generous portions and reasonable prices. Proprietor Felix Lechner prides himself in keeping the highest soft serve standards with a low air mixture for a more dense and flavorful product.
A nice young man was at the window ready to take my order. A tip jar on the counter announced the names of the colleges these young folks would be attending in the fall. It spoke to the hope and resilience of our youth – to overcome the bad hand the year had dealt them.
When stopping at a perfectly retro ice cream establishment, a soft serve vanilla topped with mixed nuts would complete the scene. I stuffed the tip jar with my change and headed to a shady spot in the parking lot to quickly enjoy dessert before it melted in the heat. Smooth and delicious, it hit the spot.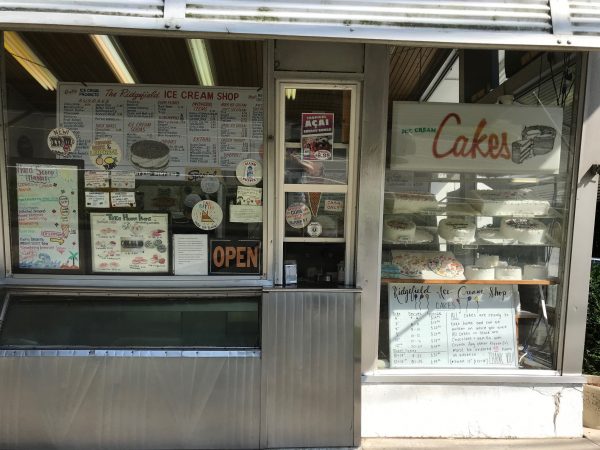 Some fun and scenic roads run to and from Ridgefield and include Route 33 – a north/south route winding south into Wilton. Route 116 takes riders into the upscale suburb of South Salem. And Route 35 runs through Ridgefield Center towards Route 124, which heads through the Pound Ridge preserve.
In a pretty bleak year, we all need a pick-me-up to push on to better times. Ice cream helps towards that end. No matter young or old, it is the universal tonic for whatever ails you.
So, grab your retro steed and head on down to Ridgefield Ice Cream Shop. It's open seven days a week from 11:00 a.m. to 8:30 p.m. Remember to bring cash. Credit cards are not accepted.
Other stops on our "Great Northeast Ice Cream Run" include:
Hello! If you enjoyed this story, please share it by putting down your cone and clicking on the social media buttons below.