CROTON-ON-HUDSON, NY – This year's "Great Northeast Ice Cream Run," searching out unique creameries that make their own ice cream from locally sourced ingredients and combining it with fun rides, has produced some tasty memories. I certainly hit the jackpot recently, though, with The Blue Pig, which added ice cream to my favorite seasonal dessert.
It was a beautifully cool and breezy day, and a ride west was in order. This trip brought me within a few blocks shy of the mighty Hudson River to this funky little ice cream shop that also serves up unique comfort food and other dessert fare.
Pulling up to the tiny blue building, I noticed several patrons already in line. That suggested that it's a pretty popular spot with the locals – always a good sign. Orders were being taken through a window on the side of the establishment, and ice cream orders were then brought out around the corner at the front of the shop.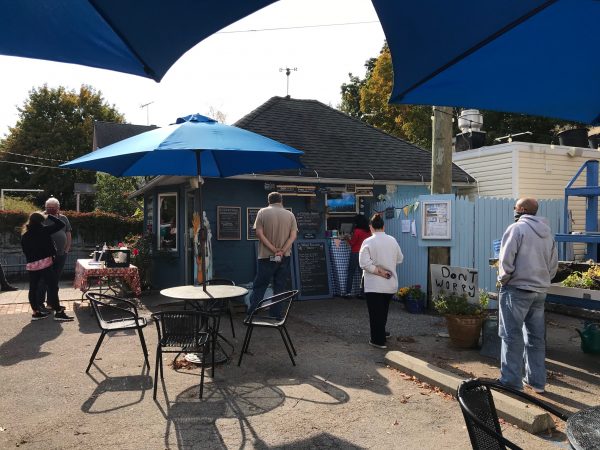 The business is well known for hand-crafted ice cream with a focus on quality, sustainability and local production. The Blue Pig's website notes, "Homemade to us … means the most pure, natural ingredients straight from a local farm, our own garden, or Michael the local coffee roaster."
It continues, "Most other 'homemade' ice creams are made by using canned fruit mixes and packaged flavor bases. At The Blue Pig, we wash and hull every strawberry, juice pounds of fresh ginger, hand grate cups of lemon zest, and finely toast each nut that gets put into our ice cream. The result? Pure, distinct flavors in every spoonful."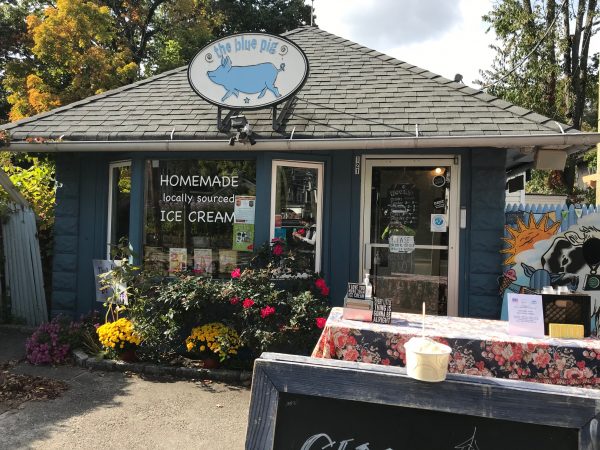 The Blue Pig's ice cream is made from "a specialty mix of milk and cream from Hudson Valley Fresh (free from steroids/antibiotics, high fructose corn syrup, and gums). Hudson Valley Fresh is a not-for-profit dairy cooperative of family-owned farms in Dutchess and Columbia Counties." 
While The Blue Pig doesn't offer a huge number of ice cream options on its flavors board, perhaps a dozen in all, there are some unique seasonal offerings: Brown Sugar Cinnamon (dairy and vegan), Crazy Good Pecan Pie and Roasted Banana with Salted Carmel, Pumpkin (dairy and vegan) and Thompson's Cider Sorbet.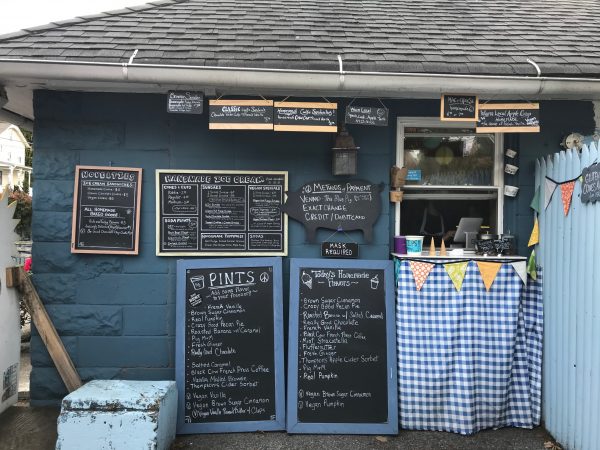 It was then, on the special board, that I spied the holy grail – warm apple crisp à la mode.
After a few minutes patiently waiting, trying not to drool in anticipation, I was rewarded with what just might be the best apple crisp à la mode I have ever set a spoon to. The crisp was warm and properly crispy, made with fresh tart apples and topped with a generous scoop of vanilla bean ice cream, melting into the warm baked goodness. It was heavenly perfection for a cool autumn day!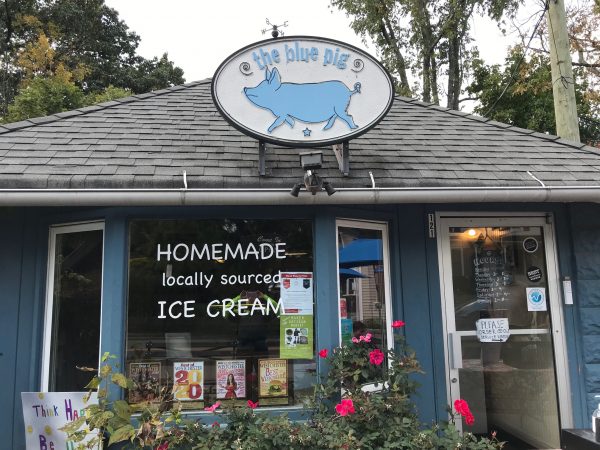 The Blue Pig also offers seasonal comfort food in addition to frozen and freshly baked desserts. On the menu this day was homemade mac 'n cheese, which looked tempting. Also featured were several vegan baked goods, such as chocolate chip cookies, fudge brownies and pumpkin energy bites. There was also a savory local squash, leek, and apple galette.
Some very pleasant routes head to and from The Blue Pig. Route 35 out of Ridgefield, CT meanders west through South Salem by Pound Ridge Preserve and past Cross River Reservoir to Route 100 by New Croton Reservoir. Route 129 continues along New Croton Reservoir taking you directly to the Blue Pig.
The Blue Pig is a perfect stop for fall riding. Sadly, their last day for the season is Friday. You'll need to get there fast to get in on this small but mighty gem. The Blue Pig is located at 121 Maple Street, Croton-On-Hudson, NY and is open this week from 3 to 8 p.m. Tuesday through Thursday and 3 to 9 p.m. Friday. Cash, credit and payment apps welcome.
Other stops on this year's "Great Northeast Ice Cream Run" include:
Hello! If you found this column to be a treat, please share it with friends by clicking on the social media buttons below.